Tag:
Australia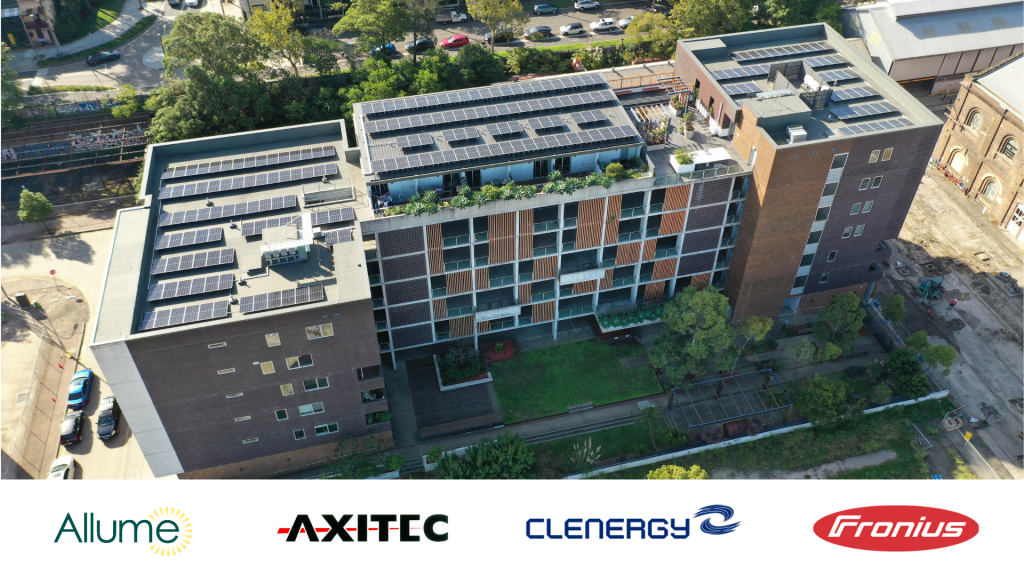 MEDIA RELEASE – 28th March 2023
A partnership of renewable energy companies, including Allume Energy, AXITEC Energy, Clenergy and Fronius Australia, has formed to make solar energy for multi-tenant social housing buildings more affordable.
As the cost of living in Australia continues to soar, particularly the cost of energy, many Australians are struggling to make ends meet. In response, an industry initiative has stepped in to provide a more affordable solution.
With energy prices at their highest in decades, many social housing providers are increasingly concerned with finding sustainable solutions for tenants across their portfolios, but everything comes at a cost. And, until recently, it hasn't been feasible to install solar energy on apartments, which make up a significant proportion of social housing in Australia.
Four major clean energy companies have come together to provide a solution; a reduced-cost, solar equipment package that can connect residents of multi-tenanted buildings to lower cost renewable energy.
Dubbed the 'Solar Social Housing Package', the initiative offers a discount on the solar panels, roof mounting equipment, smart meters and solar sharing technology required to provide apartment residents with self-generated solar energy. The total discount amounts to around $3,750, although the partnership is now negotiating to potentially offer an even better reduction.
"Allume is thrilled to work together with our associates to solve problems that matter," commented Cameron Knox, CEO of Allume Energy. "It is crucial that apartment residents can access clean, affordable energy, particularly social housing tenants, who are often disproportionately affected by the rising cost of energy. Communities shouldn't have to decide between putting food on the table and heating their homes."
Andreas Boeck, Managing Director Australia at AXITEC said, "AXITEC Energy wants to give back to the social housing community, together with our other partners in this project, by providing high quality solar modules at a discounted price for people on a low income which will assist them in lowering their electricity bill."
Samir Jacob, Global Marketing Manager commented, "the Solar Industry is powering the future with innovation and sustainability, and we at Clenergy are glad to collaborate to bring about a brighter tomorrow for our communities. Thank you Allume for having us part of your journey."
"We could not be more excited to contribute to the Solar Social Housing Package initiative," Mariella Doppelbauer, Managing Director at Fronius Australia explains. "At Fronius, sustainability greatly influences every decision we make. To have the opportunity to assist these tenants become more financially sustainable with clean renewable energy is a proud moment for us."
Combined with the various grants that are available across Australian states, installing solar energy on new or existing multi-tenanted properties may become a 'no-brainer' for social housing providers.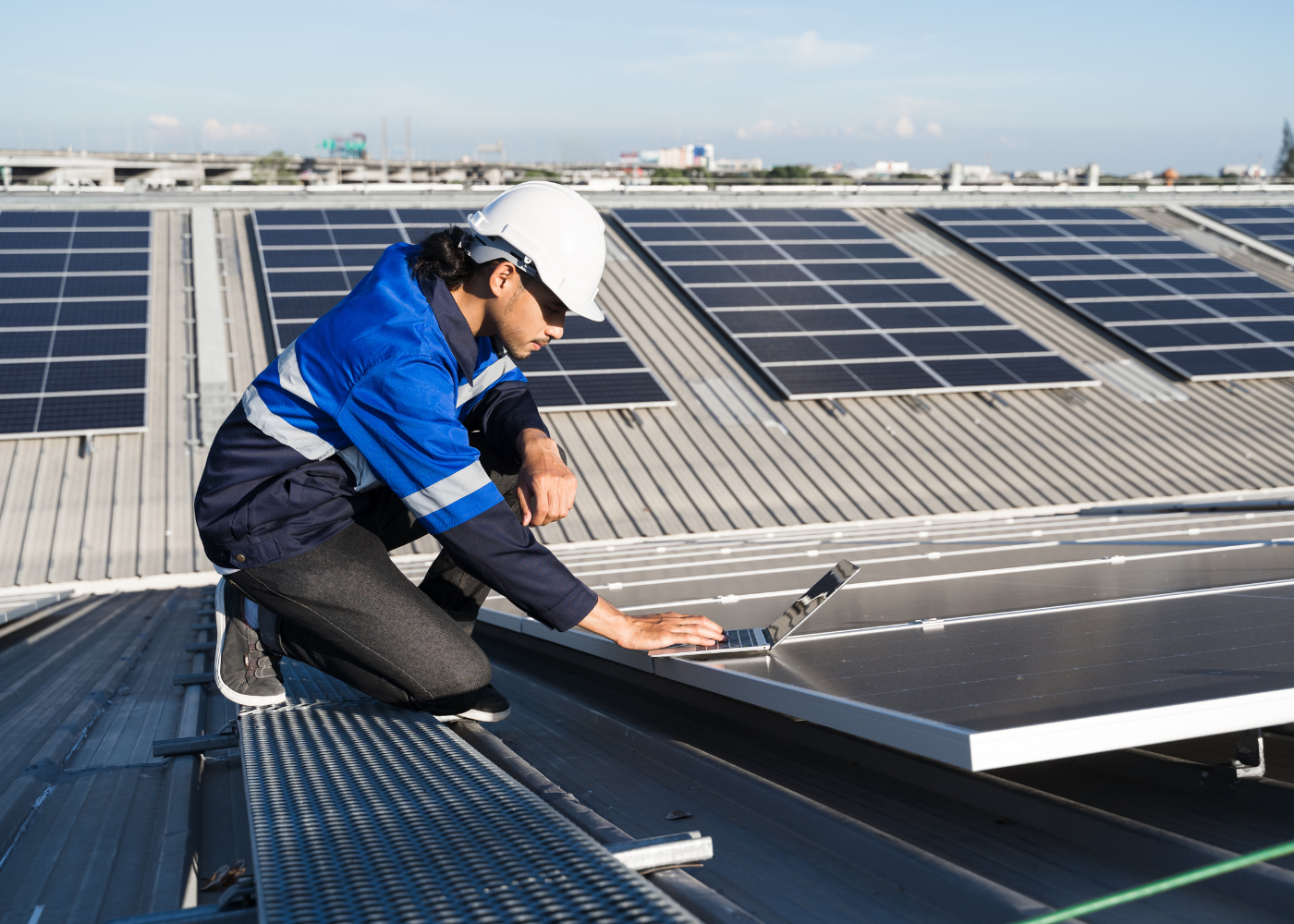 With Net Zero by 2050 being the internationally agreed goal for mitigating global warming, we all have some serious work to do. A recent report from the International Energy Agency (IEA) suggests that to meet the target we need to at least double the global rate of renewable energy generation rollout through rooftop solar and many other means.
Solar energy is one of the most accessible renewable power options, and plays an important role in reducing greenhouse gas emissions. Rooftop solar panels help to reduce bills by up to 70% and each MWh of electricity generated by solar can save between 700kg and 1,100kg of CO2 being pumped into the atmosphere.
Given this global focus on meeting these targets, and the impact solar can have on them – let's look at some of the solar incentives being offered around the world to help get as many people as possible to do their part.
Rooftop Solar Incentives: A Global Overview
Thankfully we are seeing government financial support for communities and businesses to access and install renewable energy products. When it comes to government incentives for integrating renewable energy into new builds or retrofit projects – rooftop solar is currently getting the most attention. Here are a few examples of what's on offer.
Renewable Power Incentives in Australia
For residents and businesses nationwide, there are solar incentives available for the installation of small-scale systems. To check eligibility and apply for solar incentives, visit the Clean Energy Regulator website and state energy department websites. In some cases, eligible home owners can receive rebates of up to 50% of the total cost in setting up their solar systems.
Australians are also able to access 'feed-in tariffs'. These are small solar rebates of a few cents per kilowatt hour of electricity generated by your solar power set-up that you don't use. This goes back into the grid and you receive your payment. Feed-in tariffs are driven by state policy, so you would need to check your state regulations to find out your rate.
Solar Incentives in the UK
A £4-billion budget has been allocated for four years (1 April 2022 – 2026) giving homeowners in the UK the chance to apply for grants through the ECO4 (Energy Company Obligation) scheme to install rooftop solar panels on their homes. Using this scheme, the least energy-efficient households can save up to £1,600 per year.
There are also incentives via the Smart Export Guarantee (which started in 2020) and enable participants to receive payments for selling excess energy back to the grid.
VAT reduction is another option for those in the UK, with 0% VAT for solar panel purchase and installation from 1 April 2022 – 31 March 2027.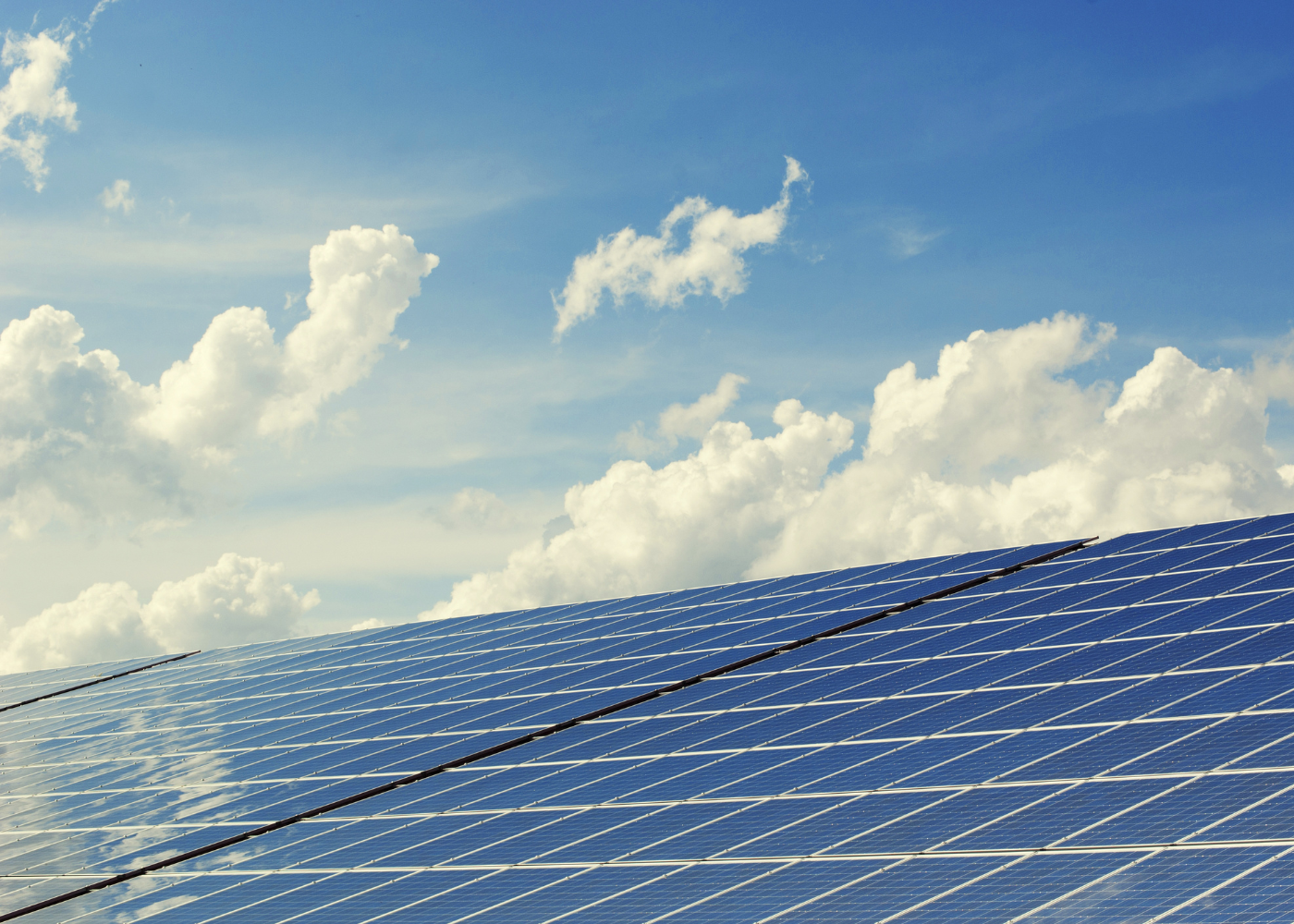 Federal Solar Tax Credits in the USA
The USA introduced federal solar tax credits in 2006. Also known as the Investment Tax Credit (ITC), they can be claimed on federal income taxes for a percentage of the cost of a solar PV system paid for by US taxpayers, provided the system installation is completed during the tax year.
Solar PV systems installed between 2022-2032 are eligible for a 30% tax credit. This will decrease to 26% for systems installed in 2033 and again to 22% for 2034 installations, with tax credits expiring in 2035, unless Congress renews it.
It is estimated that the ITC will cut the cost of installing rooftop solar for a home by 30%, or more than $7,500USD for an average system.
Which Solar Incentives are you Eligible for?
As the adoption of renewable energy is gaining more and more traction globally, we're seeing incentives and rebate programs introduced and changing rabidly. As the solar rebates and solar incentive schemes change periodically, this article has been written to raise awareness of the kinds of programs and resources that are available at this point in time, and we'd recommend getting in touch with your local council or state government to find out the latest offers for your part of the world.
How Can Multi-Residential Buildings Benefit from Rooftop Solar Incentives?
With apartments accounting for close to 40% of households globally, this meant until recently a large portion of the population wasn't able to access the benefits of rooftop solar power. Thankfully this has changed with the development of new and much-needed solar tech, the SolShare.
The SolShare empowers tenants in multi-residential buildings such as apartments, flats and social housing to connect to a single rooftop system to access and share solar power. This makes it affordable and easy to install in any building.
A sharing algorithm responds to the real-time usage of each dwelling. This means the solar power is directed as needed, which maximises the usage and savings. The SolShare system is flexible, allowing pay-as-you-use through to outright ownership of the system and getting your green energy free. As well as this, in most cases residents are also able to choose their electricity retailer.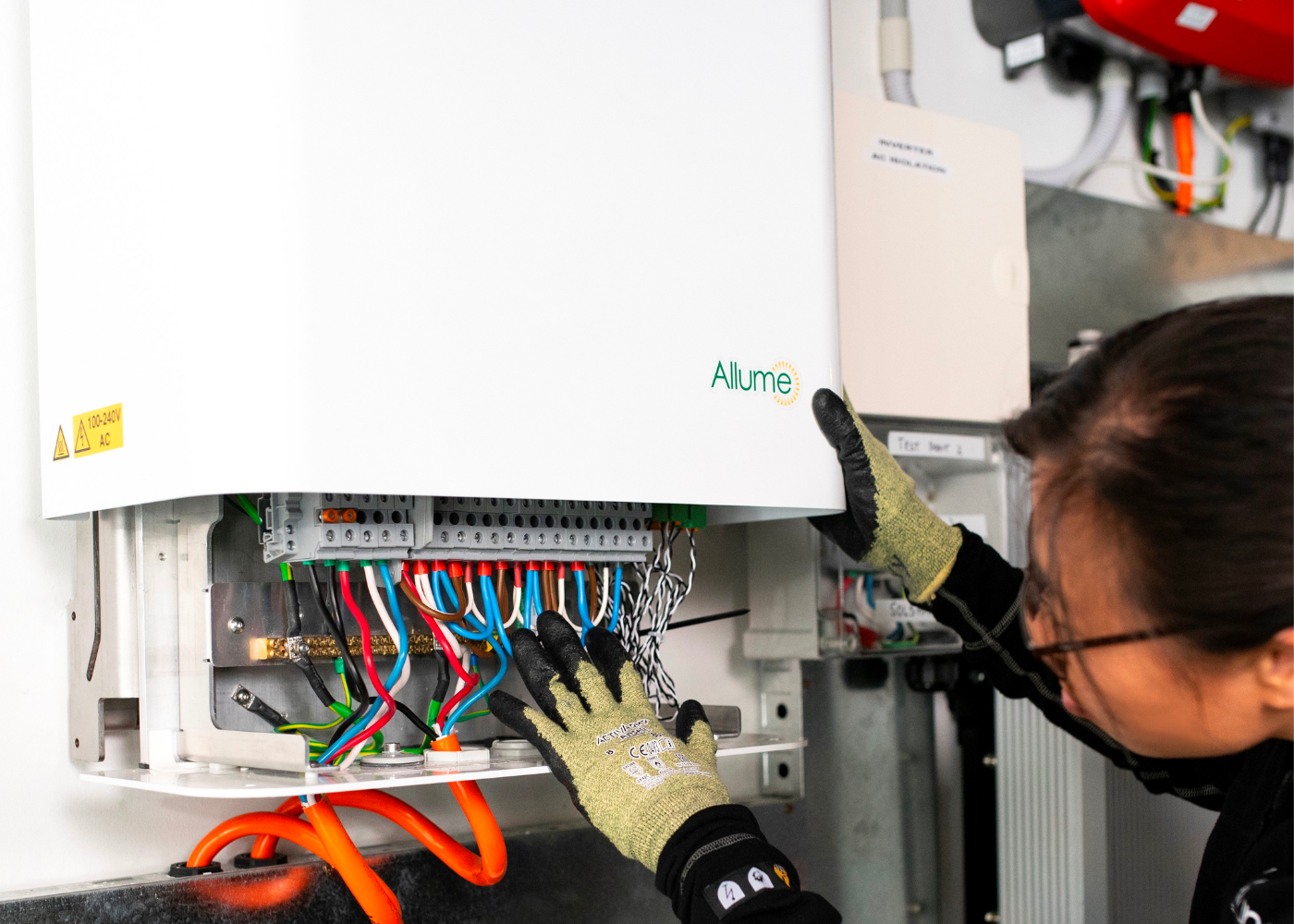 Working Together
While the 2050 target is substantial, there are ways we can work together to meet it. Whether you're a resident in a free-standing home or multi-residential building – hopefully you can now see there are options for you to choose from. Likewise, commercial developers can take advantage of the unique proposition available in the SolShare, which will make a huge difference in the long run. Contact Allume today to see how the Solshare can work in your new or existing building and the benefits you'll receive.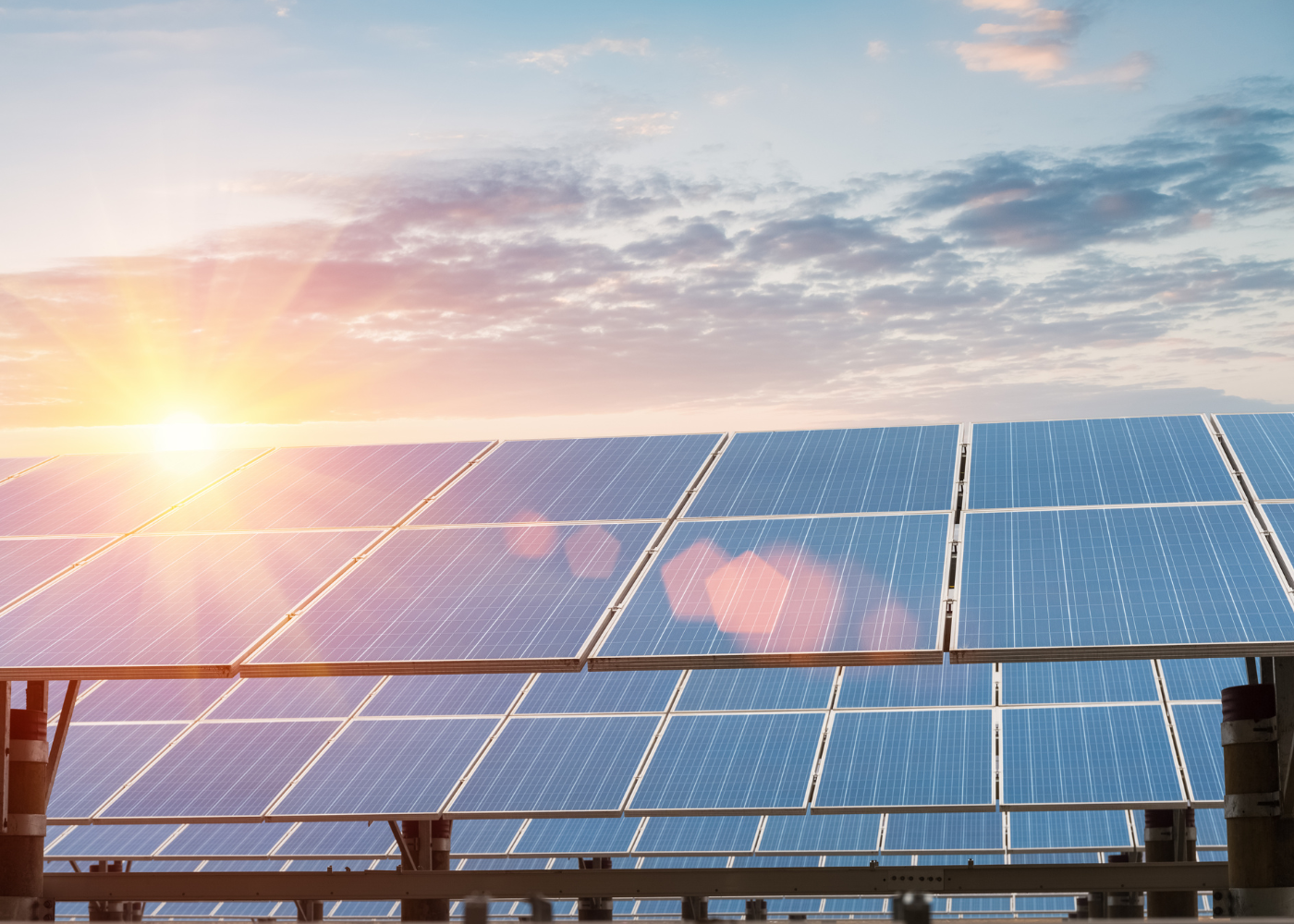 With soaring energy prices and widespread environmental impacts as a result of harmful carbon emissions, many people and corporations are exploring the power and benefits of renewable energy sources. In particular, solar energy and rooftop solar.
Solar energy is one of the leading renewable power sources. It's a driving force in supporting energy independence and sustainability and is being embraced worldwide.
According to the International Energy Agency (IEA), renewable energy installations exceeded previous records in 2021, with an additional 8% increase tipped for 2022. Of this uptick, solar is likely to account for 60% of this increase in worldwide renewable energy.
In this article, we are getting back to basics to provide a roundup of common solar questions, plus some helpful insights including:
What Is Solar Energy?
How Does Solar Power Work?
What Happens To Any Solar Power That Isn't Used?
Which Direction Should Solar Panels Face?
Are There Any Rebates from The Government for Solar?
10 Benefits of Solar Energy
How Much Money Can You Save With Solar?
Can You Share Rooftop Solar Energy?
What Is Solar Energy?
Electricity and heat are two forms of energy that are created by the sun. We can use both in many different ways where solar energy is quite literally, sun energy.
How Does Solar Power Work?
When the sun shines onto a solar panel, the cells in the panel are activated and convert the sunlight into what is called direct current, or DC, electricity. Within the panel is a solar inverter, which then takes this electricity and converts it into alternating current, or AC, power. This power can be used to run your appliances, instead of using power from the grid.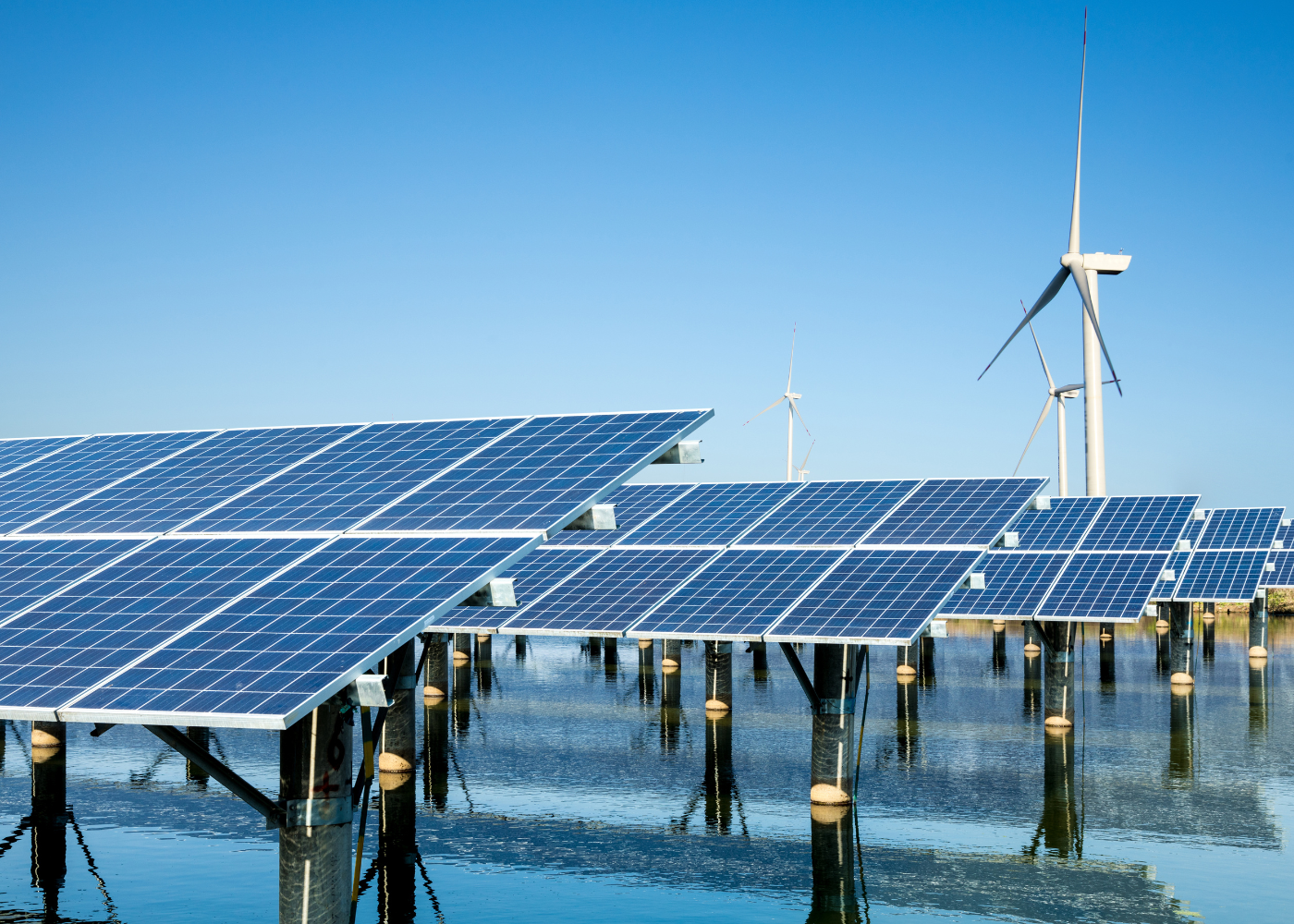 What Happens To Any Solar Power That Isn't Used?
When there is a surplus of energy created and not used by appliances in the home, in most countries, the excess is sent back to 'the grid'. If you select for extra energy to be directed to the grid, in most instances you can receive a payment, known as a 'feed-in tariff'. This is can vary from location to location and something that is worth checking with your energy provider.
Alternatively, the excess solar energy can also be directed to charge a solar battery for future use.
Which Direction Should Solar Panels Face?
If you're in the Northern Hemisphere, you will ideally want your solar panels to face south.
If you're in the Southern Hemisphere, you will ideally want your solar panels to face north.
Whilst this is ideal, it's not a deal breaker if they aren't. If the panels can't face these ways in your location, you need to make sure they aren't in the line of shade throughout the day from surrounding large trees or any other obstructions.
Positioning is important to get the most out of your solar panel installation. The orientation of the roof, the pitch (the slope or angle of it) and available space for panels will all impact the panel positioning. What the tiles are made of can also make a difference.
Are There Any Rebates from The Government for Solar?
Thankfully, many countries are supporting investment in renewable energy technology for both individuals and corporations.
It is certainly worth contacting your local council or government to find out about any available rebates or incentives to purchase and install solar panels, or other renewable energy products.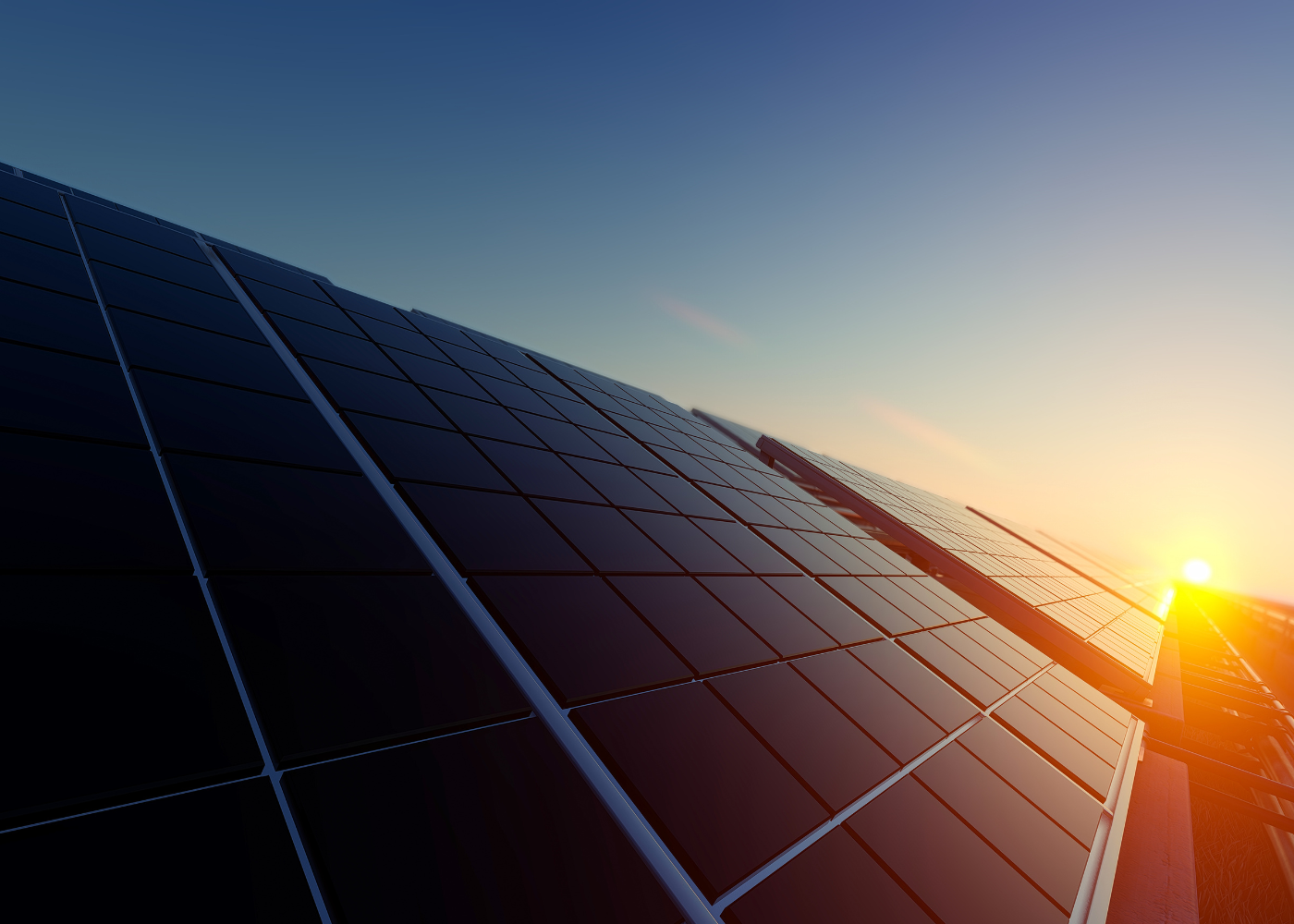 10 Benefits of Solar Energy
Now that we have a better idea of how rooftop solar works, which way solar panels should face and what happens with the excess energy that's created, let's look at some of the key benefits to having solar.
#1 Save Money on Electricity Bills
With soaring energy prices, having rooftop solar will certainly see you saving on your electricity bills, especially if you live somewhere particularly sunny. You can also integrate a battery for storing up extra energy to use on cloudier days and evenings. This will save you even more.
#2 Create Renewable, Clean Energy
As long as the sun is shining, you will have ongoing access to your renewable and clean energy source.
#3 Add Value to Your Home
Whether you pay for them upfront, or off in instalments, your investment in rooftop solar will be appealing to potential home buyers. The fact that solar panels provide environmental benefits and cost savings are two selling points that will certainly add appeal and profit to your sale price. In countries like the UK, solar panels also help to improve your EPC rating (Energy Performance Certificate) which can add value.
#4 Low Maintenance
Generally, rooftop solar doesn't need a lot of TLC. While it is said that the panels don't need to be cleaned, it is not a bad idea to maintain them so they are performing at their peak. Blockers like leaves, dust and water can impact performance, so get a professional in if you don't fancy getting up on the roof to do it yourself! One study revealed that dust accumulation impacted efficiency by 60%, so it is worth maintaining your investment. The only additional cost after the initial investment could be the replacement of the inverter, but that's after 10-15 years.
#5 Reduce Carbon Emissions
Your rooftop solar can cut down on greenhouse gas emissions by hundreds of tonnes. The reduction amount will largely depend upon your location and how much power your panels can generate. But you will certainly be reducing the impact of harmful emissions by making the investment.
#6 Make Money from Surplus Solar
As mentioned earlier, in most countries any energy that you don't use can be exported back to the electricity grid. Your electricity retailer will likely give you a feed-in tariff for each kilowatt hour (kWh) of unused energy that you export. Check with your retailer to discover the feed-in tariff rate they offer.
#7 Quick Return on Investment
Depending on where you live and the amount of sunshine hitting your rooftop solar, you could be seeing payback on your investment within five years. The cost will be returned via the savings to your energy bills.
#8 Decent Product Life
If you do your homework and invest in quality panels, they should last you in excess of 25 years. Pro tip: check the product warranty. The longer the coverage, the higher the likelihood that you're looking at a quality product.
#9 Access Energy at Night
By teaming your panels up with a battery, you will be able to access solar power at any time of day or night. That means a particularly sunny week or two can actually give you nice clean renewable energy well after the sun is down.
#10 Energy Independence
Another reason to invest in a battery alongside your rooftop solar is to enable you to become energy-independent. Stored power drastically reduces your reliance on the main electricity grid, which means you can have enough energy for your personal use, even in the event of power outages.
How Much Money Can You Save With Solar?
While there is an upfront investment required for installing solar panels onto your rooftop, you will see the cost savings almost immediately in the reduction to your energy bills.
It is difficult to define the exact amount you will save. It depends on how many panels you have and where you are located in the world. The amount of sunshine you get impacts the energy produced.
On average, a 5kW system, which is generally enough to power an average home, could save you up to $2000 a year in a typically sunny location.
It does pay to research your region to get accurate reports.
Can You Share Rooftop Solar Energy?
All of these great benefits of having rooftop solar have, until recently, been limited to freestanding homes. However, there have been developments in technology that enable solar energy sharing in some instances using wireless power transfer (WPT). There's also the option to return unused solar power to the grid, which is technically sharing the energy too.
That being said, the big game-changing invention enabling shared rooftop solar energy is the SolShare. This award-winning technology is a single rooftop solar system which can be shared by anyone residing in an apartment building, flats or social housing. Apartment solar panels are a new addition to the game and this tech is the first of its kind. The SolShare empowers those in multi-residential blocks to gain the benefits previously only accessible to those in free-standing homes.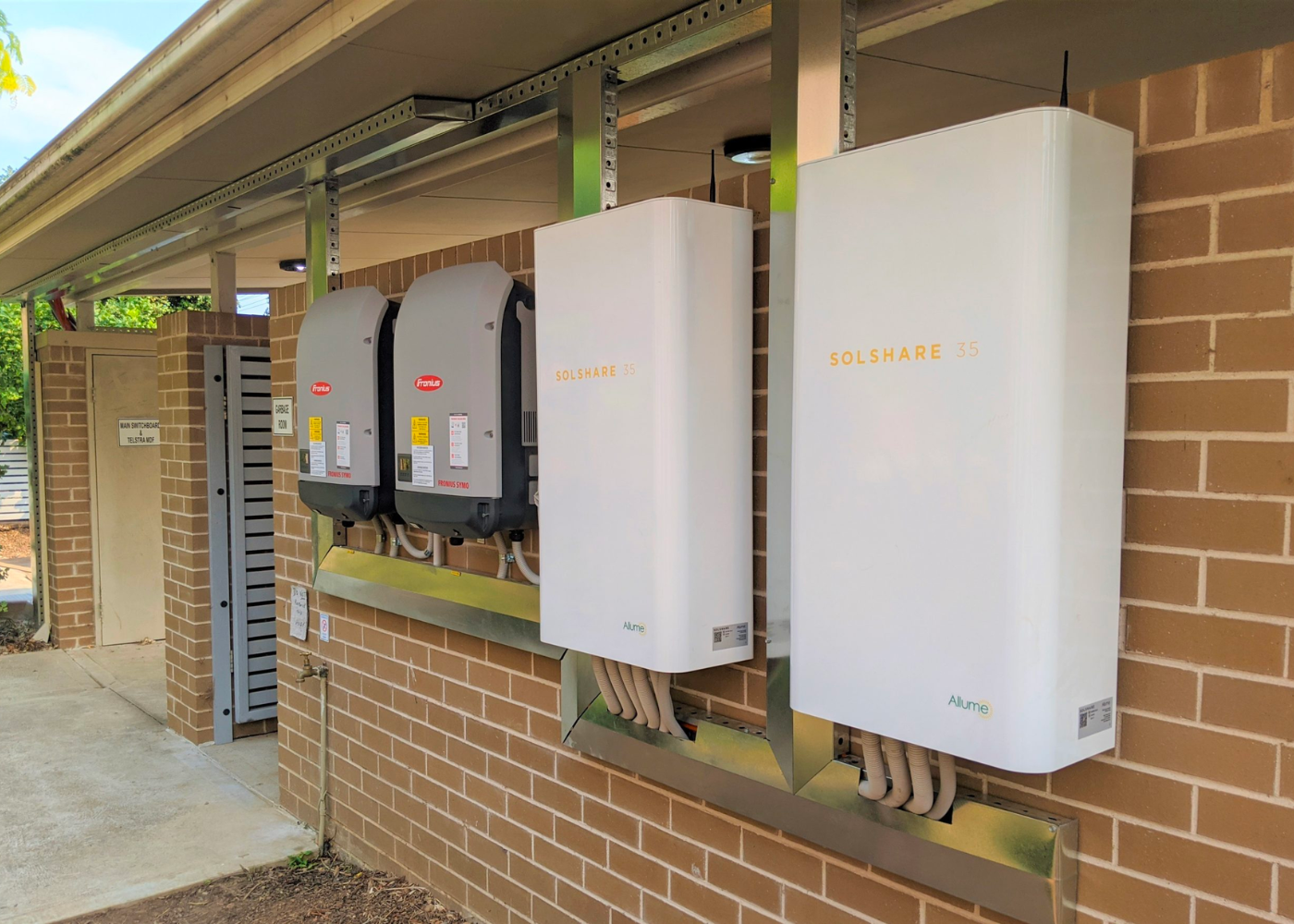 The SolShare takes up limited rooftop space as a single system and has an algorithm that responds to each resident's use. They receive solar energy as it's required, which maximises both consumption and cost savings.
Developers, building strata and body corporates are embracing the new tech. It's flexible in delivery with options for pay-as-you-use (per unit in multi-dwelling buildings) to owning the system outright and receiving the energy free.
Each year, a typical SolShare will reduce C02 emissions by 28 tonnes and cut down on grid electricity use by 35-40%.
To learn more about this award-winning renewable energy technology, contact the team at Allume.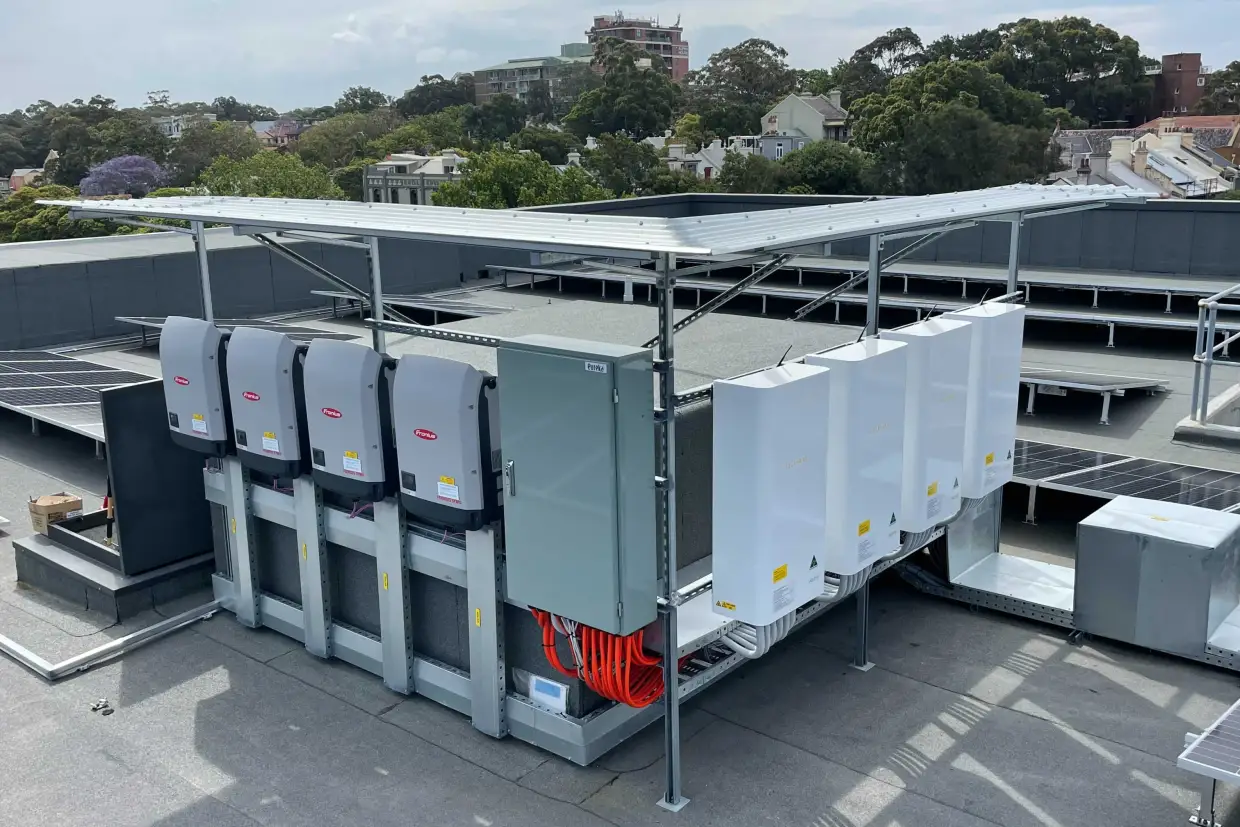 Allume Energy has recently been announced as one of the Sustainability Leaders by the Australian Financial Review – and we couldn't be prouder! The list features some incredible Australian innovators and we're delighted to be named amongst them. All working together for a greener and more sustainable future.
Special Mention for the SolShare
The SolShare is the world's first and only hardware solution for sharing rooftop solar for apartments. Using a single rooftop system, multiple apartments in a building can connect and enjoy the benefits of solar energy. On average, an apartment can save $400 every year on electricity bills. Furthermore, each installation saves 15 tonnes of carbon dioxide being released into the atmosphere each year.
With electricity prices surging all over the world and more people aiming to reduce their carbon footprint, solar energy is becoming ever more popular. There's an immediately addressable market of $US50 billion across the three main regions for Allume. This means there's huge room for growth both overseas and in Australia. Furthermore, over 2 million Australians live in apartments and with Allume's unique technology, it's not just homeowners with large rooftop spaces that can benefit from solar energy.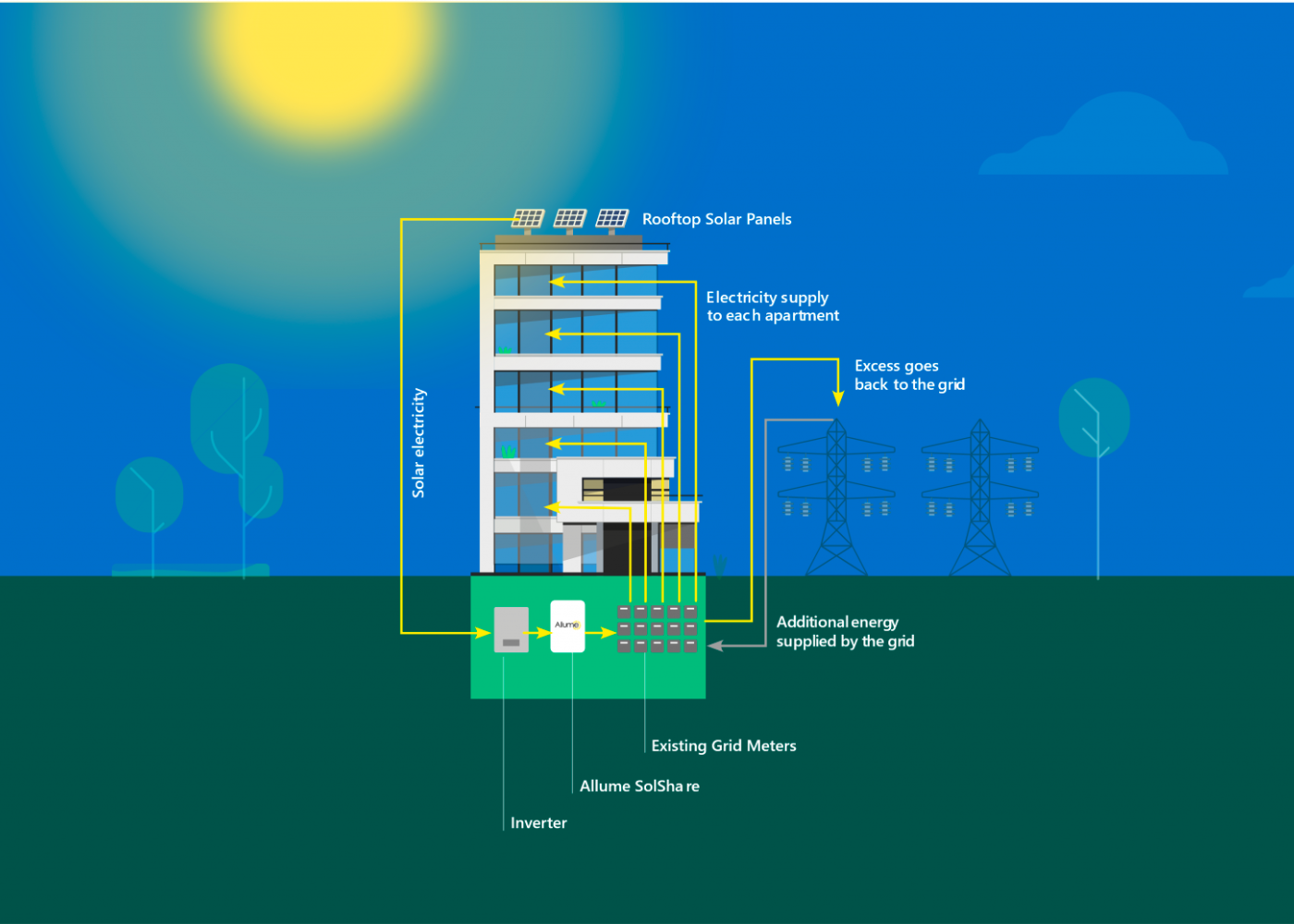 Other Sustainability Leaders in The Resources, Energy and Utilities Category
Allume Energy won the Innovator Award for the 2022 Financial Review Sustainability Leaders, but within the category of Resources, Energy and Utilities there were a number of incredible companies doing hugely exciting things for a more sustainable future.
The category winner was ResourceCo, a company that has been recycling and repurposing waste materials for the last 30 years. Each tonne of waste that doesn't end up in a landfill saves a tonne of CO2 from being emptied into the atmosphere. So far, ResourceCo has saved 60 million tonnes of CO2 from being released!
We were also amongst companies like Delorean Corporation, who use anaerobic digestion from organics found in landfill to deliver renewable gas, electricity and heat. Fortescue has set industry-leading targets and aims to be carbon neutral by 2030 and use renewable energy at all mine sites.
In addition to these is Discover Energy, a company that uses technology to sell energy with the aim of providing consumer empowerment, transparency and value to the energy network. They use Mantra, a Virtual Power Plant platform to achieve this.
To find out more about all the companies and winners of the Sustainability Leaders, you can read the full Australian Review article here.
Allume Energy – Providers of Shared Solar
For years, solar energy was restricted to those who had the space to install solar panels. Now, thanks to the SolShare, apartment residents and owners can also receive solar energy. If you'd like to know more about apartment solar and whether your building could benefit from the SolShare, get in touch with the team at Allume Energy.
Being recognized as one of the AFR's Sustainability Leaders is a huge honour. We're proud to be amongst such innovative and exciting companies that are really making a difference when it comes to sustainability and the future of our planet.
More than 20 municipal governments in Victoria have taken a significant step forward in shaping the way new apartment property developments could be better for both residents and the environment. This is a huge step in the right direction, and thankfully the team at Allume Energy are in a great position to support developers in meeting these proposed changes with our rooftop solar solution for new apartment developments.
How property developers shape our city
Few people have as much influence in shaping cities as property developers. They take an old building or a parcel of land, and then build homes, retail spaces and offices. These new buildings will be around for many decades to come and leave a lasting impact on the neighbourhood. Whether that impact is a net positive or detrimental to the community depends on a lot of factors. One way that government can ensure that the new apartment developments improve amenity and are comfortable and liveable for their residents that live in them, is through regulations in planning schemes.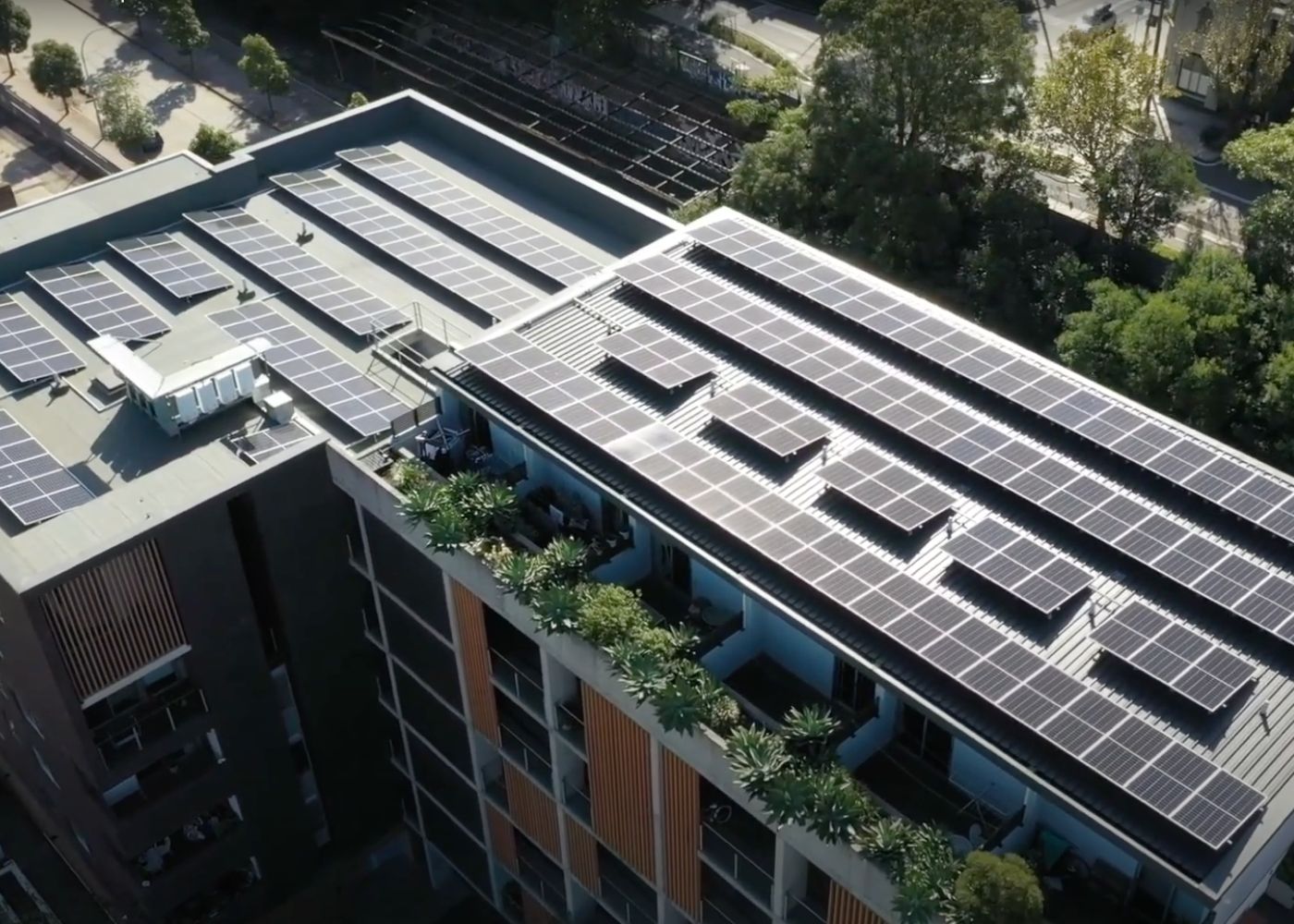 Collaboration across municipalities to support zero carbon developments
In Victoria, Australia, 24 municipal governments have joined to support a "Zero Carbon Developments Joint Planning Scheme Amendment" (JPSA). The effort has been coordinated by the Council Alliance for a Sustainable Built Environment, which has been toiling on this for years, and ensuring the amendments received endorsement from all of the councils.
Under the proposed changes, new apartment buildings and commercial and industrial developments would need to:
>  Produce net zero carbon emissions, to reduce climate impact.
>  Make buildings more energy efficient, to keep electricity running costs low.
>  Better manage water quality, use and collection, to help clean-up our waterways.
>  Protect and enhance greening and biodiversity to support pollinators (bees) and keep buildings cool.
>  Be more resilient to changing climate impacts.
This is great news, and a step in the right direction for ensuring that apartment buildings in Melbourne and Victoria's regional cities are easier and cheaper to cool in summer, heat in winter, and are more comfortable for their residents while treading lightly on the environment.
Setting a minimum requirement for rooftop solar
When it comes to renewable energy, the JPSA is strong on ambition. It proposes that new apartment developments have rooftop solar installed with a minimum of:
>  1 kilowatt of solar panel capacity per dwelling; or,
>  25 watts of solar panel capacity per square metre of the building's footprint.
Allume Energy recommends 1kW of solar capacity per dwelling as a minimum amount that will make a significant difference to electricity bills. The JPSA is therefore in line with our customer guidance. For example, if 10 apartments share at least 10kW of rooftop solar through our SolShare hardware, their electricity bills will reduce by around a third. If they share 20kW, the savings will be between 40 and 50%.
Why is this impact so high, compared to detached home solar installations that are typically 5kW in size? The SolShare constantly monitors electricity consumption by the apartments and sends any generated electricity to the customers that are using power at that point in time, so the solar power supply to an individual apartment is not capped at 1kW.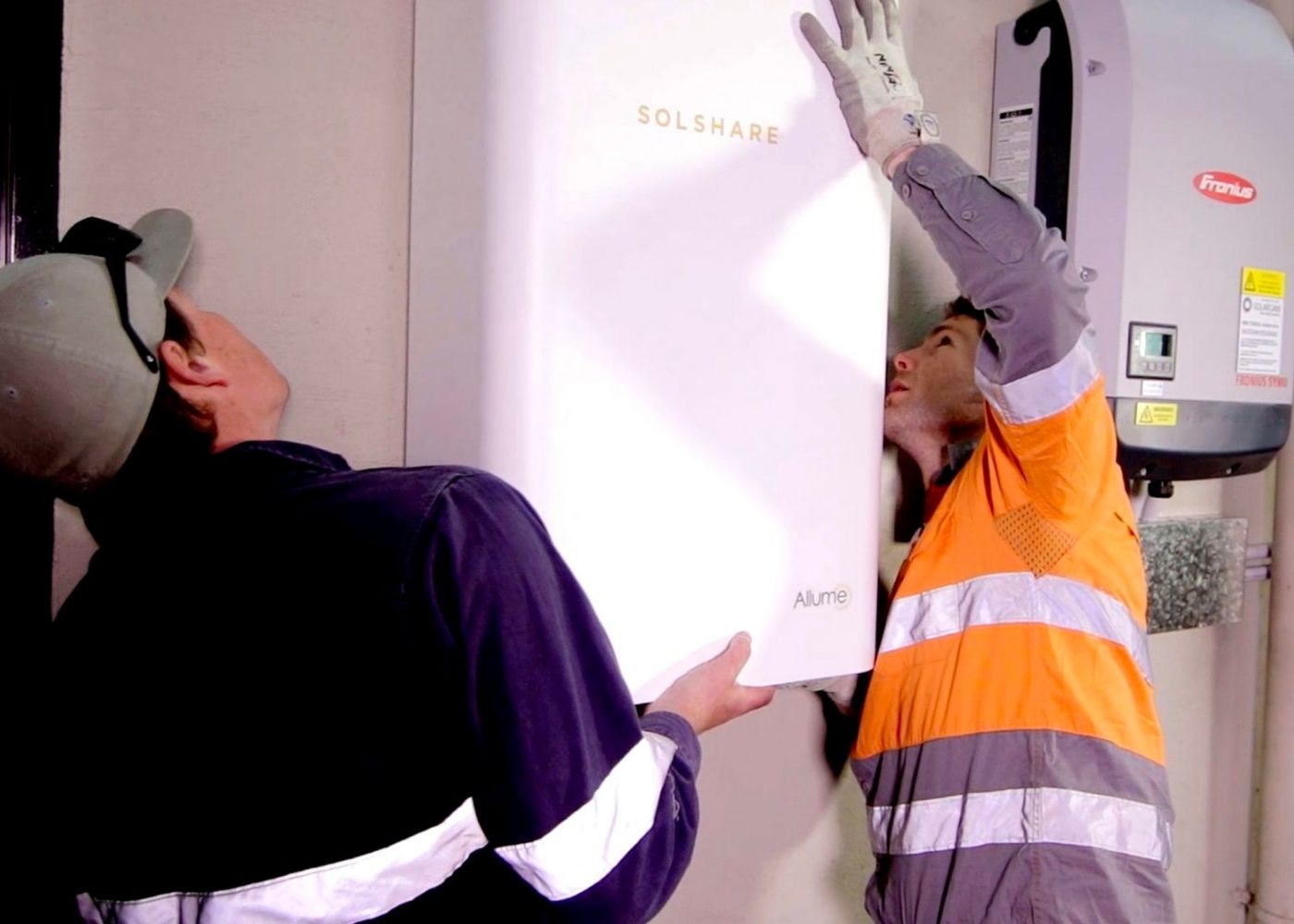 What next for the JPSA?
The 24 municipal governments submitted their proposal to the the Victorian Minister for Planning, the Hon. Lizzie Blandthorn MP, on 21 July. The Minister will need to approve a public exhibition of the proposed changes. If approved, there will be a consultation process that will take at least 6 months. Members of the public will have the opportunity to have their say on the changes. The amendments will then be finalised and put to the Minister for Planning for approval.
If the changes go through, nearly all new apartment buildings will need to meet these standards. If that is something you want to see, make your voice heard if and when the amendments go to public consultation.
Are you interested in incorporating rooftop solar for your next apartment development?
If you are looking to develop an apartment building, a good resource on achieving zero carbon developments is provided by the City of Moreland and be sure to contact us to learn how we can help connect the apartment to shared solar.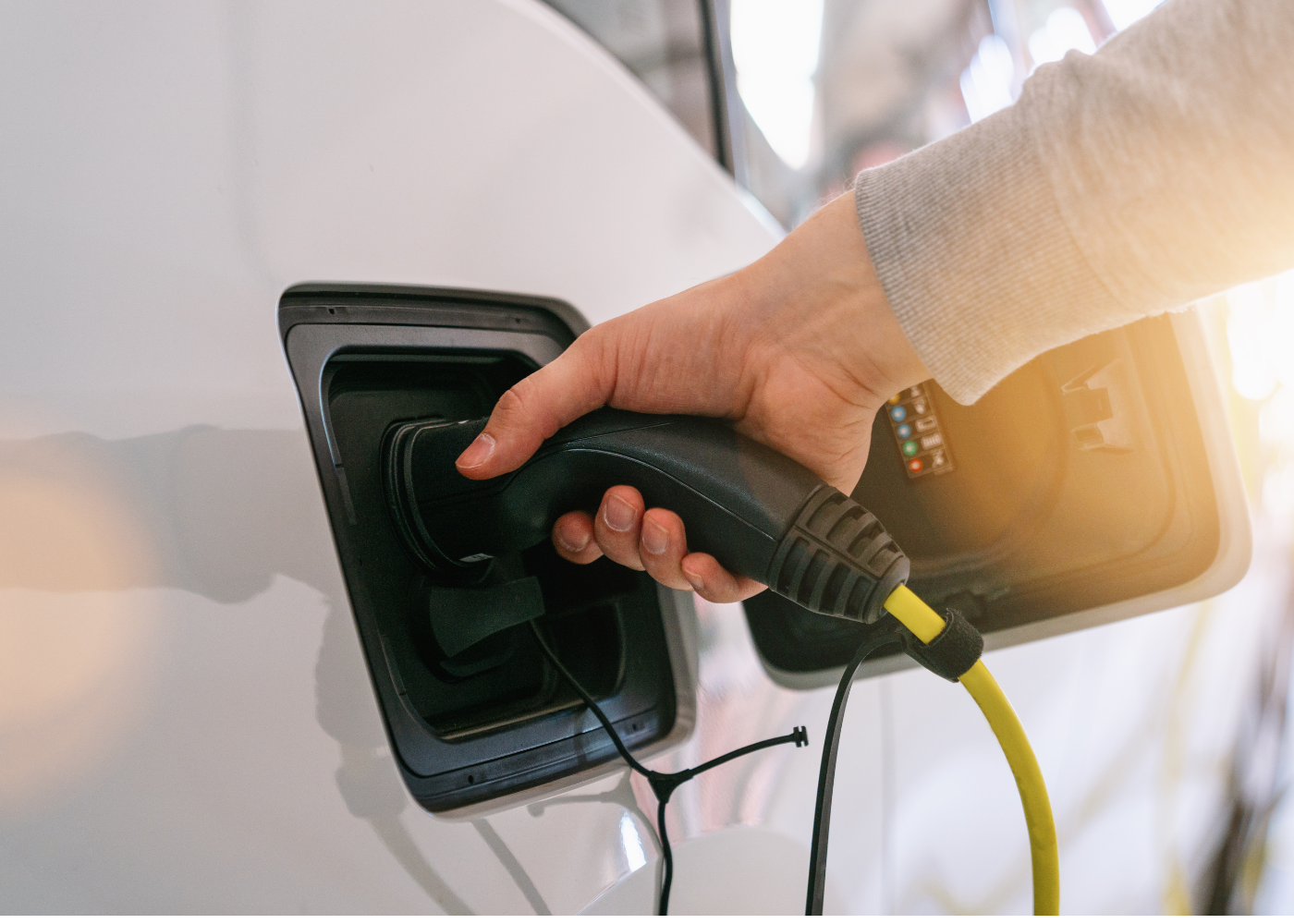 With more and more people around the world driving Electric vehicles (EVs) and plug-in hybrid vehicles, governments, councils and building owners are having to find ways to implement EV chargers to accommodate them. In this drive to be more sustainable, it raises questions such as whether it's possible to have a solar EV charger? And if it is, can you have solar power if you live in an apartment or flat? And of course, whether there are other benefits apart from the environmental impact?
These kinds of questions were recently touched on by The Guardian in their recent article on the hurdles apartment dwellers face when it comes to installing EV chargers, where our very own 'SolShare' was featured as a potential solution.
What Is a Solar EV Charger?
For many, the reason they decide to opt for an EV is that it's better for the environment. No expensive petrol, no fumes in our neighbourhoods, fewer greenhouse gas emissions – it's a win-win. Charging an EV with solar power makes it even more appealing.
A solar EV charger allows you to charge your vehicle with the solar panels attached to your roof and top it up with energy from the grid when necessary. Some independent chargers even have solar panels attached to them. In terms of appearance, they're pretty similar to regular EV chargers but there are a lot of benefits to them for both the environment and the vehicle owner.
How Can Residents Benefit from Installing an Apartment Solar EV Charging Station?
For many years it was very difficult, if not impossible, for apartment-dwellers to change their electricity system, install a solar EV charging station, or benefit from solar energy at all. Owners and companies believed these changes to be too expensive and unnecessary – but that's changing. The SolShare is the world's only hardware that allows multiple apartments to share a single rooftop solar system for an affordable price. Residents (and owners) get to reap the benefits this brings, including installing EV charging stations that run on solar power.
The EV charging stations can be wired in two ways:
An EV charging station is installed at the designated parking spot of the apartment resident and is wired up to the circuit of that apartment.
EV charging stations are installed in the car park and connected to the Common Light and Power circuit (sometimes called Community Power) which provides electricity to the hallways, elevators, swimming pools and other common areas and facilities.
So what happens if you have an EV but your neighbour doesn't? They're probably not going to be happy paying for their petrol while also using less solar than you because you're using up all the solar power to charge your car. Thankfully the SolShare automatically registers the amount of solar energy that each apartment receives in a month and can ensure that every unit connected to the system receives the same. So even if one neighbour charges their car, and the others are only home before and after work – everyone gets the same solar benefit.
If the EV chargers are connected to the Common Light and Power, then there are some companies providing a billing service to ensure that the Owners Corporation (also known as a Strata Community or Homeowners Association) recoups the cost of charging from the EV owner on a user pays basis.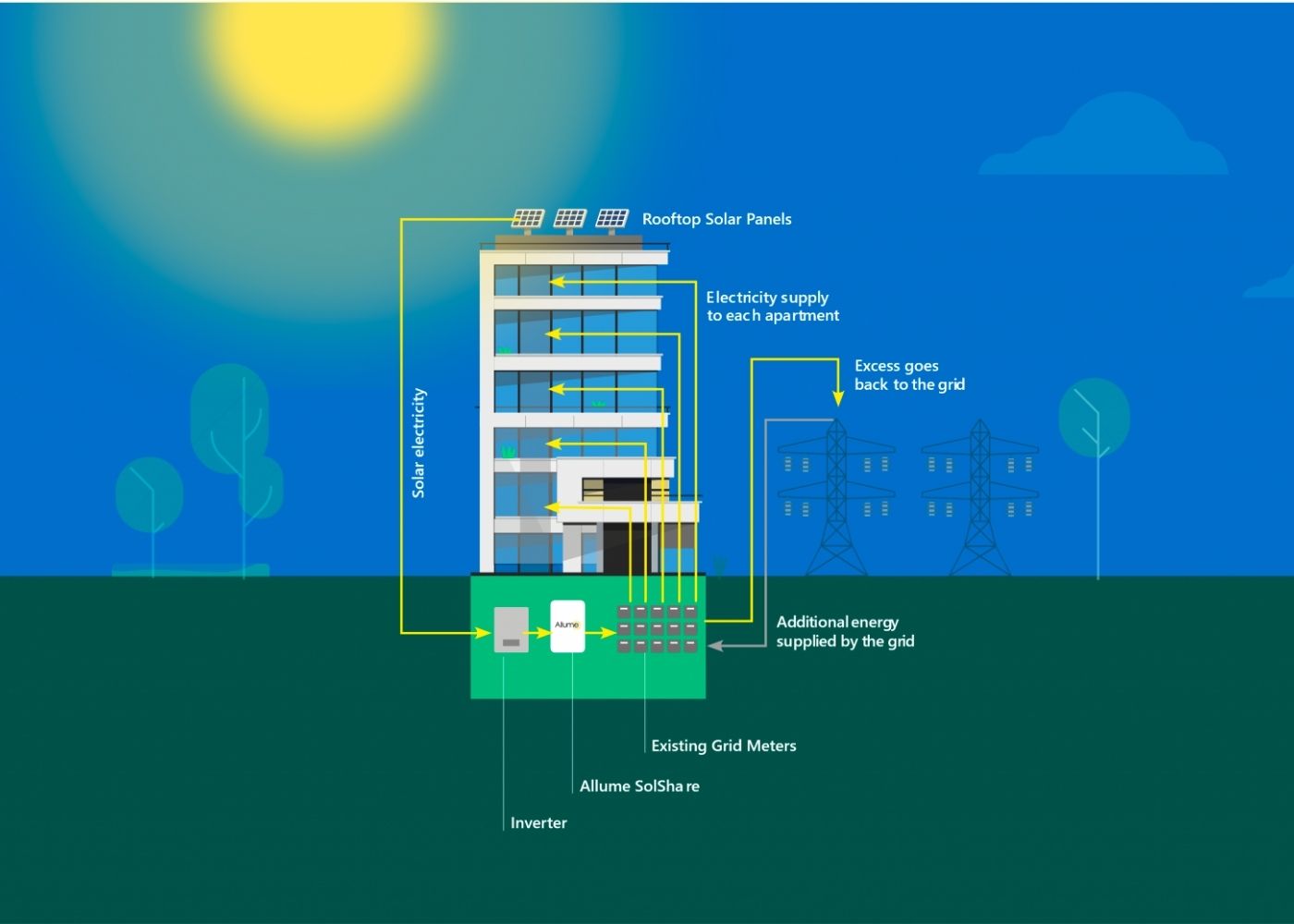 How Can Property Owners and Councils Benefit?
Whether they want to or not, property owners can't deny that the world is changing. Governments are being voted in that have a clearer and greener plan for the future and people have a wider selection of EVs to choose from. As an example Ford has announced that all vehicles sold in Europe will be electric by 2030 and General Motors has said that their factories will only produce electric vehicles by 2035. The European Union recently banned the sale of vehicles that use petrol or diesel from 2035.
So this trend is only going to keep on growing.
The more common it is for people to own EVs the more normal it will be for them to expect a solar EV charger in their home or complex. Property owners who have the intention of renting and who haven't installed a vehicle charger will be losing out on potential renters or current tenants will leave.  As well as this, with rising energy costs – tenants may start looking for complexes where they'll have access to rooftop solar to help reduce their energy bills.
For many, the worry comes when they think about how solar panels or a solar energy sharing system will change the appearance of their property. Luckily, the SolShare system is discrete and, as the Guardian describes it, 'about the size of a computer'.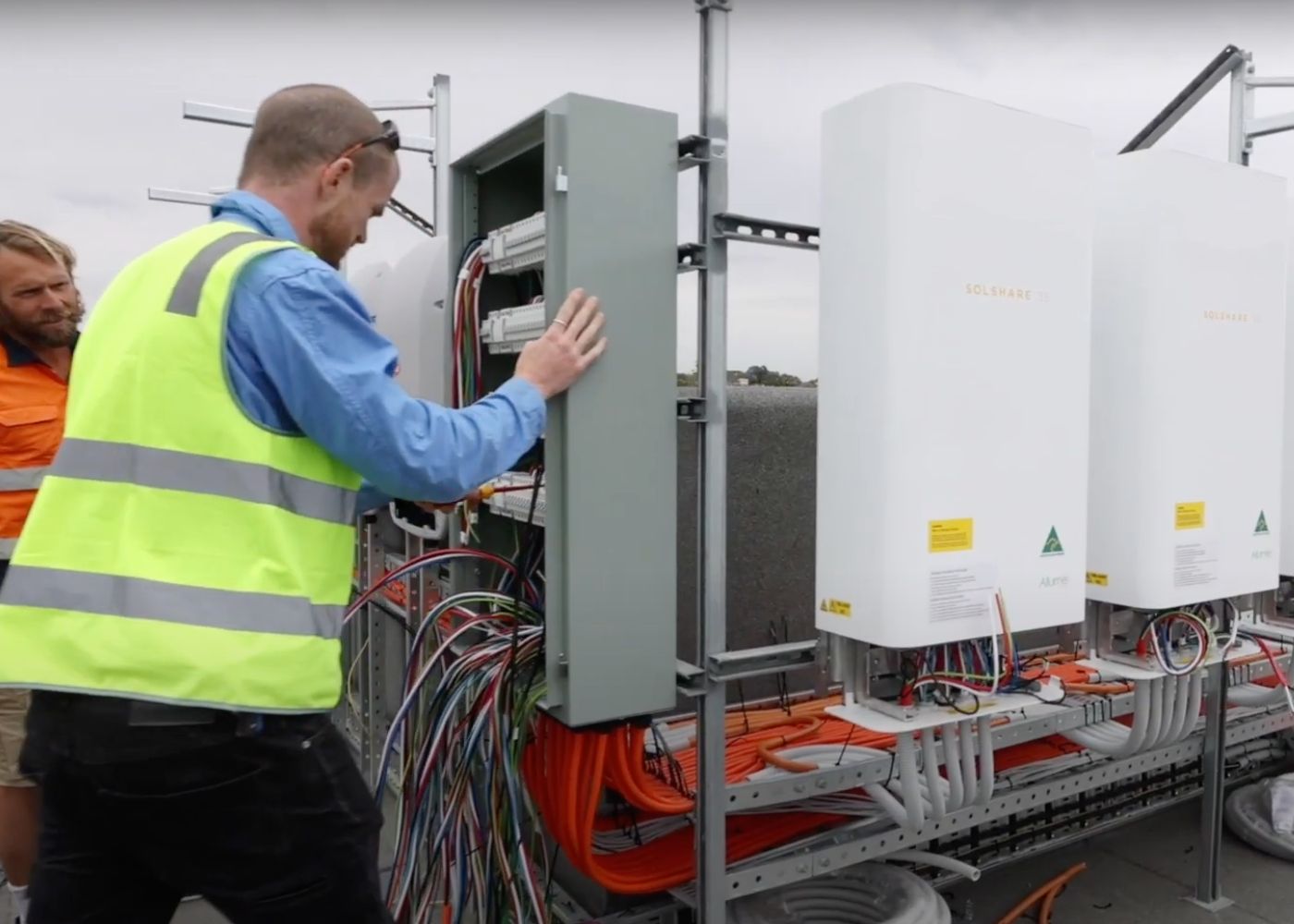 Thinking About Installing a Solar EV Charger in Your Building?
If you're an EV driver, property owner, or council and you're considering installing a solar-powered EV charging system then get in touch with us today. We'll be happy to talk you through the SolShare and how this unique system can help make installing eco-friendly EV chargers easier and the added benefits it will bring.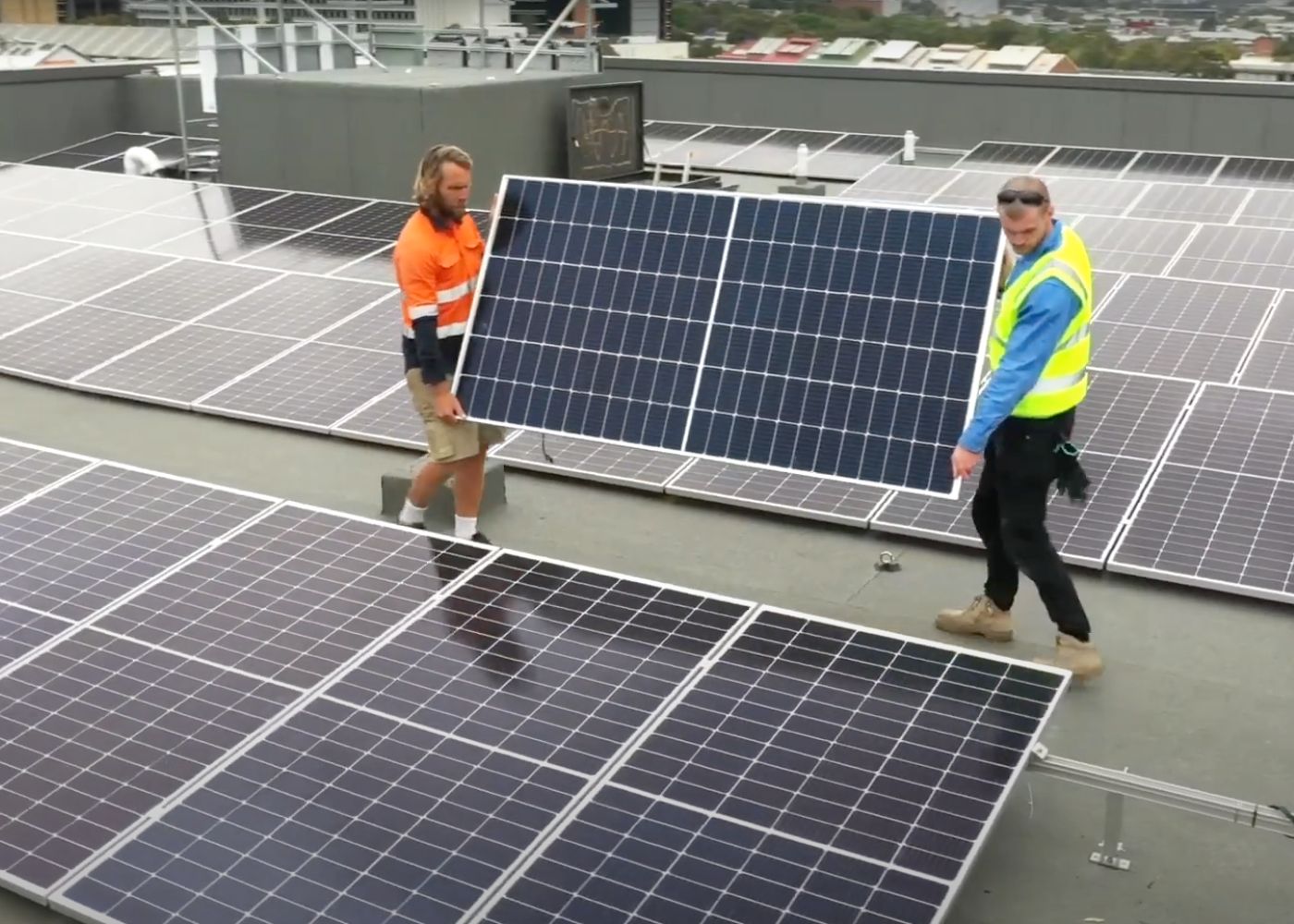 The energy crisis
There's been a lot of media coverage recently over the unprecedented turmoil in Australia's energy markets. A combination of factors has caused the steepest increase in wholesale prices for electricity and gas ever experienced, and these high prices are expected to continue well into 2023. While this will have an impact on all households across Australia, one of the hardest hit by the rising energy costs will be those in social housing.
The causes of these increases are due to our reliance on fossil fuels and an ageing grid:
The fallout of the Russian invasion of Ukraine has led to massive increases in prices for oil and gas. Considering some of Australia's electricity is generated using gas-powered turbines, this has compounded problems for Australia's electricity retailers.
The wet weather on Australia's eastern seaboard has disrupted railroads that provide coal to Australia's largest coal power station in Eraring on the NSW Central Coast. This means the power station has had to throttle down electricity output.
The cold snap that started in May means electricity demand increased as people heated their homes and offices just at the time that solar production starts to dip as the days become shorter.
Constraints in interstate connections mean that excess hydropower capacity in Tasmania and brown coal-fired capacity in Victoria can't be exported to NSW and Queensland to alleviate their shortages.
Constraints in the capacity of the poles and wires in Western Victoria and NSW mean that perfectly good solar and wind farms are sitting dormant because the grid can't handle the new generation capacity.
Bill shock and energy poverty
Authorities responsible for price regulation have already approved massive increases to Default Market Offers (the standard electricity contract for homes and small businesses) from 1 July. South Australia's prices will be going up 20%, Queensland's by 18%, and New South Wales customers will be hit with a 12% increase.
Research has shown that people on lower incomes spend a larger share of their money on energy bills than people on higher incomes. For the top 20%, energy bills only take up 1-2% of their monthly income. For the bottom 20% of income-earners, energy bills eat up 7% of their monthly budget, and that's before the energy tariffs are hiked up on 1 July.
When low-income people face massive increases in energy bills, they face stark choices: feed the kids or let them go hungry, pay the rent or fall into arrears with the landlord, or pay the power bill or get threatened with disconnection. Energy hardship payments don't automatically get increased when power prices rise. This is a situation faced by a million Australians each month, and that number is only going to get higher.
The solution: SolShare
Allume's existing customer base of over 1000 apartments with rooftop solar, including over 600 social housing dwellings, have the best defence against these steep increases: rooftop solar. Prior to the energy crisis, these residents were already saving around $300-$350 per year compared to the default offer provided by electricity retailers. Now that is set to surge to between $400 and $500 per year. That's a lot of money for someone on the pension, JobSeeker or the minimum wage.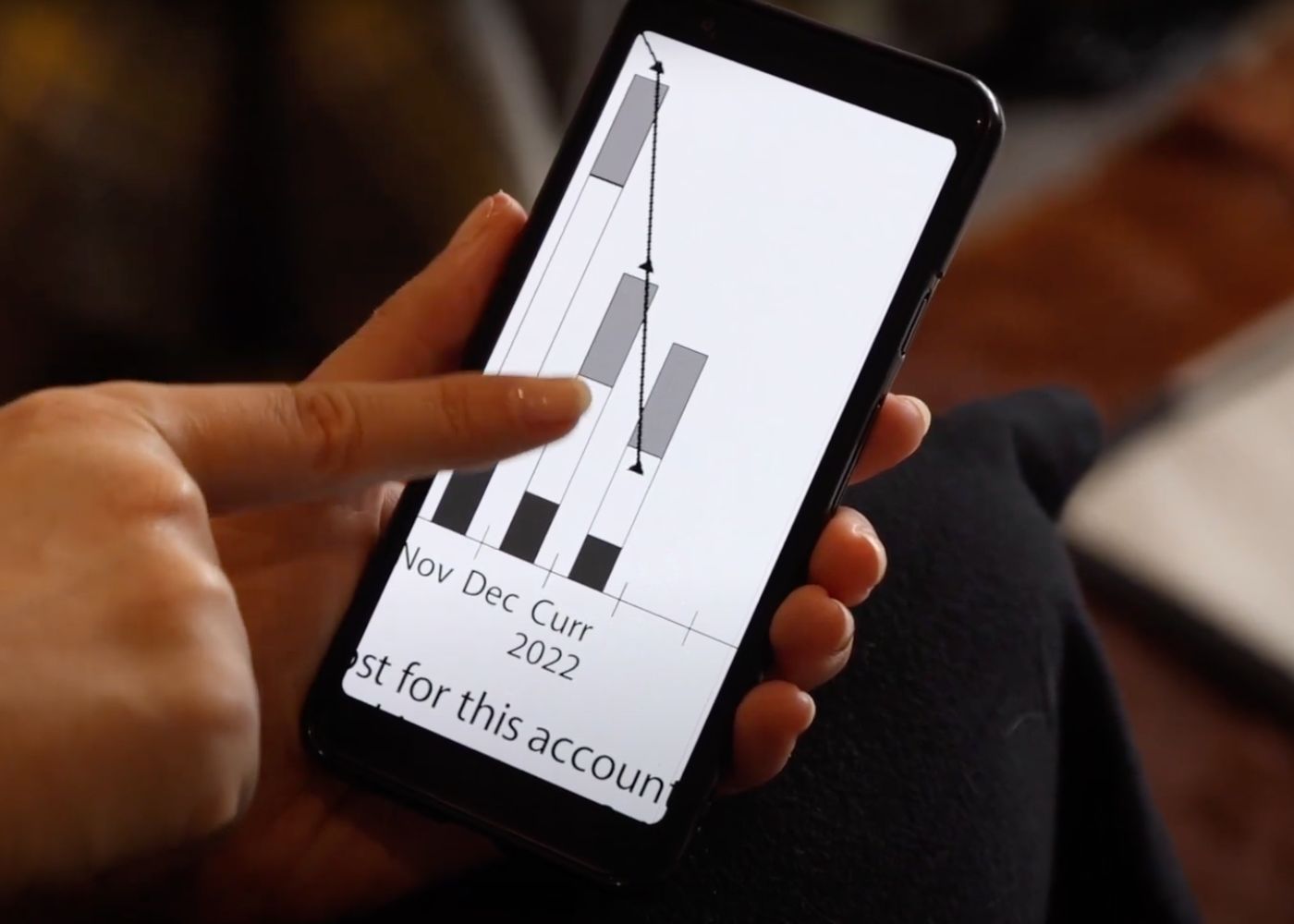 Considering that it costs next to nothing to maintain a rooftop solar installation, these increased savings on electricity bills will only accelerate the payback period for the capital outlay. To put that in other terms: investing in rooftop solar is now more financially attractive than ever before.
A case study: Rooftop Solar for City West Housing, NSW
City West Housing is a leading Community Housing Provider in NSW. They connected rooftop solar to 226 apartments in three apartment complexes in their portfolio with Allume's SolShare technology.  See the video below for the real-world benefits experienced by the residents in City West Housing's Carriageworks community in Everleigh in Sydney's inner west.
Scale-up solar
How can we connect as many people as possible as quickly as possible to rooftop solar?
Shared solar installations using Allume's SolShare technology can connect more people to rooftop solar people in low-income communities per dollar spent than any other approach. Government subsidies can leverage co-investment by Community Housing Providers to get rooftop solar installed as soon as possible.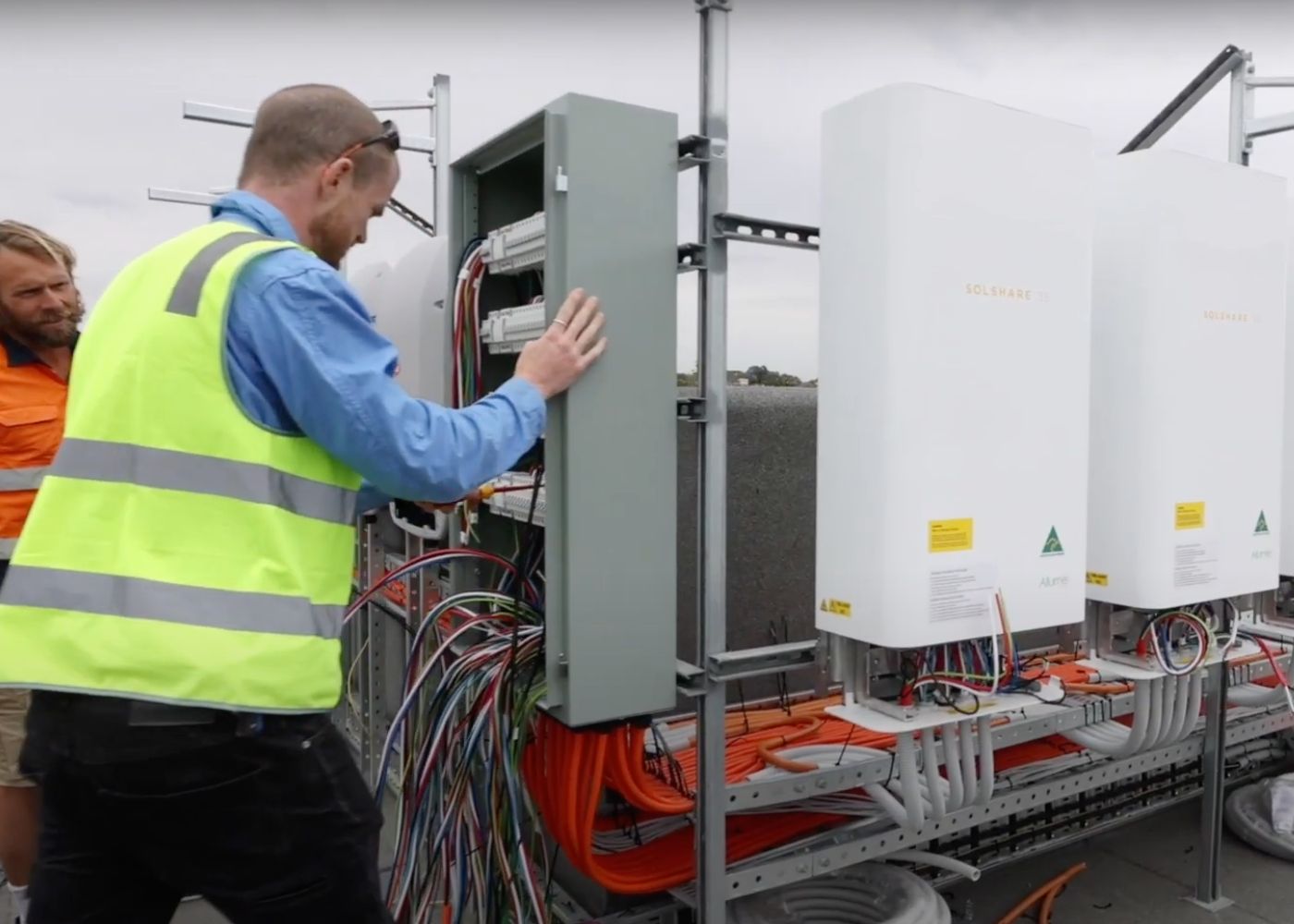 Successful examples of this approach include Solar Victoria's rebate of up to $1,400 per dwelling for the installation of rooftop solar by Community Housing Providers. Housing authorities in the Australian Capital Territory and South Australia have outright funded rooftop solar installations on public housing. The City West Housing installations were funded by the NSW Government, but this funding program has since closed.
We need these programs to be continued, expanded and replicated by other states and the Commonwealth Government so we can ensure that the energy crisis doesn't hurt vulnerable people who are least able to endure it.
If you'd like to find out if the SolShare will be suitable for your new or existing community housing project, get in touch with the team today.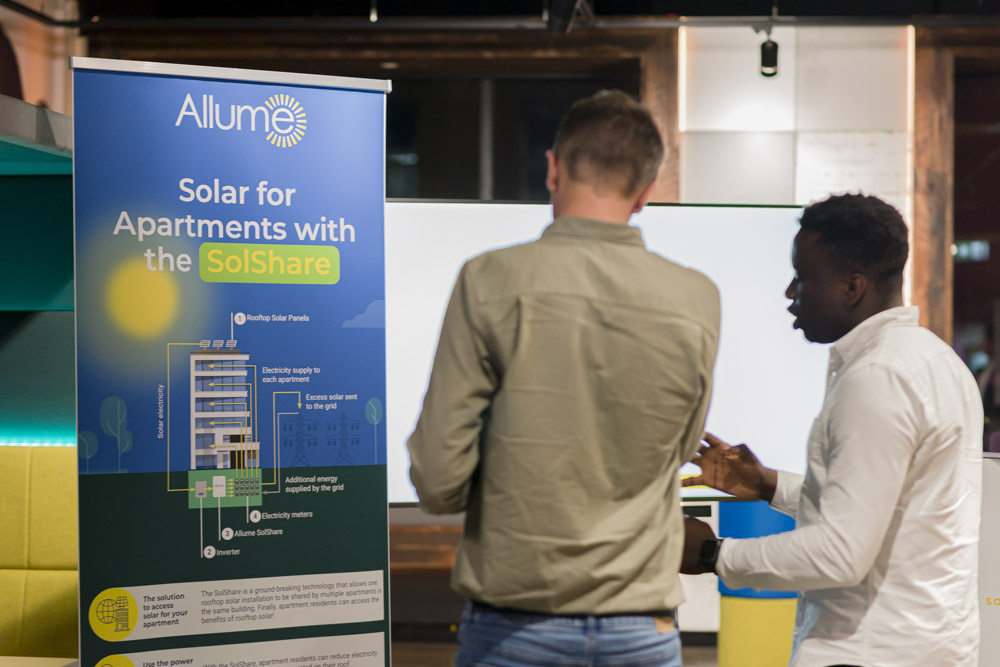 Allume Energy was privileged to be invited to the recent RealtechX ESG Impact Showcase in Melbourne. We had representatives from our Commercial, Tech and Service teams in attendance, along with a real life Solshare!
Increasing the focus on sustainability for commercial real estate
The event focused on 'innovations for more sustainable resources' in industry. ISPT's Daryl Browning opened the night by sharing his experiences and challenges when it came to pushing for more sustainability focused real estate assets, and also how he fell into the realm of sustainability as a whole.
The ensuing round table discussion provided inspiration for change in the sector, with Vicinity Centres' Nick Irvine and ISPT's Renee Nutbean and Steven Peters discussing and comparing ESG strategies from their respective organisations, with plenty of realised data to back up their implemented strategies.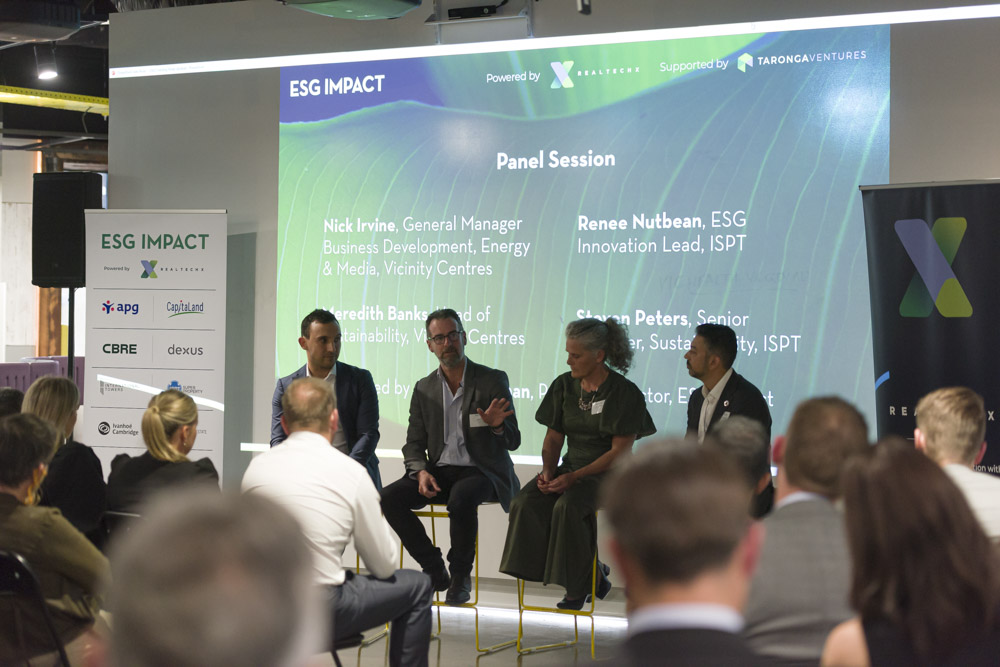 The night was rounded out by enjoying the niceties of Foy's Arcade and networking with highly skilled entrepreneurs and ESG advocates. There were plenty of organisations on show, with a number of sustainability technologies presented that will no doubt be seeing a lot more of in the coming years.