SHARE
Allume Energy |
07 Feb 2023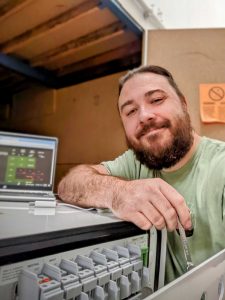 We want to highlight the amazing work of our Principal Applications Engineer for the US, Brandon Carlson, for protecting the storage mandate for new multifamily and commercial construction in California.
Thanks to Brandon, the California Energy Commission was provided a wide range of solutions and technical clarification to assist them in a successful rollout of the new January 1, 2023 requirements for new offices, schools, stores, warehouses, apartments, condos and other building types that must have solar PV and storage.
Late last year, builders approached the Energy Commission saying that due to technical and market limitations, they would not be able to meet the mandate. This opened the door for the Commission to create an exemption, which would have stifled the rollout of solar and storage. The Energy Commission has estimated that the mandate will result in 280MW of solar PV and 400MWh in additional storage capacity annually.
The Energy Commission turned to CALSSA for help, who enlisted Brandon's advice on behalf of Allume Energy. 
Brandon led a series of meetings with the Commission staff explaining the existing solutions, how to wire multiple single-phase inverters in a building with 3-phase power, and changes the Commission should make to their compliance documents. 
As a result, the Commission was able to provide builders with a menu of 3-phase, 208V storage solutions, and keep the mandate in place where they otherwise would have rolled it back.
Brandon was recognised by California Solar & Storage Association (CALSSA) as person of the month for his instrumental role in ensuring the mandate was not overturned. 
About Brandon
Brandon is located in beautiful Winchester, California. He was promoted from Senior to Principal  Applications Engineer at the beginning of the year and has helped launch Allume Energy's US division.
Brandon has been in the solar and energy storage industry for over 20 years.  He is an electrical contractor, holds International Code Council certifications for being both a residential and commercial electrical inspector, and has contributed a great deal to codes and standards.  He represents an industry stakeholder on a variety of technical boards ranging from testing labs to national organisations.  His knowledge and expertise in his field has been fundamental to Allume's integration into the US market.
When asked what drives him, Brandon responded, "Simply put, I'm an environmentalist with a passion for problem solving.  If I wasn't paid, I would still be working within this industry, hence my very long volunteer list. Allume's SolShare product is a great concept and I'm excited to be a member of a dedicated team of individuals that recognize its potential for multifamily residents." 
His hobbies include; fixing bad policies, codes, and standards, endangered flora and fauna, habitat restoration, sustainable living and dwelling design, table-top gaming, model building, and special effects.