SHARE
Allume Energy |
28 Mar 2023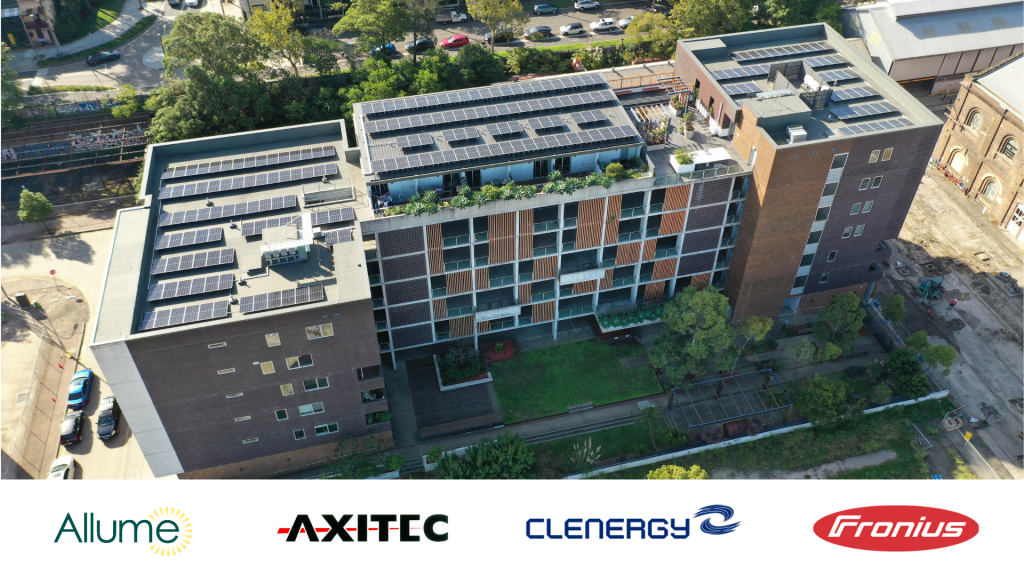 MEDIA RELEASE – 28th March 2023
A partnership of renewable energy companies, including Allume Energy, AXITEC Energy, Clenergy and Fronius Australia, has formed to make solar energy for multi-tenant social housing buildings more affordable.
As the cost of living in Australia continues to soar, particularly the cost of energy, many Australians are struggling to make ends meet. In response, an industry initiative has stepped in to provide a more affordable solution.
With energy prices at their highest in decades, many social housing providers are increasingly concerned with finding sustainable solutions for tenants across their portfolios, but everything comes at a cost. And, until recently, it hasn't been feasible to install solar energy on apartments, which make up a significant proportion of social housing in Australia.
Four major clean energy companies have come together to provide a solution; a reduced-cost, solar equipment package that can connect residents of multi-tenanted buildings to lower cost renewable energy.
Dubbed the 'Solar Social Housing Package', the initiative offers a discount on the solar panels, roof mounting equipment, smart meters and solar sharing technology required to provide apartment residents with self-generated solar energy. The total discount amounts to around $3,750, although the partnership is now negotiating to potentially offer an even better reduction.
"Allume is thrilled to work together with our associates to solve problems that matter," commented Cameron Knox, CEO of Allume Energy. "It is crucial that apartment residents can access clean, affordable energy, particularly social housing tenants, who are often disproportionately affected by the rising cost of energy. Communities shouldn't have to decide between putting food on the table and heating their homes."
Andreas Boeck, Managing Director Australia at AXITEC said, "AXITEC Energy wants to give back to the social housing community, together with our other partners in this project, by providing high quality solar modules at a discounted price for people on a low income which will assist them in lowering their electricity bill."
Samir Jacob, Global Marketing Manager commented, "the Solar Industry is powering the future with innovation and sustainability, and we at Clenergy are glad to collaborate to bring about a brighter tomorrow for our communities. Thank you Allume for having us part of your journey."
"We could not be more excited to contribute to the Solar Social Housing Package initiative," Mariella Doppelbauer, Managing Director at Fronius Australia explains. "At Fronius, sustainability greatly influences every decision we make. To have the opportunity to assist these tenants become more financially sustainable with clean renewable energy is a proud moment for us."
Combined with the various grants that are available across Australian states, installing solar energy on new or existing multi-tenanted properties may become a 'no-brainer' for social housing providers.