Category:
Policy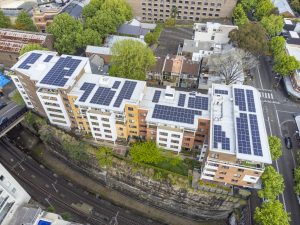 An example of shared rooftop solar for community housing being made possible through previous government funding      
Net-Zero and how do we get there?
There's been a big focus on national electrification in the public sphere of late. The long term "how we get there" aspect is often considered unknown and constantly changing. The simple reality is that we already know what the end scenario looks like, electrification of our energy grid, movement away from fossil fuels and a bigger focus on zero-carbon developments. Although technology and approaches will change over this period, what we have at our fingertips now, will put us in good stead for the future.
Unfortunately, there is a major issue with this approach.
For too long, social housing has copped the short end of the stick. For example, in Australia it is standard practice not to include air conditioning within social housing. This issue is most prominent in multi-unit and apartment complexes. This, combined with the lack of insulation, energy efficiency design and poor building workmanship has resulted in these members of our committee being exposed to the harshest of weather conditions.
Additionally, when air conditioning is installed, the residents are often unable to afford to run these appliances due to their high energy consumption.
The time is now to ensure that this does not keep happening.
Federal Government may be the vehicle we've been waiting for!
Allume Energy has gladly offered our expertise in the social housing multi-tenancy sphere to the Smart Energy Council (SEC) in support of the 2023-24 Federal Budget Submission. The key focus has been taken on support of low income households, in accessing the ability to electrify their homes. On top of this, additional support will be extended to social housing providers, both non-profit and state.
As a collective the funding will unlock the ability to
Rollout shared-solar to apartments by implementing SolShare technology.
Increase the energy efficiency of buildings and electrify the infrastructure on site.
Support the conversion of outdated and underfunded apartment buildings to a cost-effectively run, modernised housing asset portfolio.
The key aspect of this submission is ensuring that low-income households are the ones who reap the direct benefits of energy reduction, in the same way that those who own their own home do. Without intervention from the government, in a time where the housing waiting list is increasing daily, it is very difficult for those in need of housing to meet the financial demands of 2023.
Several guiding initiatives have been proposed by the SEC to support the rollout of the funding –
Families Smart Energy Package
A means tested low-interest loan for solar, battery storage, energy efficiency, heat pumps and battery vehicles such as bicycles and vehicles.
Renters Smart Energy Package
A vehicle to address the split-incentives associated between landlords and their tenants, with scope to associate this with social housing. This would allow the procurement of assets and the ability to benefit both the social housing tenants, and the social housing providers.
Additional Solar Banks funding is also recommended as part of this component.
Public and Social Housing Package (A Low-Income New Energy scheme)
Developed to highlight that although there are significant social, environmental and medium-term budgetary benefits to energy upgrades, there has been little funding provided relative to the potential impact that this funding could provide. This aspect highlights the potential to utilise portions of the existing utility concessions towards the funding of energy upgrades such as solar, insulation etc. With the key aspect of ensuring a net benefit to residents.
Healthy Smart Energy Package
Funding to assist with the conversion to all-electric homes, Eg: removing gas connections and appliances.
National Smart Energy Communications Campaign
Almost the most important piece of the submission. Education and awareness of the benefits of electrification, and the clear cost of living and comfort of living benefits that are associated with electrification.
We anticipate these changes over the ten year period will afford those in social housing, in particular those that call apartments home, the ability to live comfortably and freely, as should be the right for every Australian.
Link: Government Funded Social Housing Case Study
An insight in to the types of projects where previous government funding has assisted in extending the benefits of shared rooftop solar to social housing residents can be found here.
https://allumeenergy.com/wp-content/uploads/2021/07/Case-Study-Allume-Energy-Evolve-Housing-Ryde-NSW-Oct-22.pdf
Link: Smart Energy Council Submission
The full Smart Energy Council 2023-24 Federal Budget Submission can be found here.
https://smartenergy.org.au/articles/23-24-budget-submission/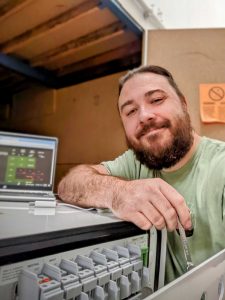 We want to highlight the amazing work of our Principal Applications Engineer for the US, Brandon Carlson, for protecting the storage mandate for new multifamily and commercial construction in California.
Thanks to Brandon, the California Energy Commission was provided a wide range of solutions and technical clarification to assist them in a successful rollout of the new January 1, 2023 requirements for new offices, schools, stores, warehouses, apartments, condos and other building types that must have solar PV and storage.
Late last year, builders approached the Energy Commission saying that due to technical and market limitations, they would not be able to meet the mandate. This opened the door for the Commission to create an exemption, which would have stifled the rollout of solar and storage. The Energy Commission has estimated that the mandate will result in 280MW of solar PV and 400MWh in additional storage capacity annually.
The Energy Commission turned to CALSSA for help, who enlisted Brandon's advice on behalf of Allume Energy. 
Brandon led a series of meetings with the Commission staff explaining the existing solutions, how to wire multiple single-phase inverters in a building with 3-phase power, and changes the Commission should make to their compliance documents. 
As a result, the Commission was able to provide builders with a menu of 3-phase, 208V storage solutions, and keep the mandate in place where they otherwise would have rolled it back.
Brandon was recognised by California Solar & Storage Association (CALSSA) as person of the month for his instrumental role in ensuring the mandate was not overturned. 
About Brandon
Brandon is located in beautiful Winchester, California. He was promoted from Senior to Principal  Applications Engineer at the beginning of the year and has helped launch Allume Energy's US division.
Brandon has been in the solar and energy storage industry for over 20 years.  He is an electrical contractor, holds International Code Council certifications for being both a residential and commercial electrical inspector, and has contributed a great deal to codes and standards.  He represents an industry stakeholder on a variety of technical boards ranging from testing labs to national organisations.  His knowledge and expertise in his field has been fundamental to Allume's integration into the US market.
When asked what drives him, Brandon responded, "Simply put, I'm an environmentalist with a passion for problem solving.  If I wasn't paid, I would still be working within this industry, hence my very long volunteer list. Allume's SolShare product is a great concept and I'm excited to be a member of a dedicated team of individuals that recognize its potential for multifamily residents." 
His hobbies include; fixing bad policies, codes, and standards, endangered flora and fauna, habitat restoration, sustainable living and dwelling design, table-top gaming, model building, and special effects.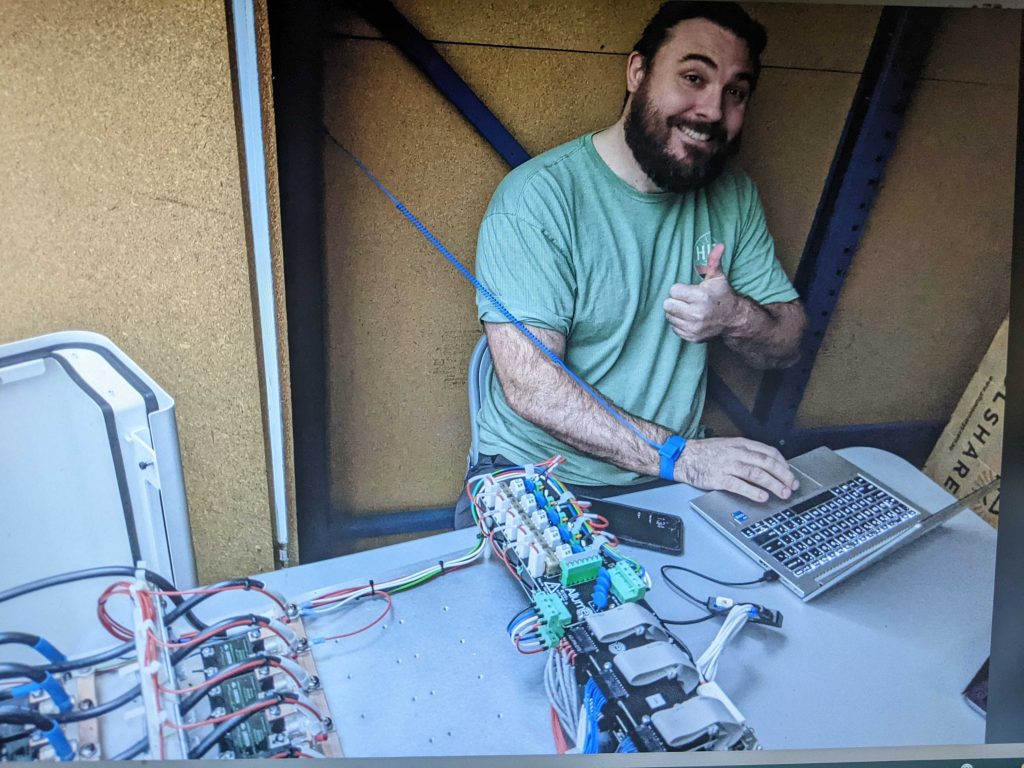 SolShare is the world's only hardware for connecting a single grid-tied solar PV system to multiple, separately metered units behind-the-meter. The uniqueness of this hardware solution makes it a go-to technology to reduce the energy bills and increase the SAP / EPC score of flats across the UK.
As part of SolShare's market entry into the UK, Allume conducted a thorough compliance and acceptance signoff process, which included all relevant governing and industry bodies.
If you require any further information or documentation on the below, please makes a request via info@allumeenergy.com.
UKCA certification
SolShare is fully compliant for installation across the UK and as such, holds the UK CA mark. By holding the UKCA mark, SolShare conforms with all relevant electrical regulations and British standards.
DNO and ENA acceptance
SolShare has been reviewed by all UK Distribution Network Operators (DNOs) and the Energy Networks Association (ENA) and accepted for installation across all UK networks.
Note: As the SolShare is not a power generating device (PV inverter) it cannot and does not need to be 'type test' certified. This is why the SolShare itself is not a type test certified product.
Ofgem acceptance for ECO4
SolShare went under a rigorous review by Ofgem and accepted as an 'innovation measure of substantial uplift' for the ECO4 funding initiative. To gain this classification, Ofgem declared SolShare as a 'technology that is a significant improvement on the closest alternative'.
This classification unlocks a 45% funding uplift on ECO4 projects.
You can find SolShare as 'Innovation Measure Number 18' in this document.
E.ON are the obligated energy supplier who facilitated the submission to Ofgem.
MCS acceptance for certification
The MCS have confirmed that solar PV systems that contain a SolShare can be installed according to the relevant MCS standards.
Following commissioning, each flat will receive an MCS certificate based on the kWp associated to it.
Note: As the SolShare is not a power generating module (PV panel) the MCS have confirmed that it cannot and does not need to be MCS product certified. This is why the SolShare itself is not an MCS certified product.
SAP acceptance for assessments
SolShare is applicable for SAP 10.2 PV credits.
Under SAP 10.2 it falls under M1.2.a:
If the PV output goes to particular individual dwellings, the electricity generated is credited to the dwellings concerned. This applies to calculation of CO2 emissions, primary energy and fuel costs.
When a SolShare system is installed, the precise kWp associated to each flat is set during the commissioning process. The solar installer will use this value to apply for each flat's individual MCS Certificate. This individual kWp value is used for the flat's SAP assessment.
Assessment software companies like Elmhurst Energy have confirmed that SolShare should be included in SAP assessments under the 'one dwelling' option. Specifying the exact kWp associated to each flat for this.
SHDF Wave 1 & 2 applicable
SolShare has been included in numerous successful SHDF Wave 1 & 2 bids.
Even though SHDF Wave 1 & 2 are a fabric first approach, SolShare solar systems are able to be included in bids as long as it was part of the 50% contributed element of the bid. This has been confirmed following meetings with the SHDF team at BEIS. If you would like confirmation, please contact your Turner & Townsend SHDF representative.
10-year warranty
SolShare is supplied with a 10-year parts a labour warranty.
SolShare has live fault monitoring, so if there are any performance or technical issues, Allume Energy are immediately notified over-the-air and can arrange for a service call to assess and rectify the issue.
TrustMark
SolShare meets TrustMark Framework Operating Requirements V2.6 requirements, most notably Section 15: Product Suitability.
Installation Quality Assurance
To ensure the SolShare is installed safely and appropriately, only certified SolShare Installation Partners can purchase and install the SolShare. Certification is achieved by completing comprehensive training modules.
Certified installers are provided a unique code. A SolShare system commissioning process can only begin once the installer has entered their unique code into the commissioning app.
The SolShare commissioning process involves a rigorous, automated inspection procedure to ensure that the system is connected correctly before allowing for the system to be commissioned and become live.
Last week Prime Minister Scott Morrison and Member for Chisholm Gladys Liu visited the SolShare manufacturing line at Allume Energy's manufacturing partner, Planet Innovation.
The PM met Planet Innovation's technicians on the line and learned how the SolShare technology works and how it is opening-up new markets for rooftop solar. The PM discussed with the manufacturing team the complex steps involved in the SolShare's assembly and the types of skilled work involved in building smart energy products.
Allume Energy is proud that the SolShare is Australian Made and creating manufacturing jobs in Australia. As the SolShare is a world-first product that is opening up untapped markets for rooftop solar (apartments and multitenant social housing), we are also creating jobs in electrical trades and engineering.
The SolShare is one of many home-grown smart energy technologies that can help drive Australia's economic recovery from the COVID-19 pandemic. There is growing recognition both globally and in Australia that smart energy technologies are driving an unstoppable transition of our energy system, and that this will create new industries and drive job creation for decades to come.
If you would like to learn more about the SolShare, contact us.
Thanks for your interest, PM!
As Australia works through the unprecedented health and economic crises due to the COVID-19 pandemic the public dialogue has progressed to how to assist with the economic recovery.
There has been a lot of discussion as to the framings of such a recovery. These include that it must draw on the Aussie concept of the 'fair go' and help address some of the persistent inequalities that predate the crises.
One of the widening inequalities in the Australian community is access to distributed energy.
While residential rooftop solar has been a massive success story in Australia, some groups in the community have been left out. Renters, apartments residents and social housing tenants have missed out.
This is particularly unfortunate considering it is these groups that have been most likely to endure energy poverty, i.e. a lack of access to modern energy services.
In Australia one of the major drivers of energy poverty is the extremely high cost of electricity and gas, such that families have to make despairing decisions over whether to buy food, pay the rent, or pay the power bill.
Rooftop solar is one way of addressing energy poverty: it can provide free electricity from the sun, reduce bills further through Feed-in Tariffs, and give families confidence to switch on the air conditioner on sweltering hot days when previously they would have declined to do so for fear of the impact on their electricity bill.
It is for these reasons that Allume Energy has been advocating for rooftop solar for social housing to be included as a priority for government funding as part of the economic recovery to COVID-19.
The benefits of a government-funded rollout of rooftop solar for social housing included:
The creation of over 5,000 electrical trades jobs in solar installation teams.
'Means tested' targeting of the benefits through reduced electricity bills for social housing residents.
A reduction in greenhouse gas emissions of over 2 million tonnes of CO2.
Allume Energy's COO, Alex Marks, made a presentation on the topic to the Smart Energy Council's Stimulus Summit on Wednesday 6 May. To learn more about the proposal, watch the video from the summit here. Read Reneweconomy's coverage of the summit here.