SHARE
Cameron Knox |
23 Dec 2021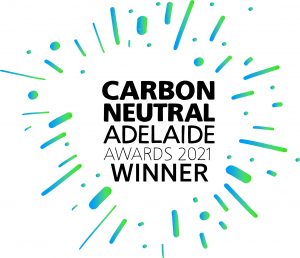 Held every two years, the Carbon Neutral Adelaide Awards celebrate the contributions by Carbon Neutral Adelaide Partners with the shared aspiration for the City of Adelaide to become a carbon neutral city.
Allume Energy and Suntrix Solar and Battery Storage took home the Achievement in Energy & Built Environment award at the Carbon Neutral Adelaide Awards 2021 for the Hurtle Square project.
The Hurtle Square project resolves a significant hurdle for strata communities wishing to access the benefits of shared solar and sets a precedent for apartments and shared strata communities across the City Of Adelaide and South Australia.
The project introduced the application of Allume's SolShare technology in Adelaide apartment complexes, enabling power generated from a rooftop solar system to be shared between multiple dwellings within the same building.
The two SolShare systems in combination with a high performing 62kWp solar array, facilitate smart distribution of clean energy to participating units within the apartment building. This technology monitors the demand of each residence on site and optimises the solar delivery based on who needs the energy at any point in time, while ensuring every apartment receives the same amount each month.
With SolShare, the optimised solar usage results in a reduction of grid energy usage of approximately 100,740 kWh per year – the equivalent of saving approximately 51 tonnes of carbon dioxide from entering the atmosphere. This technology is future ready and can integrate battery technology and electric car charging stations into its networks.
Winners were announced at a ceremony at Adelaide Town Hall with the Hon. David Speirs MP, Minister for Environment and Water, and the Lord Mayor of Adelaide, Sandy Verschoor. Suntrix accepted the award on behalf of the project team, alongside our Hurtle Square client Joshua Baldwin at Munro Property Group. A huge thanks to them, as well as Martin Wilkes and David Pickard of SA Power Networks, George Nesic of OTR, and the whole team at Suntrix Solar and battery Storage and Allume Energy.
Congratulations to all the winners and finalists of the third biennial Carbon Neutral Adelaide Awards.