Author:
Kristy Battista
Written by Kristy Battista, CTO & GM Australia, reflecting on a bus as her Bornean adventure drew to an end.

I have just returned from a 3 week adventure in Borneo, Malaysia. It was an amazing adventure that exhilarated me, relaxed me and challenged me. I experienced the joy of watching semi-wild orangutans feeding, had the privilege of witnessing green turtles laying their eggs, hiked mount Kinabalu and best of all; immersed in dense wild rainforest. 
The time in the jungle included canopy walks, cave exploration, spotting exotic critters, swimming under a waterfall, river boating & multi day jungle hikes. The biodiversity was like nothing I've ever seen. Almost too much for the senses to fully take in – the sounds of the tropical rainforest were an ever changing melody, I saw bird-sized butterflies and emerald green vipers with the humidity of the air ever present. The rainforest was lush green from the mosses up to the vines, with majestic centuries old trees climbing to the canopy above.
Reset your nervous system
We should not underestimate the importance of having time to genuinely switch off from the week to week and engage with different parts of ourselves. We all deserve this. It also allows us to serve ourselves and others in a more sustainable long lasting fashion. I was told that it takes 21 days to reset the nervous system so we should aim for a break of this length every year. A break where we are not available to our workplace or regular responsibilities.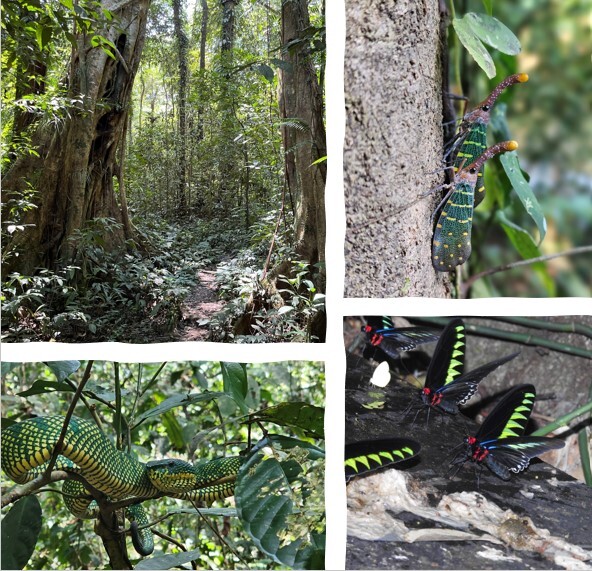 As a leader, I believe that ultimately one of the greatest measures of my leadership will be my ability to make myself redundant. Because if I can achieve redundancy that means I have passed on my knowledge and experience in a way that has empowered others to grow into themselves and roles of responsibility. 
At Allume Energy I have not fully achieved this goal yet, given we are a scaling ever-changing business which is regularly resource constrained. But I am proud that both my team and myself trust each other enough that I can take a break and know they have got me covered. A break from making decisions, having challenging conversations, strategising and holding space for others. This was a time for me to just BE me. For me to bathe in Borneo's green rainforests and blue seas. For nature to nurture me and fill my cup.
Consequences of workplace burnout
I have seen many in the industry burning out lately, often those taking on even more caring for others throughout the height of the pandemic or maybe as a consequence of the pace of modern life. But I would pose the question: What value do you put on your physical, mental and emotional health? When your health becomes greatly compromised, your primary goal becomes healing the body. Whereas when you are healthy, your choices expand and your ability to have a positive impact grows. Isn't proactive prevention better than reactive cure?
At Allume Energy, we do our best to genuinely support work life balance despite the challenges a scaling business faces. Some ways we achieve this is by our 25 day annual leave policy and half day fortnightly Fridays. But I believe more significantly than these policies is the messaging that we really do want everyone to take the breaks they need to remain at their best.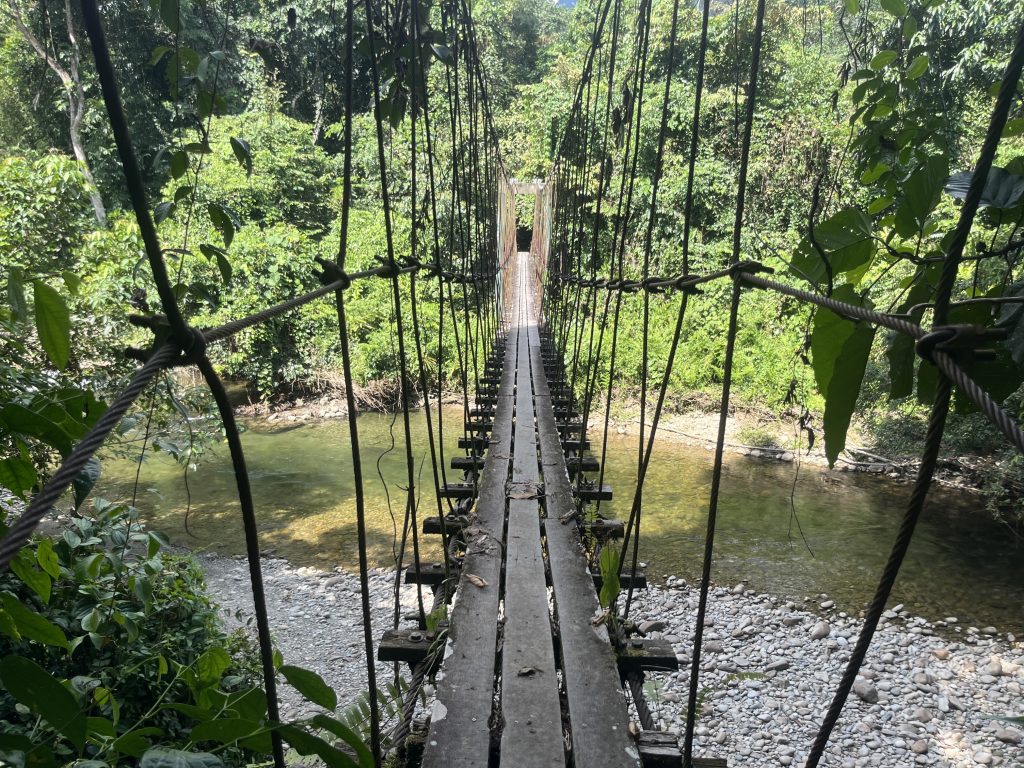 On my trip I noticed families genuinely talking and enjoying each other's company. Old friends and new friends belly laughing. The stresses and pressure of the week to week, a world away. Take a break. Take the time. You only live once. You are worth it. Yes work is important and meaningful for many of us but it will be waiting for our return. And we will return reinvigorated and grateful for our life, likely more inspired and with the energy to be better than ever!
Wow, it's hard to believe 2022 is almost over. As a consequence of coming out of the blocks with all guns blazing after 2 years of COVID lockdowns, with a desire to live life harder and fuller than ever, this year has flown by.
To be completely honest, 2022 has felt harder than I thought it would. I had imagined a year filled with the euphoria of experiencing more of the aspects of life that bring colour, light and laughter, potentially even one of my best years yet. But in reality, I was exhausted from the past 2 years of surviving, which was hard personally and professionally. There was a flatness, a degree of despondence about the suffering that had occurred and is still occurring in the world.
Allume's vision provides purpose
Focusing on my work at Allume Energy has contributed to healing that despondence. It provides me with an opportunity to contribute towards the world I want to see. It gives me purpose and a grounding to something greater during the darker days.
Allume's vision is a world where everyone can access clean and affordable energy from the sun, specifically enabling access to rooftop solar for multi-dwelling buildings through our world-first technology, the SolShare.
More than 2M Australians, 15M Americans, and 300M Europeans live in low and medium rise apartment buildings, with the roof space for solar but no way of accessing it.  With apartment residents having a lower average household income than their counterparts in stand-alone homes, and electricity rates rising dramatically, this section of the population are especially vulnerable to the skyrocketing cost of energy.
It is humbling to be a part of a solution that is changing lives for the better. And we've only just begun.
Healing has led to hope
As we end the year, the darkness is dissipating replaced by glimmers of sunshine and hope, and that familiar feeling of a fire in the belly.
At Allume we have ambitious goals that require us to scale mountains.
Taking an opportunity to zoom out reminds me of everything we have achieved in 2022, and it's huge:
SolShare installations in 5 countries! Wow! Australia, New Zealand, USA, England and Wales
More than 1500 apartments connected to solar
$16M raised in seed-series A fundraising rounds
Revenue more than doubling year on year
An exciting market and customer informed technology roadmap
13 new team members, taking the Allume head count to 36
A high-performing, inclusive, fun, values-driven culture that holds the team together through the challenges
Awards including:

Victorian Climate Champion Award Winner (2022)
AFR Sustainability Leaders list (2022)
EIC Best Innovation – Electricity in the UK (2022)
On behalf of the Allume Energy team, and with heartfelt gratitude, I want to acknowledge all of our customers, our investors, our partners, our supporters, our cheerleaders and all those around the world that are contributing to a greener more equitable future for all.
I hope you can all take some time to celebrate, to reflect, to enjoy, to dream, to rest and to love this beautiful world we get the privilege to inhabit and care for.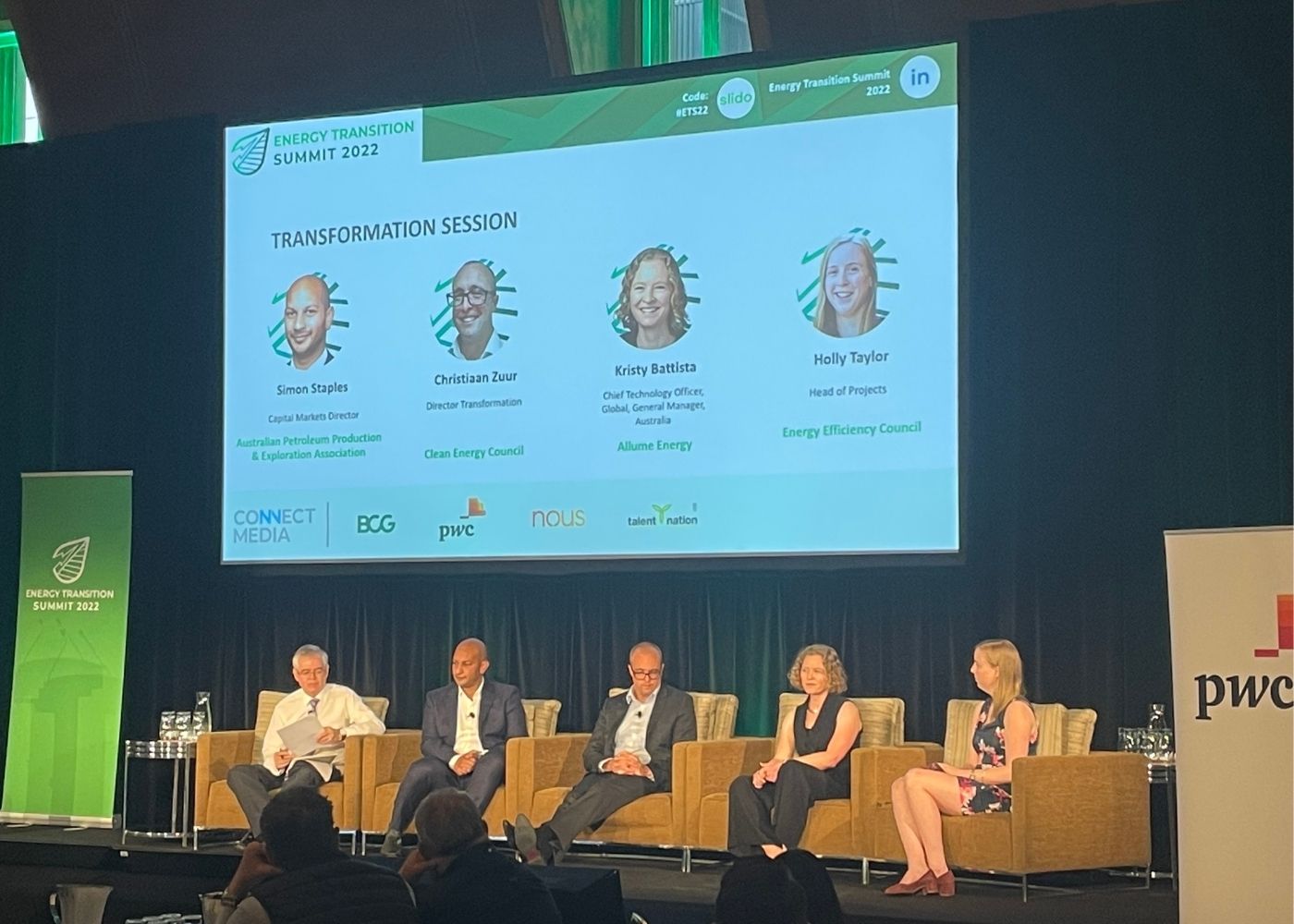 It was fantastic to be involved in the Energy Transition Summit in Sydney, Australia last week, which focused on the critical need to transition to sustainable energy systems, the very real challenges ahead and the collaboration across sectors that will be required on a scale that has never been seen before.
It was both a sobering day, being reminded that we have less than nine years to achieve net zero, and a day full of opportunity, highlighted by inspiring talks and reminders about this country's potential, including for example that Australia receives approximately 10,000 times its energy consumption needs in solar radiation each year.
How Allume is supporting the transition to clean energy
I spoke from the perspective of a growing business using technological innovation to solve a very real market need. For those of you that do not know Allume's history, we were born out of a Melbourne based start-up accelerator in 2015, and today we are a rapidly growing international business with product installed in Australia, the US and the UK.
Allume's vision is a world where everyone can access clean and affordable energy from the sun. Specifically, we are making rooftop solar accessible to multi-dwelling buildings through a world first technology called the SolShare.
In the session, evolving with the market, our panel spoke about the evolution of environmental, social and governance issues, aka ESG, being propelled to the top of the corporate agenda.
The SolShare makes solar power accessible where it's needed most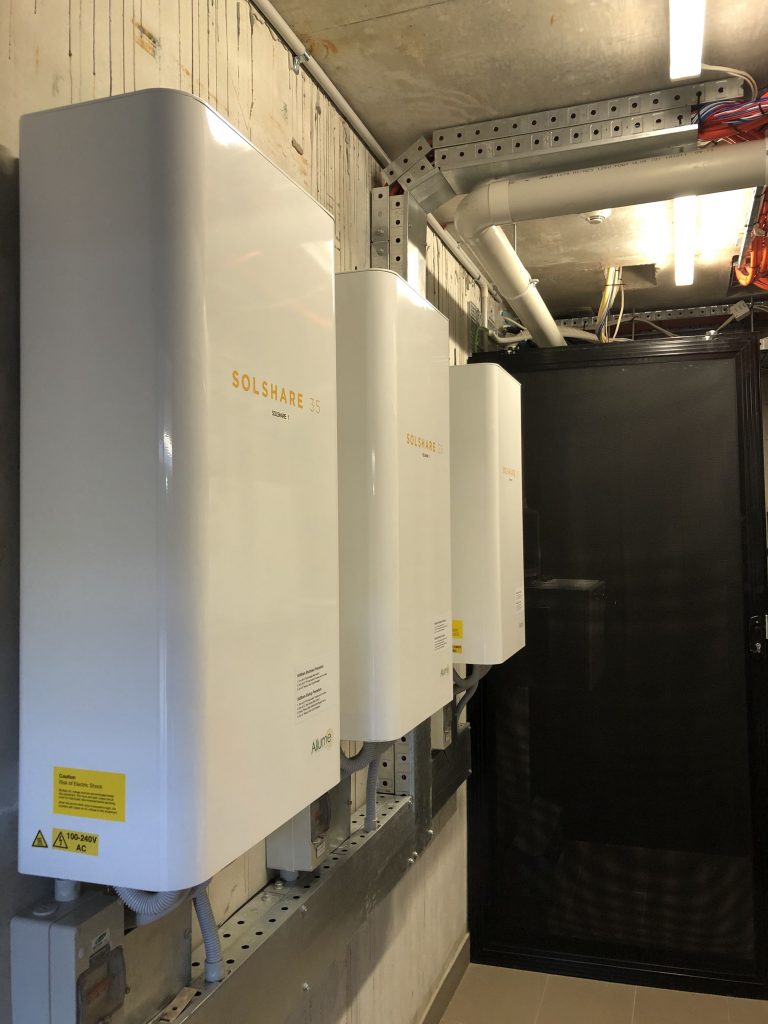 Allume was founded on very strong ESG principles. In particular the E, the reduction of carbon emissions, and the S, energy equity for all in particular social or community housing which is a key market for Allume in Australia, the US and the UK.
The real estate sector is a big carbon emitter and therefore presents a great opportunity for impact. As a business working at the coal face of providing solutions, we have born witness to the increased ESG focus from the real estate sector over the last five years. In particular, there has been a palpable acceleration in focus on ESG metrics over the past two years.
Why this much needed shift?
1.  An evolution of community expectations and social drivers, which is feeding into investors' expectations shifting from pure profit maximization to sustainable value creation. Many pension and superannuation funds are demanding ESG benchmarks for investment which is translating to a focus on ESG in the real estate space.
2.  A generational shift as millennials start to take positions of power in industry.
3.  Companies linking executive remuneration directly to ESG performance. According to industry reports released last year ~20% of S&P 500 companies in the US, ~45% FTSE 100 companies in London, and 81% of ASX 100 companies in Australia link remuneration of executives to ESG outcomes.
Allume can help organisations around the world meet ESG targets
For Allume historically the return on investment drove the sale of the SolShare. But now the drivers that lead to a sale are increasingly around ESG and sustainability metrics.
For example, In Australia the SolShare helps commercial and apartment buildings meet the new National Building Energy Rating Scheme standards for on-site renewable energy generation.
California has a 'solar mandate' requiring all new multifamily buildings up to three-stories in height have solar.
And in the UK, the SolShare, improves an apartment building's performance against the Energy Performance Certificate for brownfield sites and the Sustainability Assessment Procedure for greenfield apartments.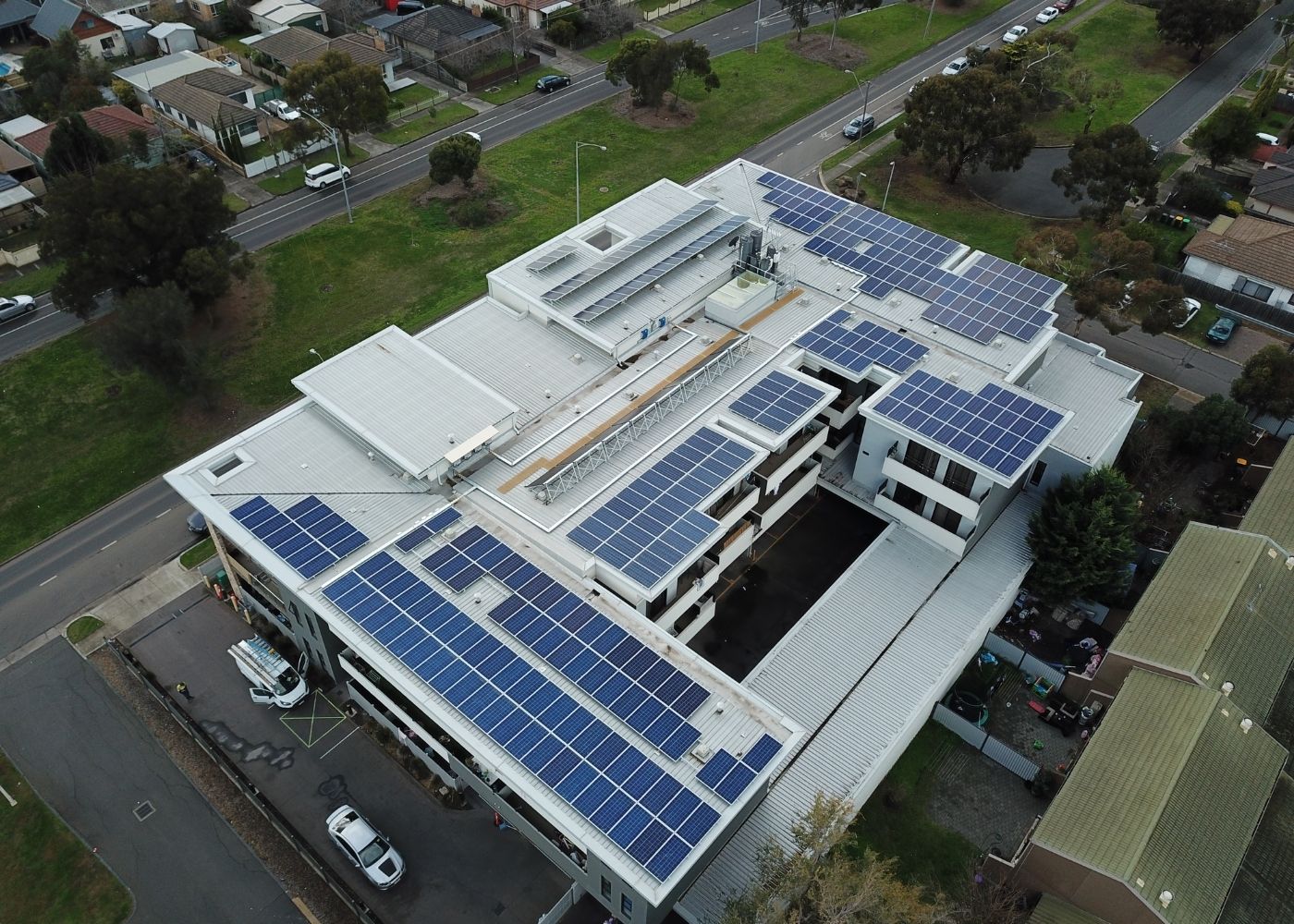 Using technology to make buildings more efficient and environmentally friendly
People are starting to think about real estate differently. Historically a building was a stagnant piece of infrastructure but now there is an opportunity for technology to provide insights into a building, whether that be energy efficiency, waste, or patterns of use by those that live and/or work in that building.
What you do not measure you do not know about and therefore you cannot change. Recently I heard of a large commercial building in a major city centre that had a significant water leak for years that went undetected until technology starting measuring and reporting on consumption metrics.
It's almost like the buildings will start to come alive and be contributors to the community around them.
In addition to the commitment of industry and cleantech companies such as Allume, we need clear guidance and support of government at the state and federal level. Because what was abundantly clear from the energy transition summit is that we are going to need all hands-on deck to face the massive challenge of a sustainable future for Australia and the world.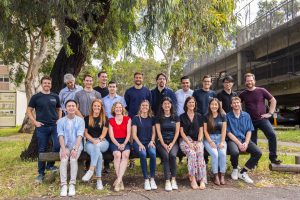 The end of one year and the beginning of the next is a good time to take pause; reflecting on the highlights, reliving the moments of joy and taking pride in the challenges overcome. And then thinking ahead to the goals that inspire us, what to focus more on and what to leave behind.
2021 was a pivotal year of growth for Allume Energy.
Some key statistics:
The Allume team doubled in size, with team members now in 4 countries
Recognition across Europe and Australia with six major industry awards
Close to 300 SolShares built and counting, despite global component shortages
Projects across 3 continents
Close to 300 social housing dwellings connected to solar via the SolShare, with installations planned for more than 700. This is a market that is especially close to our hearts.
All of this has been achieved while designing and manufacturing the SolShare in Melbourne; a city that has had more days of lockdown than any other in the world. We could not be prouder of our team's resilience in the face of extreme challenges.
Commercialising new technology successfully is a marathon not a sprint; therefore, growing in a way that is sustainable is essential to Allume's continued success. I would like to share some principles that Allume has learnt and validated through lived experience.
People and relationships are the cornerstones of a successful business.
That means deeply listening to and valuing your customers.
Attracting investors that will both financially and strategically support you.
Building a network of highly competent development and manufacturing partners.
And of course, developing a happy, highly motivated and well-balanced team. This last point is so important that I would like to share a few thoughts:
Hire in a thoughtful way; taking the time to find happy, smart, value-driven people that are learners as opposed to knowers.
Mould roles and growth opportunities that work to team members strengths and passions; allowing them to thrive not just survive.
Celebrate the wins along the way because the next challenge will always be around the corner.
Alignment on goals and culture requires continual nurturing as you grow. This can be achieved more successfully by regularity and consistency of communication and opportunities for connection, as opposed to infrequent grand gestures.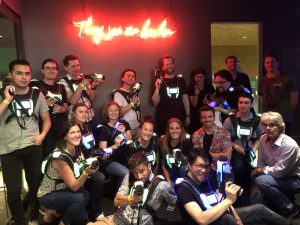 Have a plan but do not over plan or cling to it.
While you can proactively mitigate risks and go after strategic opportunities, you cannot predict everything. Who could have predicted COVID-19 and all the specific challenges that would come along with it? When the challenge hits you want to have an adaptable team that can adjust course like a cheetah, not a hippopotamus.
As a leader a couple of my reflections for the year have been:
Energy is more important than time. Therefore, intimately understanding what energises and equally de-energises you as an individual is paramount. An example for me is that I am deeply inspired by Allume's vision of a world where everyone can access clean and affordable energy from the sun. Therefore, taking regular time to focus on feeling the opportunity I have to create the change I would like to see in the world helps me keep going through the grind.
Leadership can be lonely so it's essential to have a strong support network around you. For me maintaining relationships with trusted mentors in the industry and being part of leadership groups that contain high quality people have been important.
There are many more reflections and lessons that I could share, but that will have to wait because 2022 has begun and with it comes a multitude of opportunities for Allume. There will be more hurdles and lessons ahead, but I am confident we are up to the challenge. Because I believe we have the desire, the talent and the technology to achieve our vision.
If you're interested in joining the Allume Team, follow us on LinkedIn to see all our job openings. We are hiring for a number of exciting roles currently. 

Nihan  – Embedded Software Engineer
Nihan is passionate about wildlife and the environment and loves going on hikes, camping and exploring new places. So much so, she's recently moved to live on a farm with her husband!
Nihan was born and raised in Turkey, where she gained a degree in Electrical & Electronics Engineering, followed by a masters in integrating wind power to conventional grids. Excited to discover more of the world, she moved to the Netherlands for work and then to Australia where she gained a second masters in solar energy for community grids. Eager to put her experience to use, she's now changing the world as an Embedded Software Engineer for Allume.
You joined Allume 1 year ago, from an integration engineer in the automotive industry to an embedded software developer in the clean-tech sector. What prompted the move? 
I have always wanted to work in renewables but when looking for a job in Australia about 5 years ago, having completed my second masters, there were not many R&D opportunities only sales and service roles. As a fairly new immigrant to Australia I felt it was important to get industry experience, and I took a role in integration in the automotive industry. I enjoyed it and became an expert in my area over a 3 year period. But I had a desire to build my skills in software development. Then I was lucky enough to come across an embedded software role at Allume Energy. It was the role I wanted in the industry I wanted. Win win!
How has the transition been?
The transition has been challenging as I had to step out of my comfort zone in an established role in a large corporate, to an area that is new to me. But it has been worth it for something I passionately believe in, the clean energy transition. The Allume team has been so supportive along the way; I have always felt comfortable to ask questions. After a year I can say I have grown in the role and become a valuable contributor to the technical team.
 
What do you enjoy most about working at Allume?
Definitely the people and the vision we are working towards, A world where everyone can access clean and affordable energy from the sun.
It is refreshing to be surrounded by genuine, hardworking people that are passionate about what they do. Even though they are experts in their field, everyone is open to growing and giving/receiving feedback. This comes through in the way problems are approached, with positivity and openness.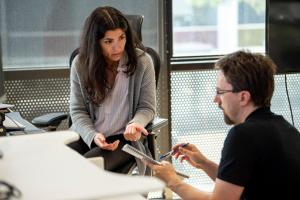 How have you grown in your time at Allume?
It's different to being an engineer in a big business. At Allume I'm involved in many different stages of the product development cycle including design, implementation, testing, documentation, issue resolution and in-field support. Basically I'm involved in a full product development cycle from conceptual idea to deploying product in the field.
I feel a great sense of achievement for having established myself in a new role, in a new company, in a new industry. I'm glad I took the leap of faith!
Has there been anything that has surprised you about working for a growing business in the clean-tech sector?
The dedication of the team in a growing business. There is a greater sense of ownership and accountability. Everyone chips in when it comes to solving a problem for a customer.
Innovation is actively encouraged. If you have a good idea, you can get immediate support to investigate that idea. You are not pigeonholed into a rigid role, but rather encouraged to explore your passions, and find opportunities that add value to the business. It's a very dynamic, agile and energetic environment.
 
What five words would you use to describe Allume's culture?
Supportive, Inclusive, Genuine, Passionate, Fun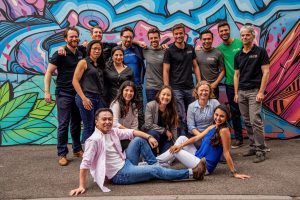 What advice would you have for engineers that would like to be part of the clean-tech sector?
I really want to encourage others to follow their dreams, persist and know that there are opportunities out there.
The clean-tech job market is very different to even a few years ago. There are more start-ups; more passionate people coming together to create products to address the climate crisis.
If you are looking to make the switch, you can be confident that your skills in another industry are transferable and sought after.
It's been amazing to hear your story Nihan, are there any comments you would like to close with?
I'm lucky enough to now have the opportunity in my professional life to utilise my skills that have been honed for years to contribute to the cause that I believe in; the need to take care of our planet, for ourselves and the next generation.
It's a great feeling to know I'm actively contributing to the renewable energy transition. It's a fantastic motivator.
If you are interested in joining the Allume Team, follow us on LinkedIn to see all our job openings. There are a number of roles we are actively recruiting for & there will be more in coming months.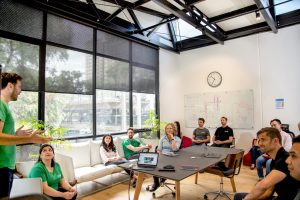 In my last blog I shared my hope that engineers, scientists, innovators, and leaders frequently question how they use their talent and their time to make sure that they are helping contribute towards a world that want to see.
2020 & '21 is a time where the need for strong leadership and problem solving has been viscerally felt. Much of society, particularly the youth, are fearful about what the future holds. By a shift in perspective, could we inspire workforces to turn this time of challenge into opportunity?
At Allume Energy, 'Solve Problems that Matter' is our company mission. Being part of the solution for a renewable energy transition drives our team to get out of bed every day, even in the most trying of circumstances. Because we are inspired by a greater WHY. Every single team member has an important role in delivering the SolShare to the market & scaling our impact. In order for our business to grow, each individual needs to grow too.
To tackle the big problems that face society we need other people on the journey with us.
What will workforces of the future look like?
And how can we develop teams that are both inspired and empowered?
More than ever workforces will require the traits of adaptability, innovation and courage. In fact, many of the core skills of most future occupations will be comprised of skills that are not yet considered crucial to the job today. The "leader as coach" leadership style is imperative to creating an environment conducive to the development of these traits.
What is 'leader as coach'?
Leader as coach is using considered and powerful questioning to evoke insights and help team members find the answers within.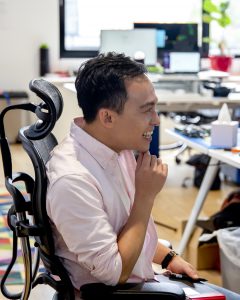 Why do I believe it is important to have coaching as a key part of your leadership toolkit?
It benefits the team member, the organisation, and the leader. Win! Win! Win!
For the team member: It's an empowering and inspiring way to be lead; supporting professional growth, and leading to increased confidence.
For the organisation: It creates a learning culture which unleashes energy, cultures innovation, and nurtures high engagement levels. This translates to improved performance at both an individual and business level. A key reason employees leave businesses is due to lack of professional growth. Leader as coach counters this.
For the leader, you gain the fulfillment of leading a happy, driven and highly functioning team. But significantly this leadership style allows you to scale your impact.
In the last 2 years the Allume Energy team's capability has significantly grown. The maturity of the SolShare product has vastly improved and processes enhanced. Allume has ultimately shifted from a start-up to a rapid growth business. Central to this success has been creating deeply meaningful work for all people in our organisation, building a palpable organisational culture, and leading in a way that supports growth and empowerment.
Allume's people are our greatest asset. With a leader as coach mindset there is no ceiling put on team members growth. And from this, some amazing individual growth stories have emerged & continue to do so regularly. People are genuinely creating their own opportunity and impact at Allume.
Two skills that are essential to leader as coach, are deep listening and powerful questioning. In my next blog, I will discuss some effective ways you can build deep listening skills.
If you're interested in joining the Allume Team, follow us on LinkedIn to see all our job openings. There will be quite a number in the coming months.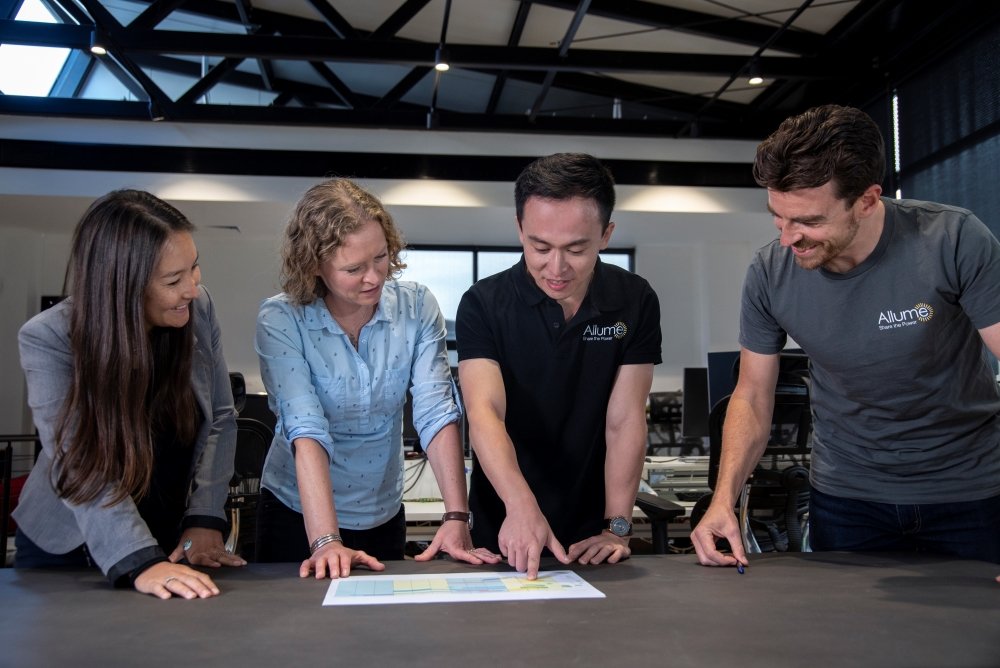 Psychology studies have found that the human mind is wired to look for problems to solve.
Regardless of your environment, age, IQ or EQ everyone is solving some type of problem in their life. For some, that problem may be finding food and shelter for the night, for someone else it might be ensuring they get tickets to see their favourite band, while for another it could be being part of determining strategies to prevent the spread of COVID-19.
If we only have a finite amount of time and space to solve problems, the question arises "What problems will you focus on solving?" If you are blessed enough to have your physiological and safety needs met, are you going to sweat the small stuff or are you going to focus on solving big problems that truly matter to the world?
2020 highlighted there are a multitude of significant problems that require solving. We are living in a world where people have viscerally felt the environmental crisis highlighted by devastating bushfires and floods, and risks to our health and freedom with the COVID-19 pandemic.
"My hope is that engineers, scientists, innovators, and leaders frequently question how they use their talent and their time to make sure that they are helping contribute towards a world that they want to see. In fact, it is more than that, I believe if you have been blessed with the opportunity and aptitude, you have a responsibility to solve problems that truly matter to the world"
At Allume Energy, 'Solve Problems that Matter' is our company mission.
It applies to both the vision of the company as well as the methodology we use to prioritise work.
Allume Energy is committed to generating social and environmental good by being part of the solution for ensuring we have a world where everyone can access clean energy. The specific problem our team is solving is ensuring everyone can access free electricity from the sun; thereby reducing their greenhouse gas emissions and electricity bills with rooftop solar. We have achieved this by developing the SolShare: the world's first behind the meter technology for sharing rooftop solar in multi-dwelling buildings.
Allume Energy takes pride in being part of the renewable energy transition and solving a problem that matters.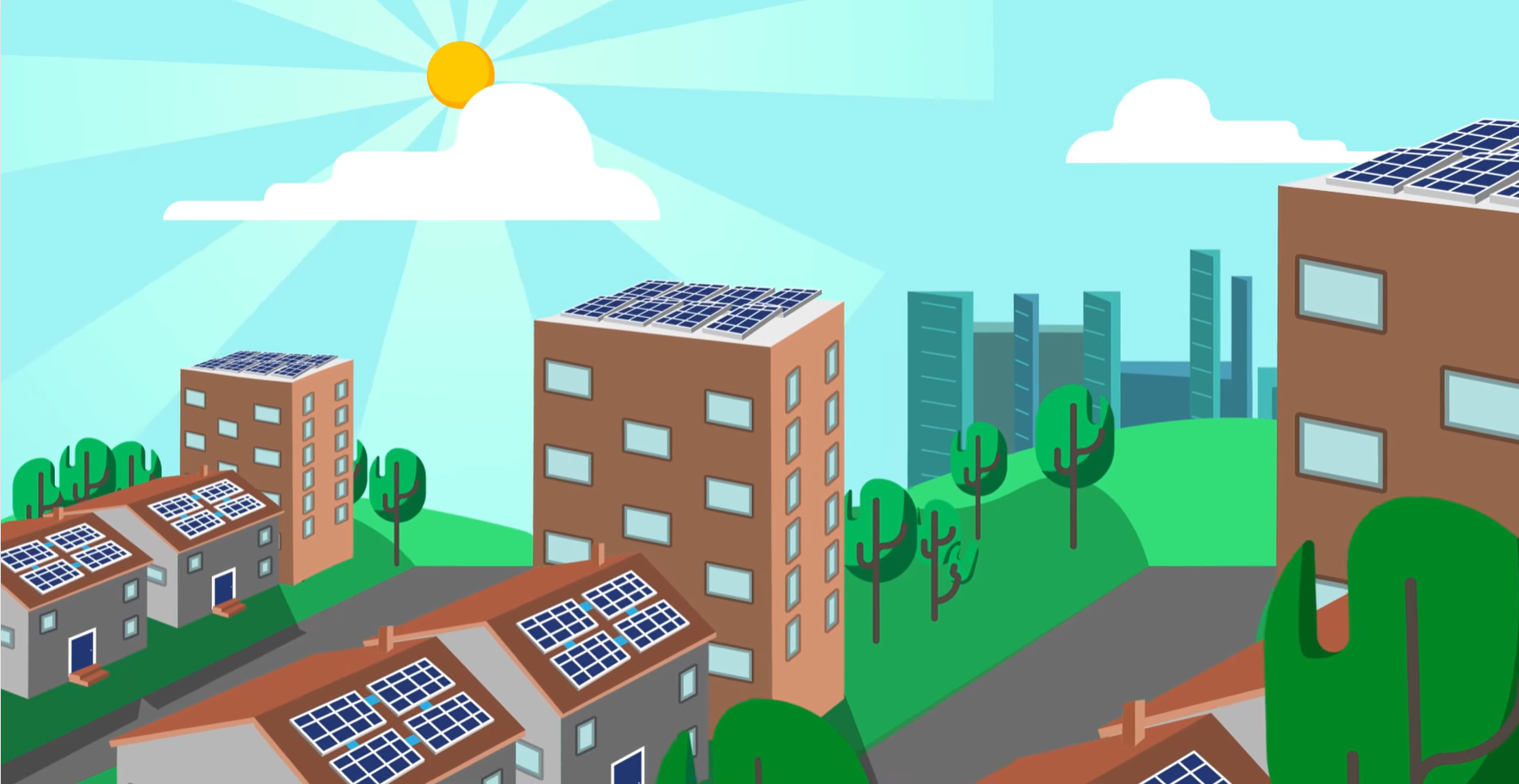 As we continue to grow our business and refine our product, we need to ensure we are being as efficient as possible with our resources. Our organisational culture creates an environment that encourages every team member to reflect on questions such as:
Am I focusing on the highest value add activities for the business?

Could I squeeze out more impactful outcomes if I restructure A, B and C?

How do I deliver with the resources that I have available?

Am I solving the "right" problem?

How does this work create an improved experience for our customers?
In my next blog, I will discuss that to solve problems that matter you need others on the journey with you. And talk to one way that Allume Energy is facilitating this and creating deeply meaningful work for all people in our organisation.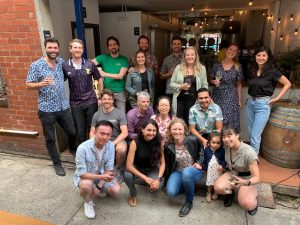 Throughout my life, creating environments that generate connection and inclusion has always been a theme. Whether it was being the person that made the new soccer teammate feel welcome or providing opportunities for inter-department connection in the workplace.
I have realised in recent years that I love to create environments that give people the opportunity to thrive; fun, lots of laughter, inspiring, empowering, open-minded, and full of regular feedback. There are two key drivers within this:
a palpable environmental culture; something that is evident and people feel deeply connected to and a part of; and,

an environment that supports diversity and equality of opportunity for all, regardless of gender, ethnicity, sexual orientation, socio-economic background or anything else that makes you who you are.
As Allume was growing, questions arose: how do you successfully marry the two drivers together? Would having truly diverse teams still support building a culture that everyone would be aligned with? Or would everyone be so different that there was not enough commonality to create that connection?
And then it hit me. An organisation that builds its culture around core value alignment unites people around a common cause. And the beauty of alignment on values rather than background, hobbies or lifestyle, is that you open the door to a diverse mix of people who still feel connected.
Allume Energy's mission is making rooftop solar accessible to all and in doing so reducing carbon emissions and energy bills for people in apartments. Therefore the key values for those that work at Allume Energy are conservation of the environment and using their talents to solve problems that truly matter to the world.
As a team, we came up with a set of company values that drives our approach to business, product development, how we prioritise our work, and how we collaborate as a team. They are:
Have the courage to create, the passion to persevere, and the diligence to deliver.

Solve problems that matter.

Share the power.
I am so proud of the diverse, driven and supportive team we have created at Allume Energy. One where we appreciate our individual similarities but also differences.
We currently have six women and ten men, born in seven different countries: Mexico, China, UK, Colombia, Turkey, Ecuador and of course, Australia. It did not take a tick box recruitment system to achieve this. For every single position, we have hired the strongest candidate for the role.
Maybe just as like attracts like, diversity attracts diversity.
If you're interested in joining the Allume Team, follow us on LinkedIn to see all our job openings.
Throughout my career, I have noticed that junior development engineers always seem to be asking for opportunities to design a new circuit board or a new mechanical widget, and can get disheartened if they are spending lots of time testing or problem-solving.
It seems that when typical engineering graduates think of sexy, words like "design" and "cutting-edge technology" come to mind. Silicon Valley project super cool environments filled with sleeping pods, pits of brightly coloured balls and slides. But what is the actual reality of developing a ground-breaking technology?
The reality is that developing innovative products that address a market need, are technologically feasible and commercially viable is really, really hard. It takes grit, determination, and resilience week in week out. Because just as you clear one hurdle the next one presents itself.
Designing the circuit boards, mechanical parts, cables and software is only a small part of what is required to take an idea all the way through to a commercially successful product. As an engineer developing a new product, a large majority of your week will be filled with problem solving and testing, testing and some more testing.
Testing to diagnose issues, determine root cause and trial solutions.

Testing to ensure the product meets the customer needs.

Testing to ensure the performance and features work as intended.

Testing to ensure the product integrates with other elements of the ecosystem that it is part of.

Testing to ensure that the product is reliable and robust when subjected to different environments and stressors.

Testing to ensure product updates and software releases integrate with the existing configuration.

Testing to ensure each product coming off the manufacturing line is safe and functioning as intended.
The list goes on…
To some, this may not seem very exciting, but to me, there is a beauty in seeing all of the pieces of the puzzle come together. Because what I find sexy as hell is seeing a product I have had a part in developing out in the real world being used by happy customers, and solving problems that matter. Therein lies the thrill!
When becoming a CTO for the first time I thought hard about the following questions:
What are the responsibilities of a CTO?

What makes a good CTO?
Some months later a few things became clear to me.
I am an expert in product development; in taking a technical concept through requirements, prototyping, verification & compliance, transfer to manufacture, and out into the world. I want to utilise this knowledge to solve problems that genuinely make a difference in the world. But my fire, my passion, my inspiration comes from helping people grow and evolve to all they can be.
And it would be through making those around me better that we would get the SolShare out to the world. And in getting the SolShare out to the world, we would help preserve the environment and make solar accessible to all.
So, what do I focus on to achieve my vision as CTO at Allume Energy?
Inspiring a vision and excitement for where we are going, and ensuring each individual knows the importance of the part that they play in that vision.

Clear expectation setting with regular check-ins to ensure ongoing alignment.

Constantly switching between facilitator, mentor, coach and leader depending on what the situation requires.

Truly empowering team members to step up and take on responsibilities that maybe they did not even realise they were ready for.

Creating a feedback culture. One where positive reinforcement happens daily and constructive improvement feedback happens regularly.

A supportive and inclusive environment, where people can bring all of who they are to work.

Very importantly: a good dose of fun and laughter.
This approach is having fantastic results. I am so proud of the professional growth I have seen in each and every individual, of the highly functioning and cohesive team that we are building, and how this is translating to growing business success.
The past year has also reinforced for me that if there are no examples of leaders around you that look like you or think like you, that does not mean you are not meant to be a leader. Forge your own path! Being authentically you is the most powerful leadership asset that you have.
I believe Allume Energy will continue to have increasing commercial success with the SolShare as we will continue to reflect, adapt and evolve to ensure we:
Develop technology that solves a market need.

Develop the team with the skills, the mindset and the passion to deliver that vision.

Develop innovations to remain an industry leader.
And that's why for me, the T in CTO is as much about Team, as it is about Technology.
Want to join the Allume team and help change the world? Be sure to follow our LinkedIn page for future opportunities.