Author:
Jack Taylor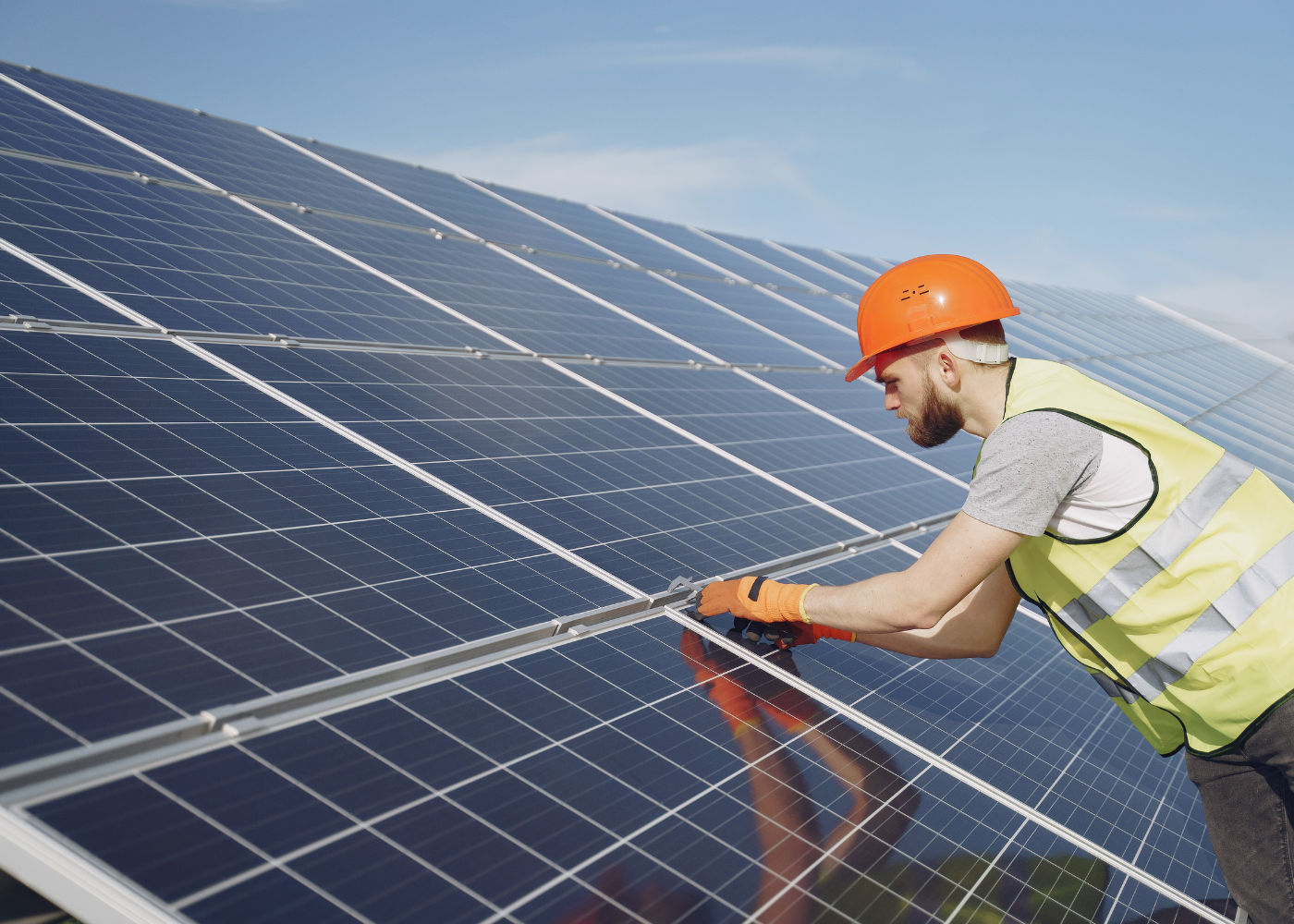 With the combination of world events and the ever-increasing problem of climate change, it's no wonder that property owners and building managers are looking for more sustainable ways to produce energy. But for a long time, solar panels were restricted to those living in free-standing houses with a roof large enough to hold them. Thanks to the SolShare from Allume Energy – all of that has changed.
This completely unique technology allows multiple flats to connect and benefit from a single solar energy system.
So yes, solar panels for flats are possible and here's everything you need to know.
How Can You Connect Flats to Solar Energy?
When it comes to solar panels in flats, there are a few different ways in which the energy generated can be used and how the tenants/owners can benefit.
Option 1: Solar for Common Areas Only
Option 2: Individual Solar Systems
Option 3: Shared Solar with the SolShare
Here's how they compare:
Option 1: Solar for Common Areas Only
The energy produced by solar panels on a shared rooftop can be used to power common areas in the building. This may include hall lighting, lifts, recreation areas, and hallways.
This is a simple solution and a great option if there's limited roof space. There are three major downsides here:
Only the energy bills for the building are reduced – individual flats don't directly benefit from the energy produced through the rooftop solar on flats and so don't save money on their energy bills.
The feed-in tariff has now been significantly reduced so the systems generate very little return on investment when exporting to the grid.
Following the release of SAP 10.2 in June 2022, PV systems that are only connected to the landlord supply no longer contribute to the SAP score of individual flats.
Option 2: Individual Solar Systems
Individual systems will be fitted to the roof and separately connected to each individual flat's unit. Whilst this works well in some instances, space constraints, install complexity and cost make this a challenging option. It's therefore often placed in the 'too hard basket' for blocks of flats with any more than 3-5 flats in the building.
With individual solar PV systems for each flat, there are also challenges around roof ownership. Which flats in the building should be given the roof space to install solar panels for their flat? And if there's enough roof space for everyone, which flats should be connected to the solar panels that have the best solar coverage? All these issues can create a real challenge around fairness.
Option 3: Shared Solar with the SolShare
Shared solar power involves a single rooftop solar installation that can be shared between all the residents in the building and distributed when needed. The SolShare is a completely unique technology that allows multiple flats to benefit from solar energy.
In order to ensure the distribution of energy is fair, the SolShare ensures that a set quantity of solar energy is sent to every flat in the building and distributed as required. It also offers in-depth monitoring so each user knows exactly how much solar and grid power they're using.
This is a simple, cost-effective solution and any flat with a meter can be connected to the SolShare. As well as private residences, the energy can also be used to power common areas. Anyone not interested in participating can simply opt-out.
Importantly, a SolShare solar PV system will reduce the electricity bills of every apartment in the building and contribute to each flat's SAP score, typically increasing it by between 5-15 points.
So, How Exactly Does the SolShare Work?
Solar panels work by converting sunlight into energy. With the SolShare, each flat connected to the system can benefit from the energy produced by the solar panels which are installed on the roof or other sunny areas.
As well as enabling individual flats to access solar energy, the SolShare also ensures that a set amount of solar energy is distributed to each flat as and when they need it. This means that if some of your tenants work night shift, others work day jobs and others travel often – they will all receive their fair share of the energy when they need it, meaning they can save as much as possible when it comes to their energy bills. An added bonus is that each individual flat can choose the energy provider they'd like to go with when they need additional energy supplied by the grid.
As long as the building has a suitable roof area for the number of flats (typically under 7 floors), the SolShare can be fitted into council housing, new builds, and private blocks of flats. It can also be retrofitted into existing buildings so that everyone can benefit!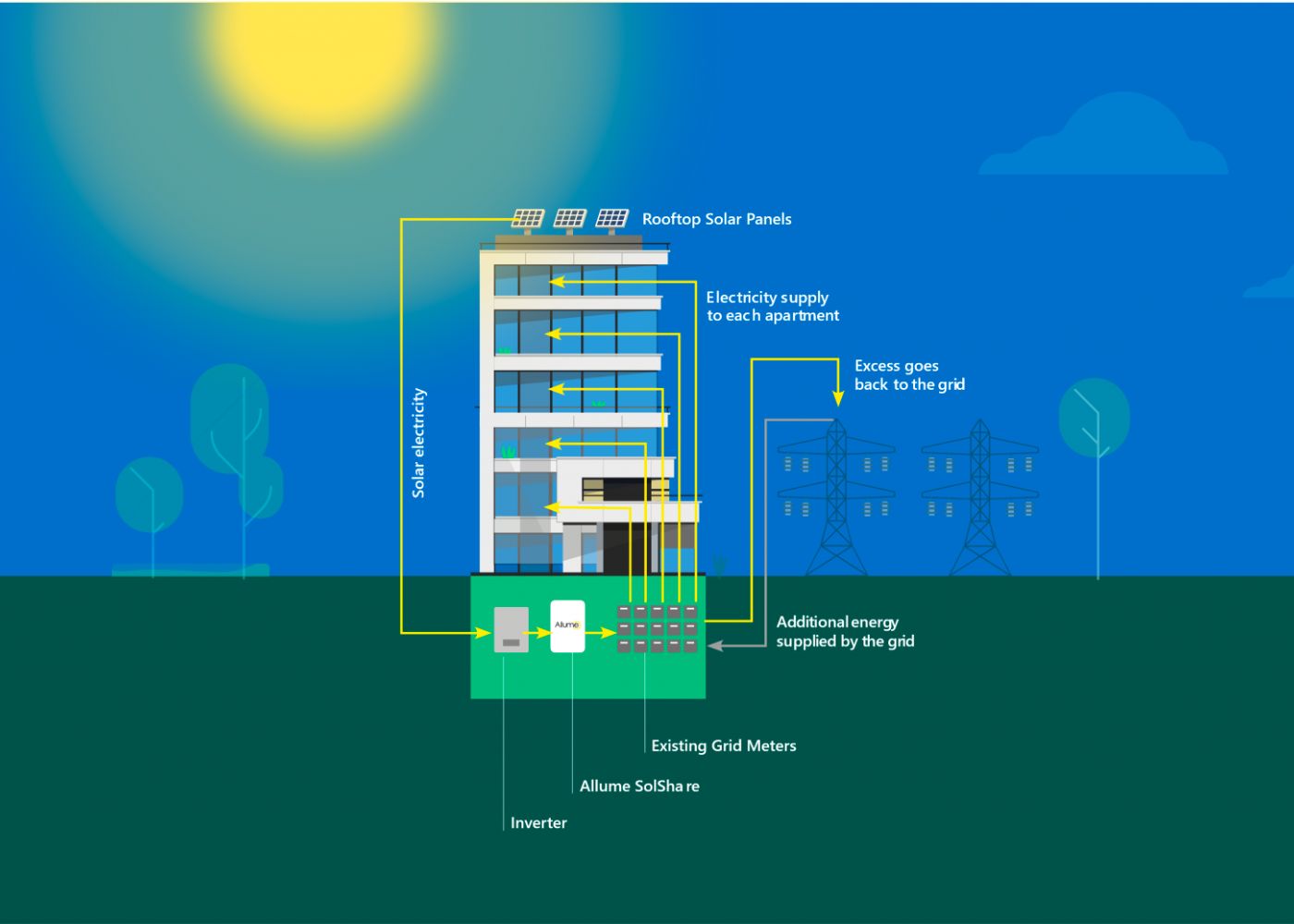 What Are The Benefits of Solar Panels in Flats?
There are a huge number of benefits to installing the SolShare into your block of flats. These are some of the most significant:
Save Money on Energy Bills
This is one of the main reasons why owners and building managers decide to install the SolShare in their building. The average flat connected to our unique technology saves 40% on their grid electricity bills. The energy generated is shared out amongst the flats whenever it's needed most, which ensures maximum savings and consumption. Whilst it's the tenants that will directly benefit from this each month, it can go a long way to making your building even more attractive to renters and buyers alike.
Improve Your Building's EPC Rating
Increasing the EPC rating of properties is a major objective towards the UK's net-zero strategies. By installing a standard SolShare system, flats can gain an extra 5-15 Standard Assessment Points. This means an EPC rating can increase by an entire grade. You can find out more about the SolShare and EPC ratings here.
The Environmental Impact
By producing your own renewable energy you're doing a lot to decrease your carbon footprint. An average SolShare will reduce CO2 emissions by 5-6 tonnes a year.
Increase Property Value
Renewable energy is only going to get more popular and more demanded. If you decide to sell your property, buyers will be looking for flats that are powered by renewable energy. Having solar panels will make your building stand out.
Reduce Reliance on The Grid
Although they're less common than they once were, blackouts can still happen. If you have a SolShare system that's also connected to a battery energy storage system, your tenants may be able to keep the lights on even when the rest of the area is out. This is especially useful in emergencies.
So, Should You Be Installing Solar Panels on Your Flats?
Whether you're a housing association, landlord, building manager or developer, there are a number of advantages to installing solar panels on your apartment building. With the industry-first technology from Allume, multiple flats in a building can benefit from and share the solar energy generated by the SolShare. There's no need for multiple systems or to make it more expensive for those wanting to take part.
It's a simple and affordable solution and the world's only hardware that allows solar sharing within a single block of flats.
Contact the team at Allume to see how your flat or building can benefit from the SolShare.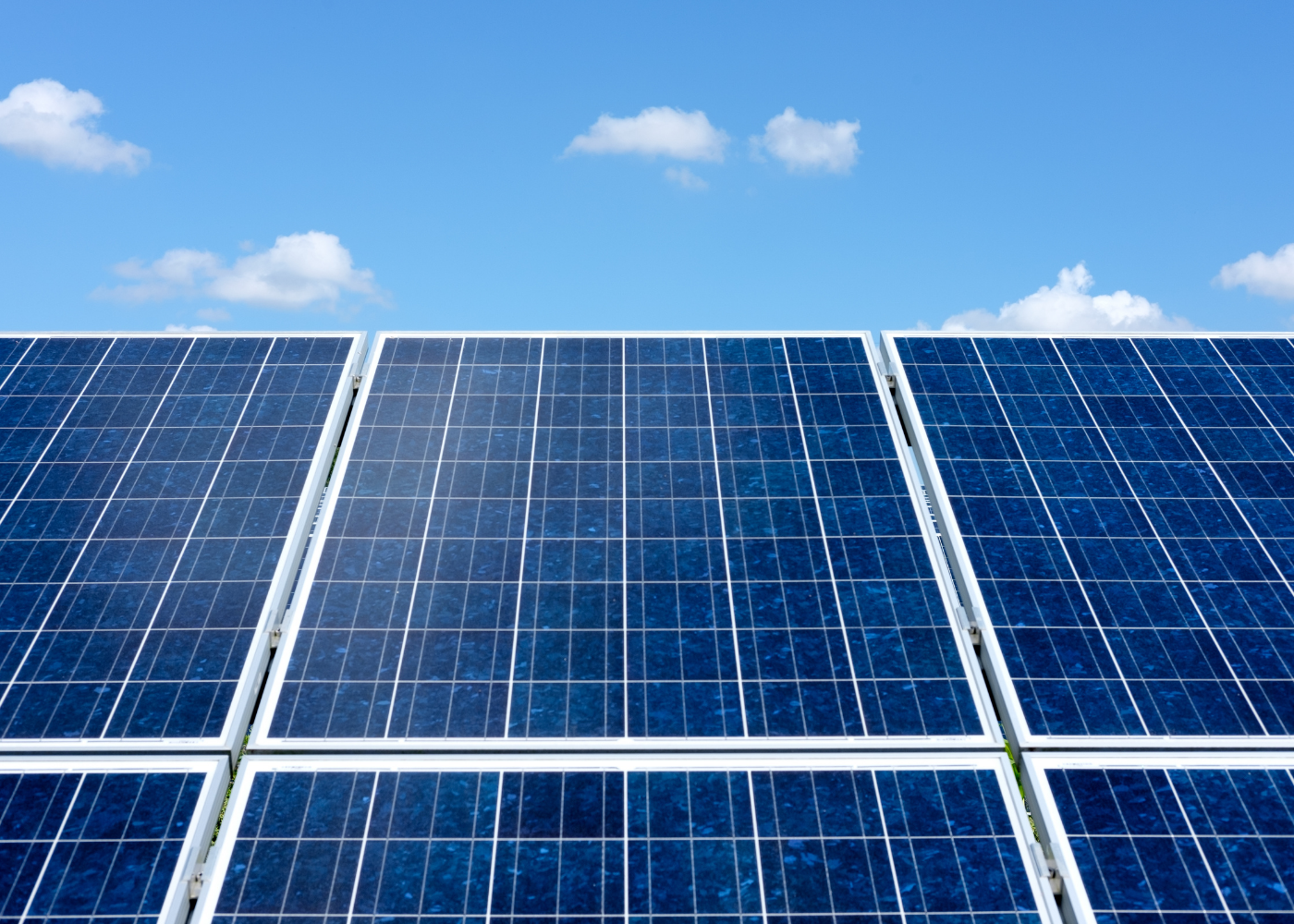 If improving the energy efficiency of your properties hasn't been front of mind, the recent explosion in energy prices and changes to energy related legislation in the UK may well be pushing you to prioritise it. We recently covered how you can improve EPC ratings with solar for flats, and touched on the EPC (Energy Performance Certificate) being the easiest way to establish the energy efficiency of a property. This provides you with a rating, where the better the rating the higher the energy efficiency and the lower the bills. Like school days, an A rating is top-notch, with a G rating being bottom of the heap and definitely needing improvement.
Energy efficiency is important for several reasons, including the well-being of the planet, the occupants of the property and how much they're paying in bills. In this article, we've rounded up five ways you can increase the EPC rating of your property:
#1 Quality Insulation
#2 Upgrade The Boiler
#3 Double Glazing
#4 Solar Panels
#5 Energy Efficient Heating Sources
#1 Quality Insulation
A quick and simple way to increase the EPC rating of your buildings is by installing or topping up the insulation. When you put 270mm of insulation (from none), you may be able to increase the EPC rating by a full grade or more.
Cavity wall insulation is another solution where you may be able to average a 5-10 point increase. There's also floor insulation where you can prevent draughts by insulating under timber floors, between the joists.
Draft proofing is also important, with up to 20% of heat escaping from gaps around windows and doors. Just make sure the draft snakes you provide are made from materials that are BS 7386 standard.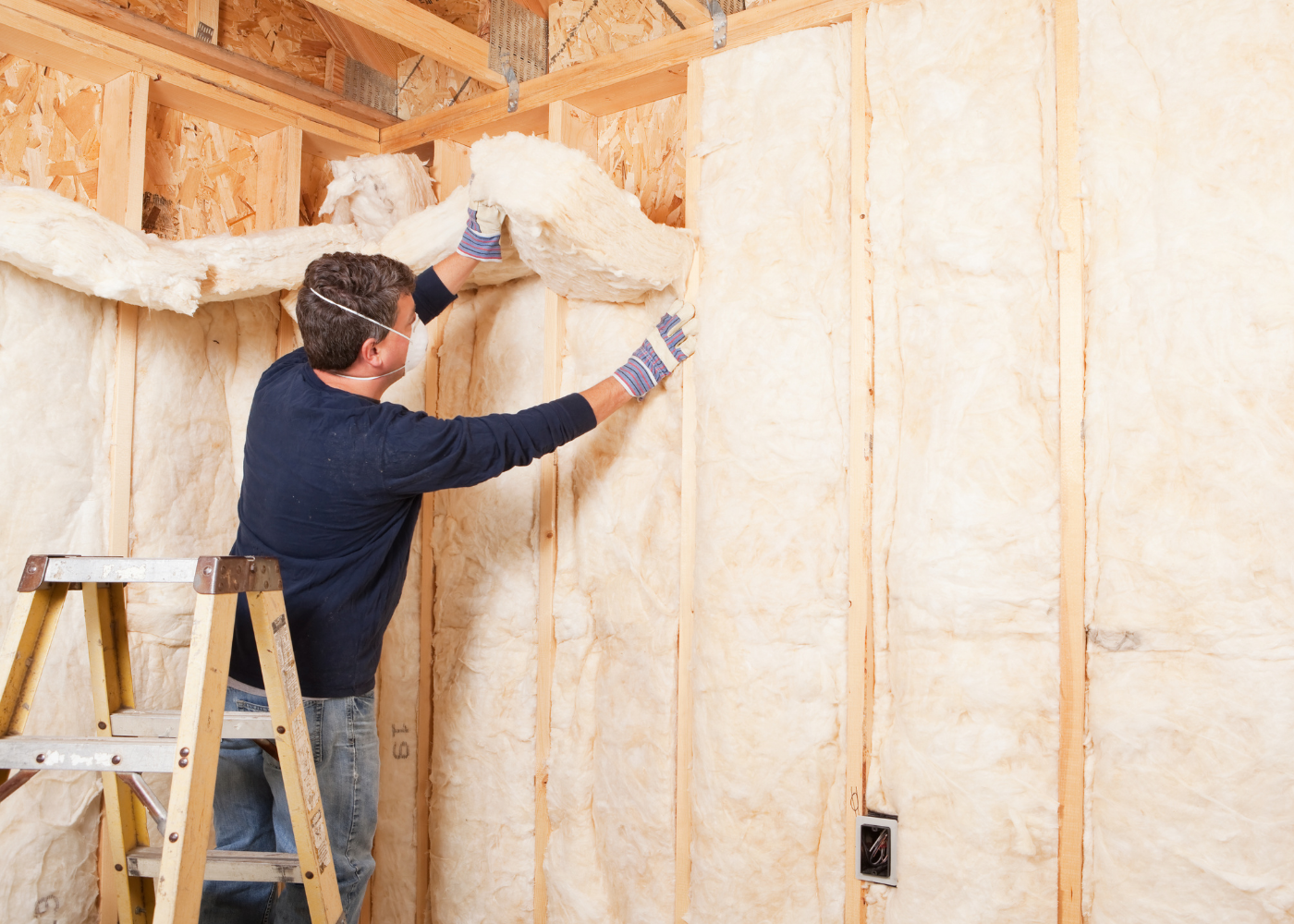 #2 Upgrade The Boiler
The choice of heating systems will have a significant impact on the energy efficiency of the property. A quick way to increase your EPC rating is by replacing the boiler.
From April this year (2022), energy bills for the average UK household hiked by a whopping 54%. By upgrading the boiler, you could save your tenants up to £365 a year.
While installing a new boiler can be costly (anywhere from £500-£3000 depending on the boiler you select) the EPC rating could potentially go up by 40 points. That's four whole grades that might take your property to the top of the class.
#3 Double or Triple Glazing
By getting the windows double or triple glazed, you will improve the insulation of the property right away, which will shrink the heating bills. With double glazing lasting anywhere from 20-35 years, it's a long-term investment worth making to your properties to improve energy efficiency.
In terms of costs, you're looking at approximately £200 per standard-sized window for double glazing. This will be roughly £2000 for an average flat that's two to three-bedrooms.
Double glazing can also increase the EPC rating of your building by approximately 10 points, which is a full grade.
#4 Solar Panels
Thanks to the Solshare, the days of solar power benefits only being for homeowners of free-standing properties is a thing of the past. Energy efficiency via solar panels for flats is now possible with the SolShare – a system that creates a private infrastructure for individual flats to equally access shared solar energy.
A typical SolShare system will increase the EPC rating by as many as 5-15 SAP points and set you back between £2,000-£4,000 per flat total, for the entire solar installation. While a decent investment upfront, your tenants will experience lower energy bills immediately. Compared to the other options for positively impacting an EPC rating, the SolShare definitely gives a solid return on investment from the day it's installed.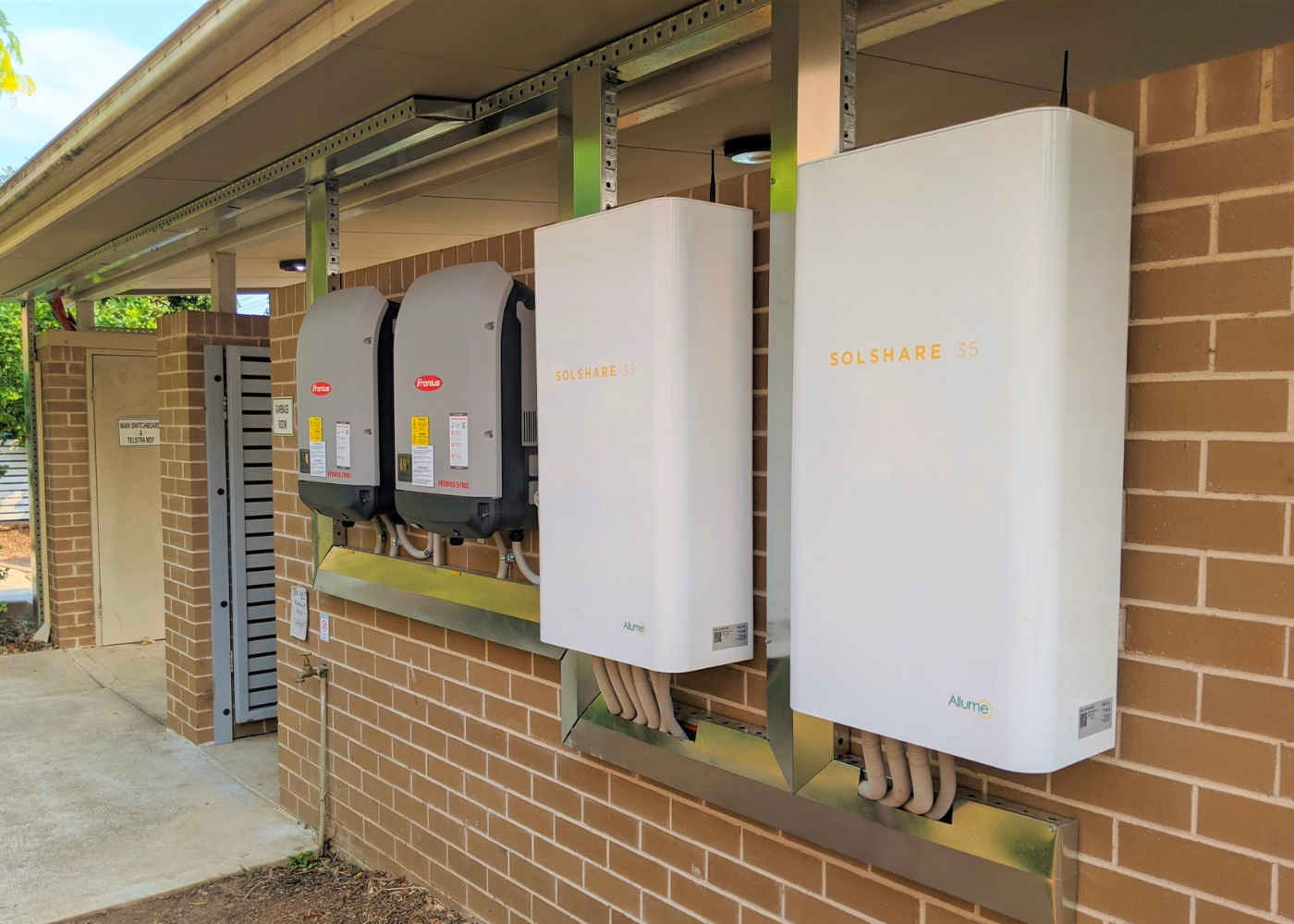 #5 Energy Efficient Heating Sources
It is well worth looking at the heating systems installed in your property in terms of energy efficiency. Hydronic heating is incredibly efficient, with radiators being commonplace throughout the UK. You should keep in mind that your heating system will only be as efficient as the boiler you install to power it (taking us back to Suggestion #2).
If you want secondary heating sources in your building, be mindful of the running costs. Blow heaters, for instance, can end up costing more to run than central heating systems. They chew through a lot of electricity and tend to only warm up a small area of space, as well as being a potential fire hazard. If you're looking at installing something other than hydronic heating, you may consider a wood-burning stove, as opposed to an open fireplace which will likely create greater efficiency and lower running costs.
How Can You Best Improve The EPC Rating of Your Building?
Optimising the EPC rating of your buildings is a must-do from a legislative perspective, as well as to help you and your tenants to manage energy costs. With options available to suit all budgets and properties, now is the time to consider which solutions are best for your building. For flat owners and housing providers, the SolShare is certainly a game-changer with solar panels for flats now being available to millions. Those who live in flats can also enjoy the benefits of lower energy bills and reduced carbon emissions. If the idea of solar power appeals to you for your property or development, get in touch with us to discuss the SolShare and the best options for your project.
A huge milestone has been reached towards achieving net-zero flats in the UK. The SolShare's ability to connect solar PV panels directly to flats is the keystone technology in the initiative.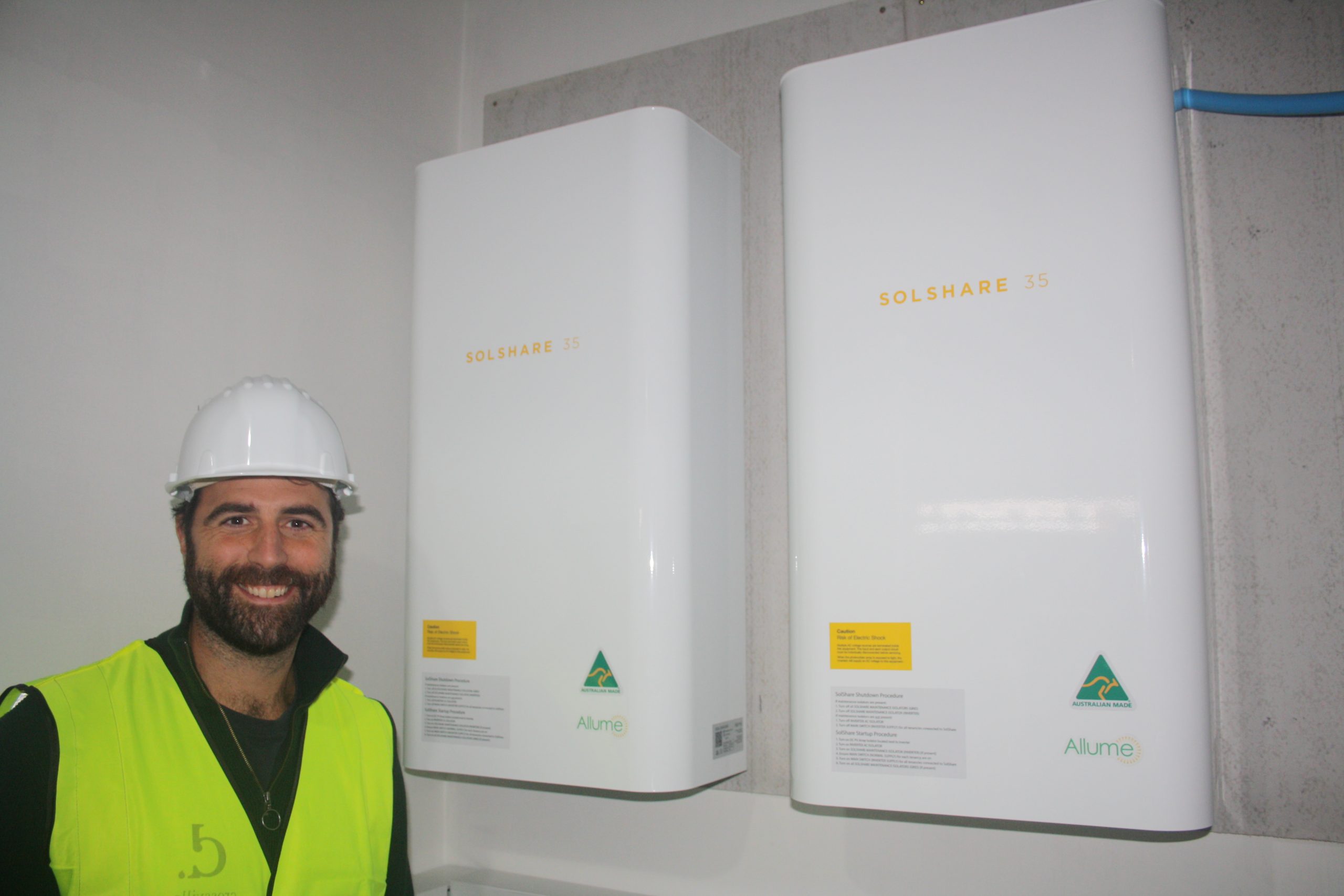 In a world first, Allume's SolShare has been combined with other world-leading, energy-saving technologies to create a near net-zero apartment building in London. Allume's SolShare, alongside technologies created by MyEnergi, Sunamp, & NexGen have been combined to create a solar energy solution that more than doubles the energy bill savings and carbon reduction for every household within the apartment building, if compared to a standard solar system.
Project Overview
The solution achieves this by ensuring that 100% of the solar energy generated by the solar panels is used by the flats. Maximising the solar that's consumed by the flats is vital because the more solar consumed on-site, the more money the residents will save on their energy bills.
As a comparison, a traditional solar system on a standalone home averages just 40% consumption. Increasing this to 100%, by enabling the solar energy to be stored for times when the sun isn't shining, enables every resident to enjoy huge energy bill savings, no matter the time of day they choose to use energy.
Project Consortium
The development, called Whetstone Green Apartments in north London, was brought together by SHA Environmental for MKM Developments and consists of an Allume SolShare solar PV system that connects rooftop solar panels to all 20 flats. Within each flat is a MyEnergi PV diverter, Sunamp Heat Battery and NexGen infrared heating system.
Kelly Lemon, MKM Director said "As a developer, we are proud to be bringing such a progressive scheme to the market. We have proactively worked with the various elements to bring the best technology to the scheme and we're thrilled with the results."
Technical Details
Whenever solar energy is being generated, the SolShare will direct it to the flats to cover their instantaneous energy demands from appliances, devices, lights etc. By doing this, each flat minimises its grid energy usage and maximises its energy bill savings. This optimised delivery is a standard feature of a SolShare solar PV system and already increases the solar consumption from 40% to 50-70%.
However, this project takes it one step further by using a PV diverter to direct any unused solar energy into a Sunamp heat battery charging it for use. The residents can then use this stored energy, in the form of hot water, at a time that suits them. This reduces the residents' requirement for grid energy, keeping their energy bills even lower.
Industry Excitement Over Solar for Flats
The solution has already gained industry acclamation, with the consortium invited to present the solution at the UK's largest renewable energy exhibition, Solar & Storage Live to a packed audience.
Learn More
If you would like to learn more about this project or the companies and technologies that make up the solution, please contact the team at Allume.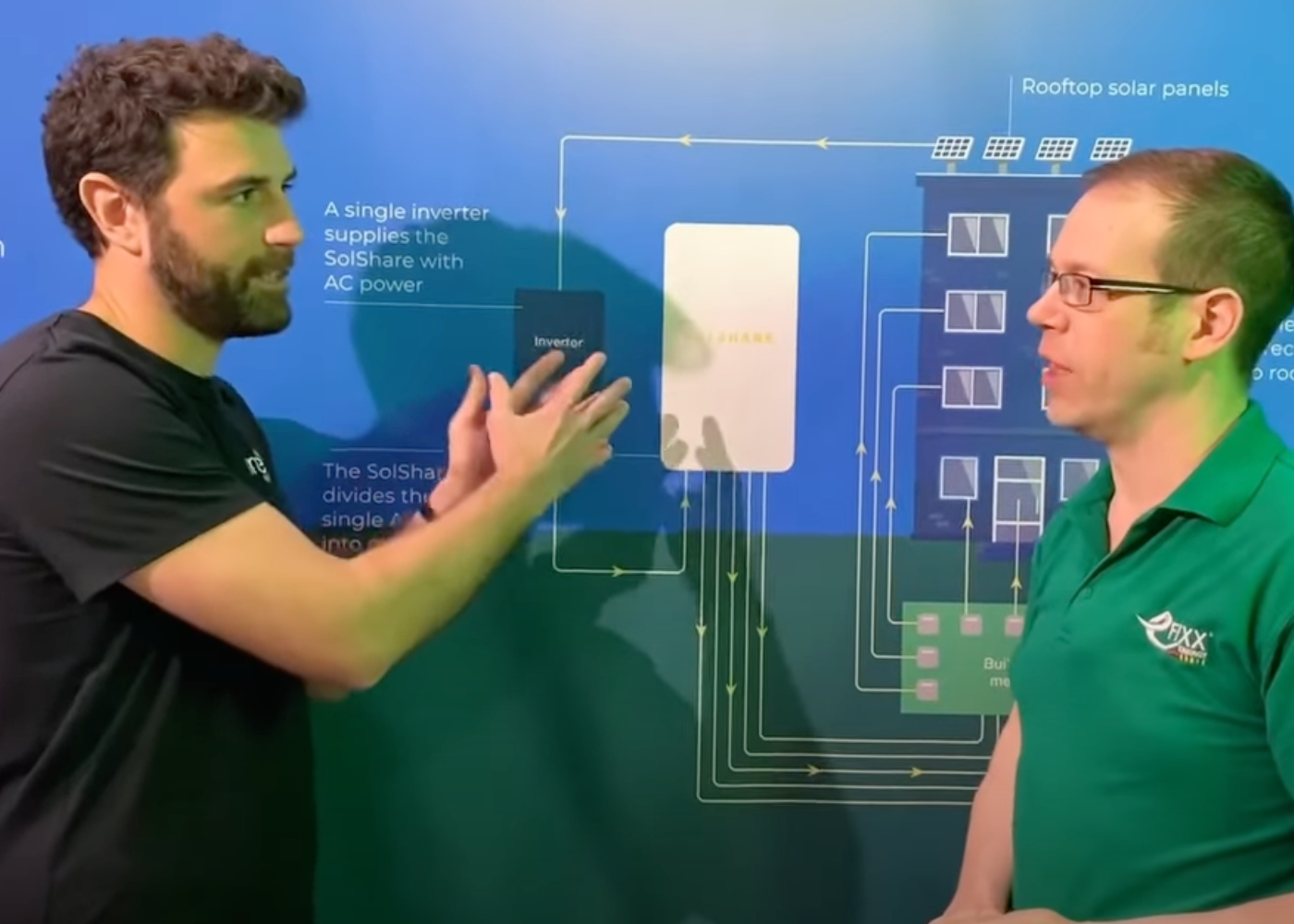 At the recent Future Build Expo in London, eFIXX Energy interviewed Allume's General Manager of Europe, Jack Taylor to learn everything there is to know about the SolShare. The 5-minute, quick-fire interview, began with eFIXX Energy's Joe Robinson asking Jack the simple question "What happens when you've got a block of flats and you want to share out that solar PV power between those flats?".
How Is The SolShare Different?
Jack and Joe talk through the SolShare's ability to solve this global problem. They even go into detail about how the SolShare monitors the energy demand of every flat connected to it and sends the solar energy to the flats that need it at any point in time. This optimisation significantly increases the onsite solar consumption within the apartment building. This directly equates to increased savings for the residents living in the flats.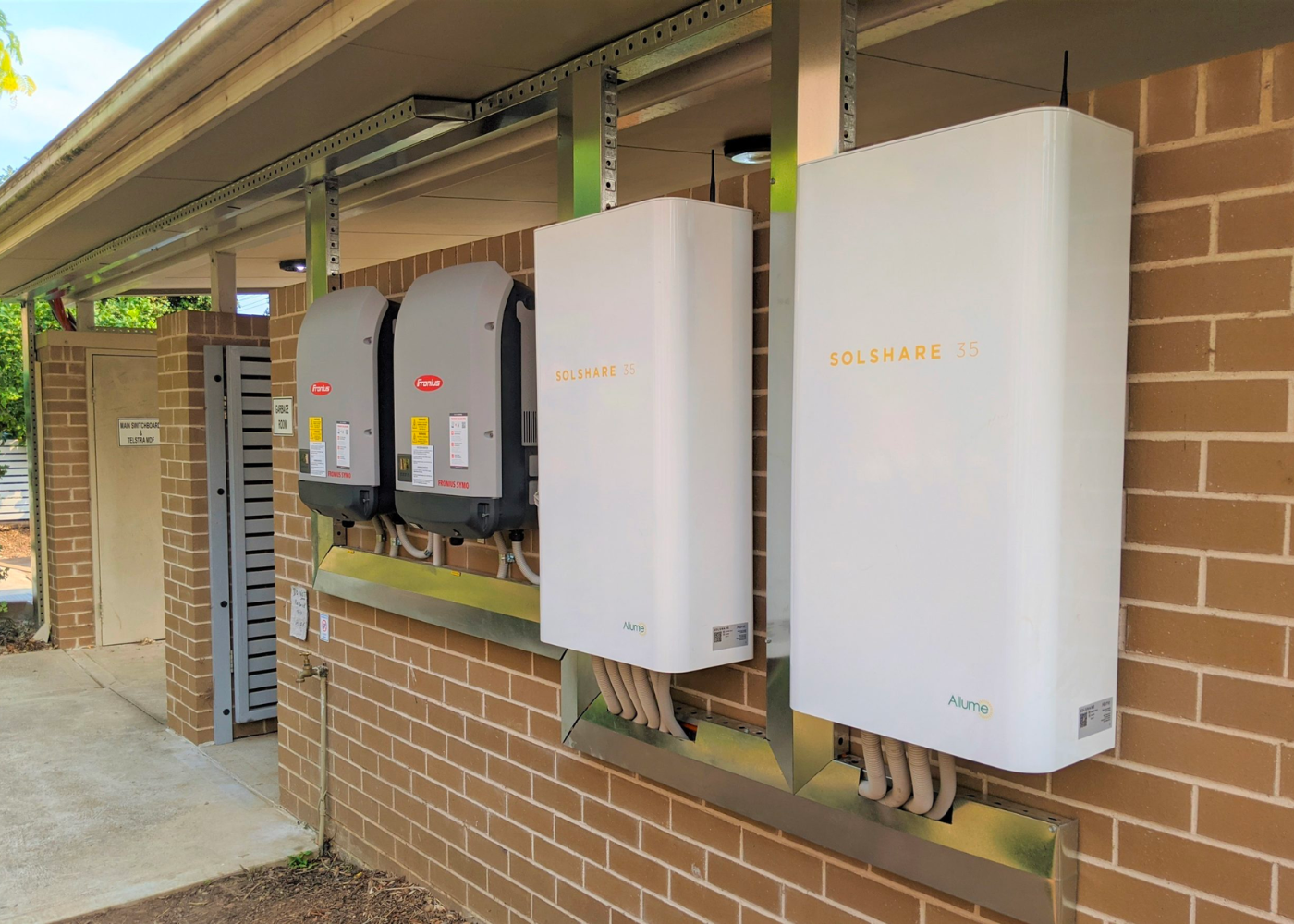 What Are They Saying About The SolShare
As the world's only solution to behind-the-meter sharing of solar PV, the eFIXX gang were excited to learn more about the SolShare and share the solution with their 250,000+ subscribers.
Joe Robinson said that "I think this is a really, really good product"
And eFIXX is "going to watch SolShare's UK journey very carefully and with great interest"
Watch the 5-minute interview here: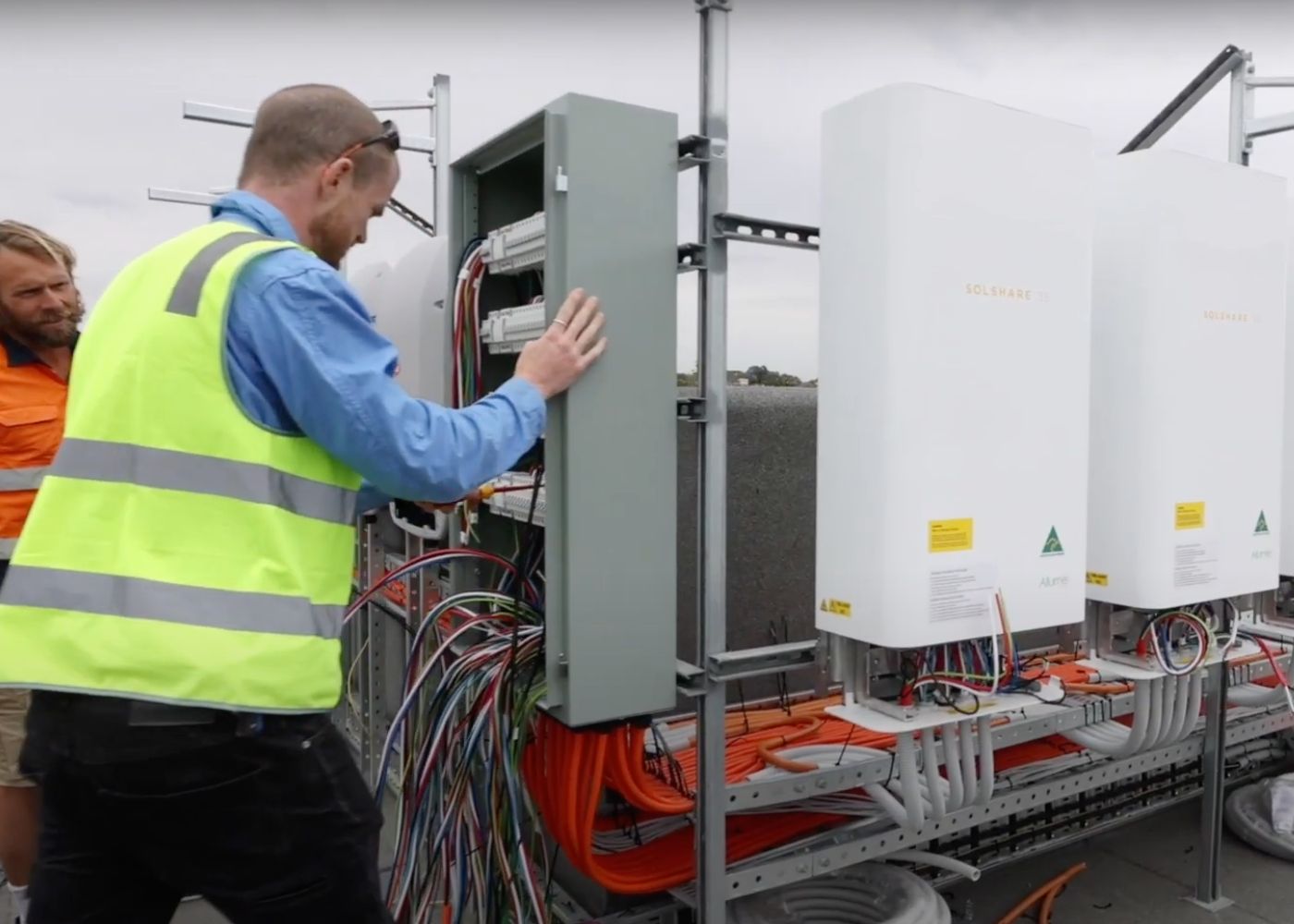 Recent changes to the Energy Performance Certificate (EPC) legislation require landlords to ensure their rental properties are up to scratch on the energy efficiency front. All properties across England, Scotland and Wales that are being built or promoted for let or sale as an entire property must have an EPC. As of 2025, all rentals will need a rating of C or higher. From 2028 this will apply to all properties. The EPC provides details on typical energy use and costs for the property, with tips on how to make it greener and more cost-efficient. Alongside the changes to legislation is the reality of energy price hikes. It makes sense that now more than ever, everyone – from homeowners to social housing providers and property developers – want the best EPC rating possible and are intrigued about solar for flats.
While there are several options on the market, solar power is definitely the biggest impact option increasing the EPC rating of flats and houses.
First, let's look at how property energy efficiency is calculated. We'll then check out why solar is one of the best return on investments for EPC increase.
How is Energy Efficiency Calculated?
Solar = Flexibility
The SolShare = Full Grade Increase
Solar for Flats = More Power for Your Pound
How Is Energy Efficiency Calculated?
The energy performance of a property is measured by using the Standard Assessment Procedure, or SAP, method. The government uses the SAP to assess how much energy a home will consume under average assumptions for resident habits and behaviour.
An EPC includes two charts and rating bands. You can see the current rating band and the potential rating if you complete the recommendations for the property. The numbers for each rating are based on the SAP, from 1-100 points. The higher the points, the better the efficiency. As you can see, the highest rating of an A is 92-100 points and the lowest grade of G is 1-20.
Solar = Flexibility
Gone are the days of rooftop solar only benefiting and being available to standalone homes and offices. For years, flats have been locked out of the picture when it comes to accessing solar solutions for energy efficiency.  A lower carbon footprint and cheaper electricity bills are now open to tenants and flat owners, thanks to The SolShare.
What is The SolShare?
The SolShare is a system that creates a private infrastructure for solar energy sharing in multi-dwelling buildings. Power is directed from a single system on the shared roof space to whichever flats are connected independently behind their meter. The SolShare is the most straightforward and cost-effective solution to rooftop solar for flats. This is because the tenants or flat owners don't need to sign up to additional billing services or solar trading platforms.
The only hardware of its kind, the SolShare is rapidly growing in popularity across the globe. There are now thousands of residents embracing lower power bills and reduced carbon emissions thanks to the SolShare.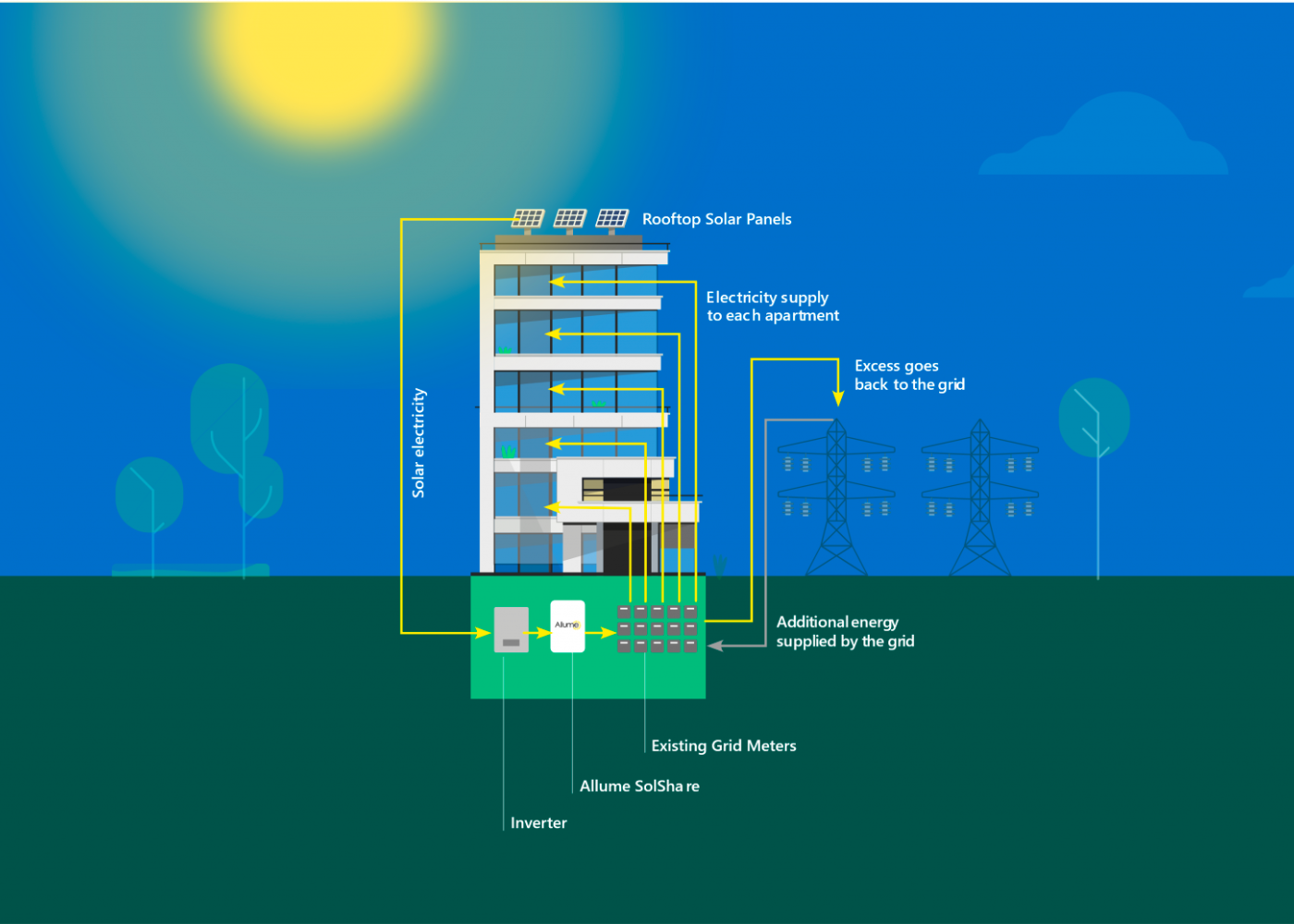 The SolShare = Full Grade Increase
A typical SolShare system can gain as many as 5-15 SAP points, which directly impacts the property EPC rating. As we saw in the tables above, each band is approximately ten points. By installing a standard SolShare system on flats, it's almost certain that the EPC rating will increase by at least one grade.
When designing the system, we can identify which flats in the building that need a higher boost to their EPC rating. We can then allocate a higher proportion of solar to those flats, so you're able to achieve the desired EPC rating for every flat in the building.
Solar for Flats = More Power for Your Pound
The entire SolShare solar solution typically costs between £2,000 – £4,000 per flat, which is relatively low compared to other EPC initiatives. All while lowering the electricity bills for the residents within the flats.
In fact, the EPC to cost benefit is so attractive, the Social Housing Decarbonisation Fund team of BEIS have stated that even though the SHDF Wave 2 is a fabric first approach, they would accept SolShare solar systems as part of the bids, as long as it is contained within the 50% contributed portion of the bid.
The Bottom Line
Now that the power of solar has been unlocked with rooftop solar for flats via the SolShare, a whole new world of energy efficiency is available. The SolShare is cost-effective, boosts EPC rankings quickly and provides benefits from day one.
At Allume, we believe everyone should have the power to reduce their electricity bill and carbon footprint. The SolShare is the only hardware for sharing rooftop solar for flats and we'd love to help you get on board. Contact us today to discuss your options.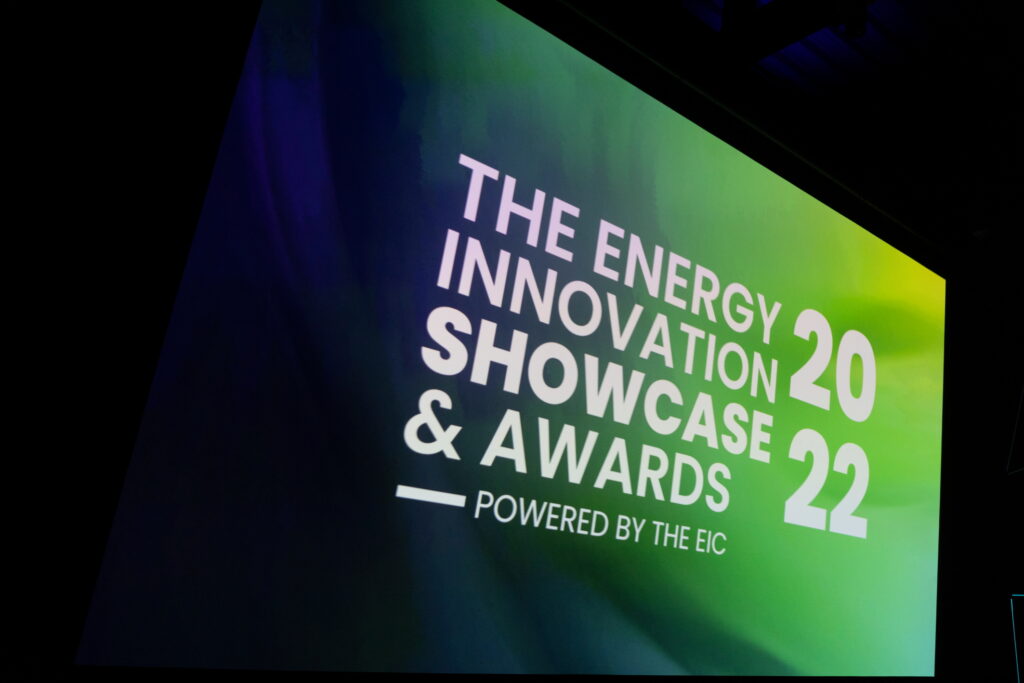 Allume is proud to have been awarded 'Best Innovation – Electricity' for the SolShare at this year's Energy Innovation Centre (EIC) awards. The judges highlighted the SolShare's environmental benefits of enabling flats to connect to rooftop solar panels, as well as the social benefits of unlocking solar for social housing residents that live in apartment buildings.
What Did Allume's General Manager Have To Say?
Allume's General Manager of Europe was in Liverpool to collect the award. When receiving the award, Jack was asked what the next 12 months looked like for Allume:
"Connecting flats to solar is a global problem that Allume has proudly solved. Our plan is, of course, to get as many apartment residents enjoying the benefits of solar as soon as possible. But we have a primary focus on social housing buildings. Often social housing residents lose out on new technology that can save them money – what's key with the SolShare, is that it's affordable for housing providers, enabling them to install systems on their buildings, achieve their sustainability goals and importantly, help those in society that often need it most."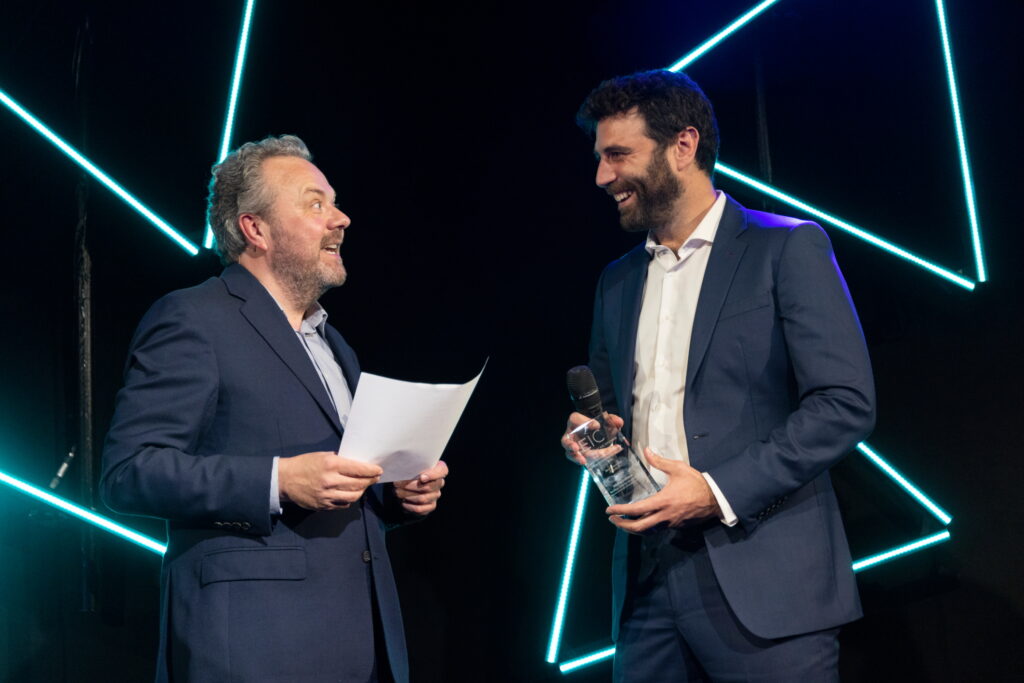 What Does the Award Mean for Allume?
The EIC is owned and run by the UK's largest electricity distribution network operators (DNOs) and the 'Best Innovation – Electricity' award is regarded as one of the most prestigious technical awards that Allume can win in the UK – further cementing our credibility as the go-to solution for apartment solar.
The DNOs who own the EIC include UK Power Networks, SP Energy Networks, Northern Powergrid, Scottish & Southern Electricity Networks, and National Grid.
SolShare is the world's only hardware for connecting a single grid-tied solar PV system to multiple, separately metered units behind-the-meter. The uniqueness of this hardware solution makes it a go-to technology to reduce the energy bills and increase the SAP / EPC score of flats across the UK.
As part of SolShare's market entry into the UK, Allume conducted a thorough compliance and acceptance signoff process, which included all relevant governing and industry bodies.
If you require any further information or documentation on the below, please makes a request via info@allumeenergy.com.
UKCA certification
SolShare is fully compliant for installation across the UK and as such, holds the UK CA mark. By holding the UKCA mark, SolShare conforms with all relevant electrical regulations and British standards.
DNO and ENA acceptance
SolShare has been reviewed by all UK Distribution Network Operators (DNOs) and the Energy Networks Association (ENA) and accepted for installation across all UK networks.
Note: As the SolShare is not a power generating device (PV inverter) it cannot and does not need to be 'type test' certified. This is why the SolShare itself is not a type test certified product.
Ofgem acceptance for ECO4
SolShare went under a rigorous review by Ofgem and accepted as an 'innovation measure of substantial uplift' for the ECO4 funding initiative. To gain this classification, Ofgem declared SolShare as a 'technology that is a significant improvement on the closest alternative'.
This classification unlocks a 45% funding uplift on ECO4 projects.
You can find SolShare as 'Innovation Measure Number 18' in this document.
E.ON are the obligated energy supplier who facilitated the submission to Ofgem.
MCS acceptance for certification
The MCS have confirmed that solar PV systems that contain a SolShare can be installed according to the relevant MCS standards.
Following commissioning, each flat will receive an MCS certificate based on the kWp associated to it.
Note: As the SolShare is not a power generating module (PV panel) the MCS have confirmed that it cannot and does not need to be MCS product certified. This is why the SolShare itself is not an MCS certified product.
SAP acceptance for assessments
SolShare is applicable for SAP 10.2 PV credits.
Under SAP 10.2 it falls under M1.2.a:
If the PV output goes to particular individual dwellings, the electricity generated is credited to the dwellings concerned. This applies to calculation of CO2 emissions, primary energy and fuel costs.
When a SolShare system is installed, the precise kWp associated to each flat is set during the commissioning process. The solar installer will use this value to apply for each flat's individual MCS Certificate. This individual kWp value is used for the flat's SAP assessment.
Assessment software companies like Elmhurst Energy have confirmed that SolShare should be included in SAP assessments under the 'one dwelling' option. Specifying the exact kWp associated to each flat for this.
SHDF Wave 1 & 2 applicable
SolShare has been included in numerous successful SHDF Wave 1 & 2 bids.
Even though SHDF Wave 1 & 2 are a fabric first approach, SolShare solar systems are able to be included in bids as long as it was part of the 50% contributed element of the bid. This has been confirmed following meetings with the SHDF team at BEIS. If you would like confirmation, please contact your Turner & Townsend SHDF representative.
10-year warranty
SolShare is supplied with a 10-year parts a labour warranty.
SolShare has live fault monitoring, so if there are any performance or technical issues, Allume Energy are immediately notified over-the-air and can arrange for a service call to assess and rectify the issue.
TrustMark
SolShare meets TrustMark Framework Operating Requirements V2.6 requirements, most notably Section 15: Product Suitability.
Installation Quality Assurance
To ensure the SolShare is installed safely and appropriately, only certified SolShare Installation Partners can purchase and install the SolShare. Certification is achieved by completing comprehensive training modules.
Certified installers are provided a unique code. A SolShare system commissioning process can only begin once the installer has entered their unique code into the commissioning app.
The SolShare commissioning process involves a rigorous, automated inspection procedure to ensure that the system is connected correctly before allowing for the system to be commissioned and become live.
Allume Energy's solar sharing technology, the SolShare, won the Demand Side Innovation Award at this year's Start Up Energy Transition (SET) Festival.
SET is the brainchild of the German Energy Agency (dena), the World Energy Council, and the German Federal Ministry of Economics and Technology, with the aim of accelerating innovation in the global energy transition.
A panel of expert judges selected the SolShare from 543 applications from 89 countries, cementing it as one of the most respected awards in the industry. This is supported further by the calibre of supporting partners of the award, that include BayWa r.e., Berlin Partner, Future Energy Ventures, GTAI, InnoEnergy, Powercloud, Shell and the Swedish Energy Agency.
Allume's CEO and Co-Founder, Cameron Knox and General manager of Europe, Jack Taylor were thrilled to attend the award ceremony in Berlin Germany earlier this month, accepting the award on behalf of Allume as it was live-streamed across the world. You can watch the moment it all happened in the video below.
Jack said "Winning the SET Award for Demand Side Innovation is true testament to Allume solving a global problem – how to install solar on apartments. This will help to accelerate our business growth across the world and solidify the SolShare as the go-to technology for apartment solar."
Cameron said "Winning this award wouldn't have been possible without the hard work and exceptional team work that everyone at Allume continually shows. Congratulations to the entire team"
This recognition has opened new opportunities for Allume in Europe and further proven that the SolShare is the market leading hardware for connecting apartments to rooftop solar.
You can read the full press release on the dena website.
Allume has been selected as one of three finalists for the Demand-Side Innovation award at the Startup Energy Transition 100 awards!
We couldn't be more pleased with the result, especially given the high number of high-calibre entrants to this year's award. Our selection as a finalist was announced by Dr. Angela Wilkinson, Secretary General and CEO, World Energy Council, who was especially complimentary by revealing that there had been over 500 applications from 89 countries.
You can watch Angela make the announcements here:
The Startup Energy Transition (SET) is the brainchild of the German Energy Agency and World Energy Council. Each year they facilitate the Berlin Energy Transition Dialogue, which brings together the biggest names in the renewable energy industry. This year, German Economic Affairs Minister Peter Altmaier and President of the European Commission Ursula von der Leyen opened the event with special guest speakers including US Administration's Special Presidential Envoy for Climate John Kerry and US Secretary of Energy Jennifer Granholm.
The winners will be announced at the (hopefully!) in-person SET Tech Festival in German later in the year.
More about the European Market
With over 40% of Europeans living in apartment buildings, having a solar solution that works for them is vital in the transition to a sustainable future. With the SolShare being able to supply solar to apartments in low to medium rise apartment buildings, that equates to over 200 million Europeans who are now able to access solar energy via a SolShare system. Allume's expansion into Europe has already caught the eye of not only industry bodies like SET but also noteworthy solar industry players in multiple countries from the UK in the West to Romania in the East.
If you are interested in partnering with Allume to provide the SolShare solution in your area, get in touch to learn more.
The results are in and Allume has won this year's Clean Energy Council's Innovation Award with the SolShare – we couldn't be more thrilled! Our world-first solution to behind-the-meter solar sharing has been selected by the judges as Australia's most innovative technology in renewable energy.
Allume's SolShare beat 'hundreds' of other entrants to reach the final alongside 5B's rapid deploy solar system and Western Power's stand-alone power systems. Following a rigorous judging process, the Clean Energy Council selected Allume as winners.
Allume's CEO, Cameron Knox said:
"We are thrilled to be recognised with such a prestigious award. We are so proud of what we have been able to achieve, and very excited about the future of the SolShare and Allume. It is fantastic to have the Clean Energy Council's support in our vision to unlock rooftop solar for those missing out."
Allume challenged itself to develop a product that solves the huge market gap of supplying solar energy to multi-unit buildings. Developing a technology that actively controls the division of power to multiple, separately metered units at once took 4 years of research and development, and has resulted in the SolShare creating a brand new technological category of 'Power Division Control System'.
Allume's CTO Kristy Battista said:
"What an honour! Winning this award is the result of all the hard work and commitment that's been put in by the Allume team and I couldn't be prouder. Amazing things can happen when you combine a genuine market need with innovative thinking"
The interest in the SolShare since coming to market in 2019 has been immense, with Allume rapidly expanding across Australia and into the US, with further expansion in the EU set for 2021. With installs covering a wide range of buildings, including community housing, new builds, not for profits, and retail units.
Allume's Head of BD, Jack Taylor said:
"The traction that we have gained since bringing the SolShare to market last year has confirmed to us that we have solved a significant problem that faced the renewable energy industry – how do you install solar panels on apartment buildings? Winning the Clean Energy Council's Innovation Award has reinforced our belief that we are solving a problem that really matters with a unique solution."
The judges were impressed by the innovation shown with the SolShare and its ability to unlock solar for buildings that have previously been locked out. Apartment residents are finally able to enjoy the countless benefits that stand-alone home dwellers have enjoyed for years, which are even more significant during the current climate.
Alex Marks, COO, said:
"Our technology is bringing the benefits of rooftop solar to those that couldn't previously access it. Social housing residents, renters in apartments, and family-owned businesses are now benefiting from lower electricity bills and contributing to climate change action."
For more information on the SolShare, you can get in touch via our contact page.