Author:
Will Anstee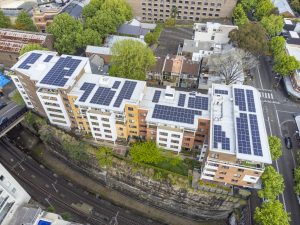 An example of shared rooftop solar for community housing being made possible through previous government funding      
Net-Zero and how do we get there?
There's been a big focus on national electrification in the public sphere of late. The long term "how we get there" aspect is often considered unknown and constantly changing. The simple reality is that we already know what the end scenario looks like, electrification of our energy grid, movement away from fossil fuels and a bigger focus on zero-carbon developments. Although technology and approaches will change over this period, what we have at our fingertips now, will put us in good stead for the future.
Unfortunately, there is a major issue with this approach.
For too long, social housing has copped the short end of the stick. For example, in Australia it is standard practice not to include air conditioning within social housing. This issue is most prominent in multi-unit and apartment complexes. This, combined with the lack of insulation, energy efficiency design and poor building workmanship has resulted in these members of our committee being exposed to the harshest of weather conditions.
Additionally, when air conditioning is installed, the residents are often unable to afford to run these appliances due to their high energy consumption.
The time is now to ensure that this does not keep happening.
Federal Government may be the vehicle we've been waiting for!
Allume Energy has gladly offered our expertise in the social housing multi-tenancy sphere to the Smart Energy Council (SEC) in support of the 2023-24 Federal Budget Submission. The key focus has been taken on support of low income households, in accessing the ability to electrify their homes. On top of this, additional support will be extended to social housing providers, both non-profit and state.
As a collective the funding will unlock the ability to
Rollout shared-solar to apartments by implementing SolShare technology.
Increase the energy efficiency of buildings and electrify the infrastructure on site.
Support the conversion of outdated and underfunded apartment buildings to a cost-effectively run, modernised housing asset portfolio.
The key aspect of this submission is ensuring that low-income households are the ones who reap the direct benefits of energy reduction, in the same way that those who own their own home do. Without intervention from the government, in a time where the housing waiting list is increasing daily, it is very difficult for those in need of housing to meet the financial demands of 2023.
Several guiding initiatives have been proposed by the SEC to support the rollout of the funding –
Families Smart Energy Package
A means tested low-interest loan for solar, battery storage, energy efficiency, heat pumps and battery vehicles such as bicycles and vehicles.
Renters Smart Energy Package
A vehicle to address the split-incentives associated between landlords and their tenants, with scope to associate this with social housing. This would allow the procurement of assets and the ability to benefit both the social housing tenants, and the social housing providers.
Additional Solar Banks funding is also recommended as part of this component.
Public and Social Housing Package (A Low-Income New Energy scheme)
Developed to highlight that although there are significant social, environmental and medium-term budgetary benefits to energy upgrades, there has been little funding provided relative to the potential impact that this funding could provide. This aspect highlights the potential to utilise portions of the existing utility concessions towards the funding of energy upgrades such as solar, insulation etc. With the key aspect of ensuring a net benefit to residents.
Healthy Smart Energy Package
Funding to assist with the conversion to all-electric homes, Eg: removing gas connections and appliances.
National Smart Energy Communications Campaign
Almost the most important piece of the submission. Education and awareness of the benefits of electrification, and the clear cost of living and comfort of living benefits that are associated with electrification.
We anticipate these changes over the ten year period will afford those in social housing, in particular those that call apartments home, the ability to live comfortably and freely, as should be the right for every Australian.
Link: Government Funded Social Housing Case Study
An insight in to the types of projects where previous government funding has assisted in extending the benefits of shared rooftop solar to social housing residents can be found here.
https://allumeenergy.com/wp-content/uploads/2021/07/Case-Study-Allume-Energy-Evolve-Housing-Ryde-NSW-Oct-22.pdf
Link: Smart Energy Council Submission
The full Smart Energy Council 2023-24 Federal Budget Submission can be found here.
https://smartenergy.org.au/articles/23-24-budget-submission/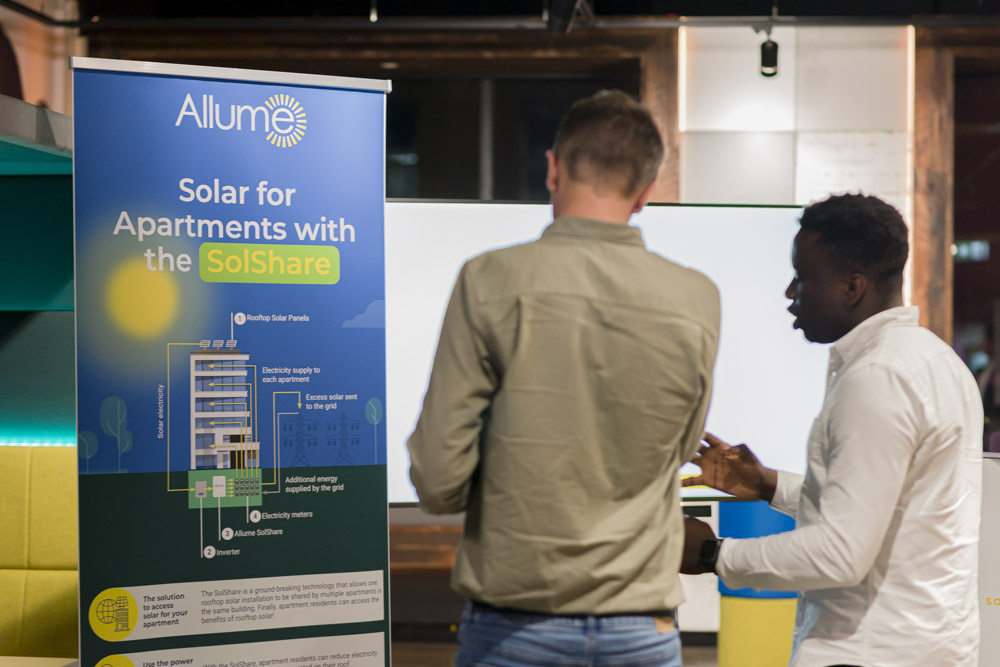 Allume Energy was privileged to be invited to the recent RealtechX ESG Impact Showcase in Melbourne. We had representatives from our Commercial, Tech and Service teams in attendance, along with a real life Solshare!
Increasing the focus on sustainability for commercial real estate
The event focused on 'innovations for more sustainable resources' in industry. ISPT's Daryl Browning opened the night by sharing his experiences and challenges when it came to pushing for more sustainability focused real estate assets, and also how he fell into the realm of sustainability as a whole.
The ensuing round table discussion provided inspiration for change in the sector, with Vicinity Centres' Nick Irvine and ISPT's Renee Nutbean and Steven Peters discussing and comparing ESG strategies from their respective organisations, with plenty of realised data to back up their implemented strategies.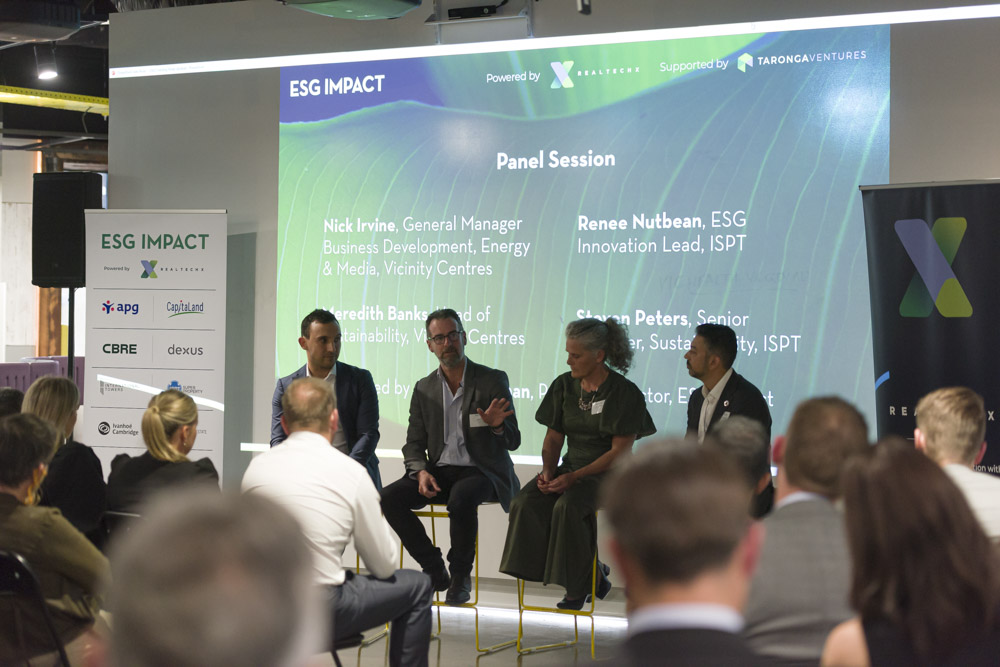 The night was rounded out by enjoying the niceties of Foy's Arcade and networking with highly skilled entrepreneurs and ESG advocates. There were plenty of organisations on show, with a number of sustainability technologies presented that will no doubt be seeing a lot more of in the coming years.